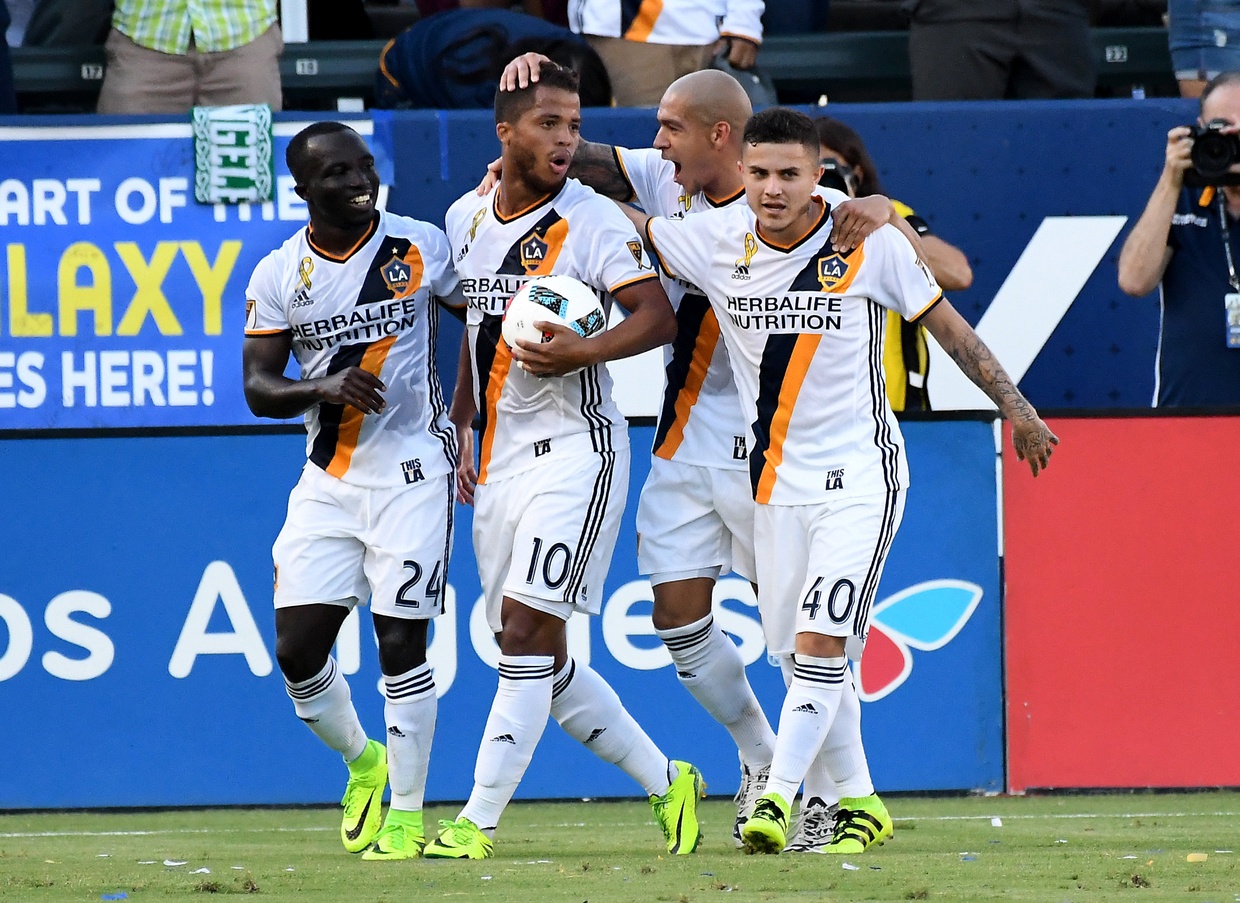 CARSON, Calif. – Giovani Dos Santos continued his torrid streak of form, netting two goals creating a third, and assisting on the fourth, as the LA Galaxy stormed past Orlando City, 4-2, before a sold out crowd of 27,167 at the Stub Hub Center on Sunday.
Dos Santos' first tally came courtesy of quality play from Galaxy center back Jelle Van Damme, who fired off a long pass down the left flank to the speedy Ema Boateng. A quickly- struck left-footed cross found Dos Santos alone in front of goal for the tap-in finish.
Van Damme, back in the lineup for the first time since a knee injury sidelined him at the end of August, was active on the pitch at both ends, and picked up an assist for his effort later in the first half, when he was sent in by Dos Santos and fired off a hard low cross of his own that Alan Gordon ran onto and knocked home.
Gordon, who has been forced into a starter's role lately due to a rash of Galaxy injuries, produced his best game of the season.  The goal was, surprisingly, his first of the season, and the fiftieth of his career.
Gordon also set up Dos Santos' second goal when he raced onto a Dos Santos' through ball and drew a foul by Orlando defender Jose Aja.  Referee Ismail Elfath pointed to the spot, though replays appeared to show the foul take place outside the penalty area. Dos Santos blasted his penalty kick past Joe Bendik.
The game had as many headlines taking place on the benches as it did on the pitch, as Galaxy captain Robbie Keane returned to the 18-man lineup after an extended absence due to international duty and a sore groin.
Keane did not disappoint the jubilant Stub Hub Center crowd, and after being subbed on in the 60th minute, repaid the LA supporters as he punched home the Galaxy's fourth and final goal of an assist from Dos Santos.
The biggest substitution of the afternoon was one that took place after the game was largely over.  Galaxy legend Landon Donovan, who came out of retirement , entered the game in the 83rd minute to a roaring standing ovation from the enormous crowd.
Wearing the No. 26 jersey, Donovan blew a kiss to the crowd, and promptly sprinted 80 yards back downfield to mark an Orlando midfielder, a defensive habit for which Donovan rarely received credit, but for which Galaxy head coach Bruce Arena has always cherished him.
Orlando City did manage to tally a goal, albeit against the run of play, when a defensive breakdown gave Orlando a 3 v 2 opportunity in front of the Galaxy goal.  Orlando striker Cyle Larin's sliding shot was deflected away by Jelle Van Damme's face, but an unmarked Kevin Molino gathered the rebound and fired past a sprawling Brian Rowe.
But Dos Santos evened up the match fifteen minutes later, and Orlando looked heavily overmatched for the remainder of the evening.
Break Shea, who looked like a difference maker in his half hour on the pitch, added the final tally of the night when he banged home a deflection in extra time.
The victory pushed the Galaxy into second place in the Western Conference, while the loss keeps Orlando City in sixth place in the East, just a point behind New England and D.C. United.
The Galaxy complete a string of three games in eight days, and will have a full week's rest before heading to Kansas City to take on Sporting KC on Sunday.
Man of the Match
While Jelle Van Damme and Alan Gordon turned in outstanding games, no one shone brighter than Giovani Dos Santos, who had a hand in all four Galaxy goals on the day.  Dos Santos' offensive output in the past month has convinced even his most ardent detractors of his Designated Player quality.
Moment of the Match
When Alan Gordon drew a penalty in the 44th minute, and Dos Santos converted, any hope that Orlando could produce a competitive match evaporated.
Match to Forget
David Mateos and and Jose Aja, the two current center backs for Orlando, looked overmatched all evening.  Chasing international caliber players like Dos Santos and Keane isn't easy, but a four goal rout is worse than new Orlando City head coach Jason Kreis could possibly have foreseen.