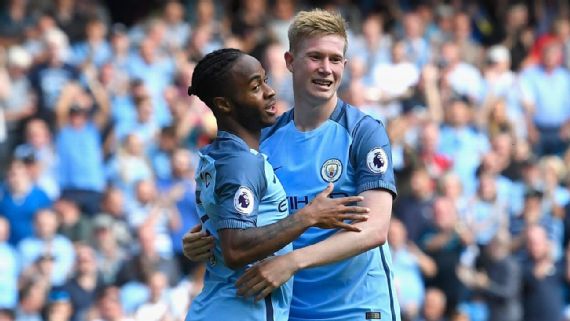 Huge victories by huge teams studded the landscape of European football this weekend.
Teams such as Barcelona, Manchester City, Borussia Dortmund, and Paris Saint-Germain all cruised to massive victories as upsets were few and far between for once in this early season. The biggest upset this week came in the Premier League as Watford dismantled Manchester United 3-0 at home, with the latter now in the midst of a three-match losing streak. Chelsea was the only other giant to fall, though more understandably as they battled a hot Liverpool side.
Barcelona and Atletico Madrid led the way in La Liga with 5-1 and 5-0 wins respectively. Real Madrid kept pace on Sunday with a 2-0 victory of their own.
Borussia Dortmund bounced back from their shocking defeat last weekend with a 6-0 victory, while the team that beat them, RB Leipzig, cruised to a 4-0 victory of their own.
Two major Italian contenders fell, though to good competition, as Juventus lost, 2-1, to Inter and Roma fell to Fiorentina, 1-0. Milan, Lazio, and Napoli all saw themselves to victory to pick up crucial points.
Paris Saint-Germain destroyed Caen in a 6-0 romp to return to form. Monaco handled Rennes, 3-0, to keep pace atop the league. But the headliner of the weekend, Lyon vs. Marseille, ended in a boring scoreless draw.
Here's a closer look at each league's results:
ENGLISH PREMIER LEAGUE
It was a good weekend for home sides, and an even better weekend for fans who enjoy decisive results, as match-day five passed without a single draw.
Liverpool opened the weekend on Friday as only one of two teams to win away from home, defeating Antonio Conte's Chelsea by a final of 2-1 at Stamford Bridge.
Saturday contained the only other road victor of the weekend, as Arsenal went to Hull City and dominated with a 4-1 victory. There were no significant upsets to be found in the other four Saturday matches, as Manchester City, West Brom, Leicester City and Everton all scored 3+ and won their respective home clashes.
Every home side won on Sunday, including a stunning upset as Watford dismantled Mourinho's Manchester United, 3-1. It's the third consecutive loss for the Red Devils, who endured a terrible week as they fell to Watford for the first time in 30 years.
FRIDAY
SATURDAY
Hull City 1-4 Arsenal
Manchester City 4-0 Bournemouth
West Brom 4-2 West Ham
Leicester City 3-0 Burnley
Everton 3-1 Middlesbrough
SUNDAY
Watford 3-1 Manchester United
Crystal Palace 4-1 Stoke City
Southampton 1-0 Swansea City
Tottenham 1-0 Sunderland
SPANISH PRIMERA DIVISION
While the Premier League saw decisive victories this weekend, La Liga had three of nine matches end in draws during match-day four.
Real Betis and Grenada were entertaining, but ultimately split their decision by a tally of 2-2. Eibar and Sevilla also drew, 1-1, on Saturday. Elsewhere, Las Palmas continued their early season success with a 1-0 victory and Barcelona and Atletico Madrid scored five goals each in their respective romps over Leganes and Sporting.
Osasuna and Celta Vigo completed the hat trick of draws with a scoreless affair on Sunday. Athletic Bilbao, Villarreal, and Real Madrid all left winners and all while scoring two goals each.
FRIDAY
SATURDAY
Leganes 1-5 Barcelona
Atletico Madrid 5-0 Sporting
Eibar 1-1 Sevilla
Las Palmas 1-0 Malaga
SUNDAY
Osasuna 0-0 Celta Vigo
Athletic Bilbao 2-1 Valencia
Villarreal 2-1 Real Sociedad
Espanyol 0-2 Real Madrid
MONDAY
BUNDESLIGA
It was an exciting weekend in the Bundesliga, as nearly every match contained a high-scoring showdown with a definitive winner. FC Koln opened the weekend with a key 3-0 victory over SC Freiburg to set the tone for the rest of the weekend.
Hoffenheim and Wolfsburg played out the only draw of the weekend on Saturday, in scoreless fashion no less, but the following matches more than made up for the lack of scoring. Borussia Dortmund bounced back in massive fashion with a 6-0 thrashing of Darmstadt 98, while RB Leipzig continued where they left off with a 4-0 victory over Hamburg.
Sunday continued the trend of entertaining football, as Mainz 05 captured a 3-1 victory over Augsburg and Hertha Berlin secured 2-0 ascendance over Schalke 04 to continue the latter's woes.
FRIDAY
SATURDAY
Hoffenheim 0-0 Wolfsburg
Eintracht 2-1 Bayer Leverkusen
Bayern Munich 3-1 Ingolstadt
Borussia Dortmund 6-0 Darmstadt 98
Hamburg SV 0-4 RB Leipzig
Borussia Monchengladbach 4-1 Werder Bremen
SUNDAY
FC Augsburg 1-3 Mainz 05
Hertha Berlin 2-0 Schalke 04
ITALIAN SERIE A
Sunday was packed full of action in Serie A, but Milan got the weekend started off on Friday with a 1-0 victory over Sampdoria. Saturday was light on competition, but Lazio and Napoli did their best to entertain en route to 3-0 and 3-1 victories over Pescara and Bologna respectively.
Sunday contained the meat of the matches, with seven clashes spanning the league. Chievo, Sassuolo, and Cagliari all earned victories over their opponents, while Crotone and Palermo battled to a draw before Torino and Empoli did the same.
The last two matches of the weekend were the headliners, as Inter earned a crucial early season victory over favorites Juventus, while Fiorentina dumped another contender as they took down Roma, 1-0.
FRIDAY
SATURDAY
Lazio 3-0 Pescara
Napoli 3-1 Bologna
SUNDAY
Udinese 1-2 Chievo
Crotone 1-1 Palermo
Sassuolo 2-0 Genoa
Cagliari 3-0 Atalanta
Torino 0-0 Empoli
Inter 2-1 Juventus
Fiorentina 1-0 Roma
FRENCH LIGUE 1
Now that's a bounce back. Defending champions Paris Saint-Germain kicked off the weekend with a 6-0 obliteration of Caen, returning to form after a loss and draw in their previous two matches.
Current leaders Monaco continued their hot form, as they defeated Rennes by a final of 3-0. Lorient, Toulouse, and Angers also found themselves on the winning end of their respective matches. Nancy and Nantes battled to an alliterative draw, while Dijon FCO and Metz did the same in a showdown of newly-promoted sides.
Sunday's headliner did not live up to the hype, as neither Lyon nor Marseille could find the back of the net while the two French giants battled to a scoreless draw.
FRIDAY
Carn 0-6 Paris Saint-Germain
SATURDAY
Monaco 3-0 Rennes
Nancy 1-1 Nantes
Lorient 1-0 Lille
Dijon FCO 0-0 Metz
Toulouse 2-1 Guingamp
Bordeaux 0-1 Angers
SUNDAY
Montpellier 1-1 OGC Nice
ASSE 1-0 Bastia
Marseille 0-0 Lyon