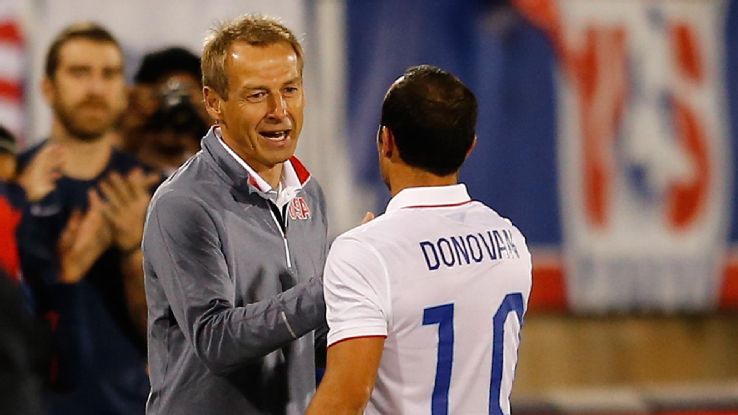 Jurgen Klinsmann took to Facebook on Monday to host a question and answer session with fans., and it didn't take long for the conversation to turn towards a former U.S. Men's National Team star.
The USMNT head coach laughingly admitted he was "not surprised" to see so many questions concerning Landon Donovan, who returned to the game on Sunday afternoon nearly two years after retirement. After announcing his return on Thursday, Donovan played the final seven minutes in the Galaxy's 4-2 win over Orlando City.
"I think it's pretty cool that Landon is back on the field. He's going to give it another shot," Klinsmann said. "Obviously, he's been gone for quite awhile. Coming back is not going to be easy for him. The experience of Bruce Arena with the Galaxy, I'm sure they're going to time him the right way, build him the right way towards the playoffs. Who knows?
"He gives it a go. There's no better thing in life than kicking the ball around and playing. Any time a player comes to me and asks when the right moment to stop or what to do, I always tell them to go as long as you can because, these days, when you play the game, are not coming back. As long as your body is still going strong, keep playing. I think it's pretty cool that Landon is back."
Donovan and the Galaxy return to action on Sunday against Sporting KC. Klinsmann and the U.S., meanwhile, on October 7 for a friendly match against Cuba.
What do you think of Klinsmann's comments? What do you expect from Donovan going forward?
Share your thoughts below.