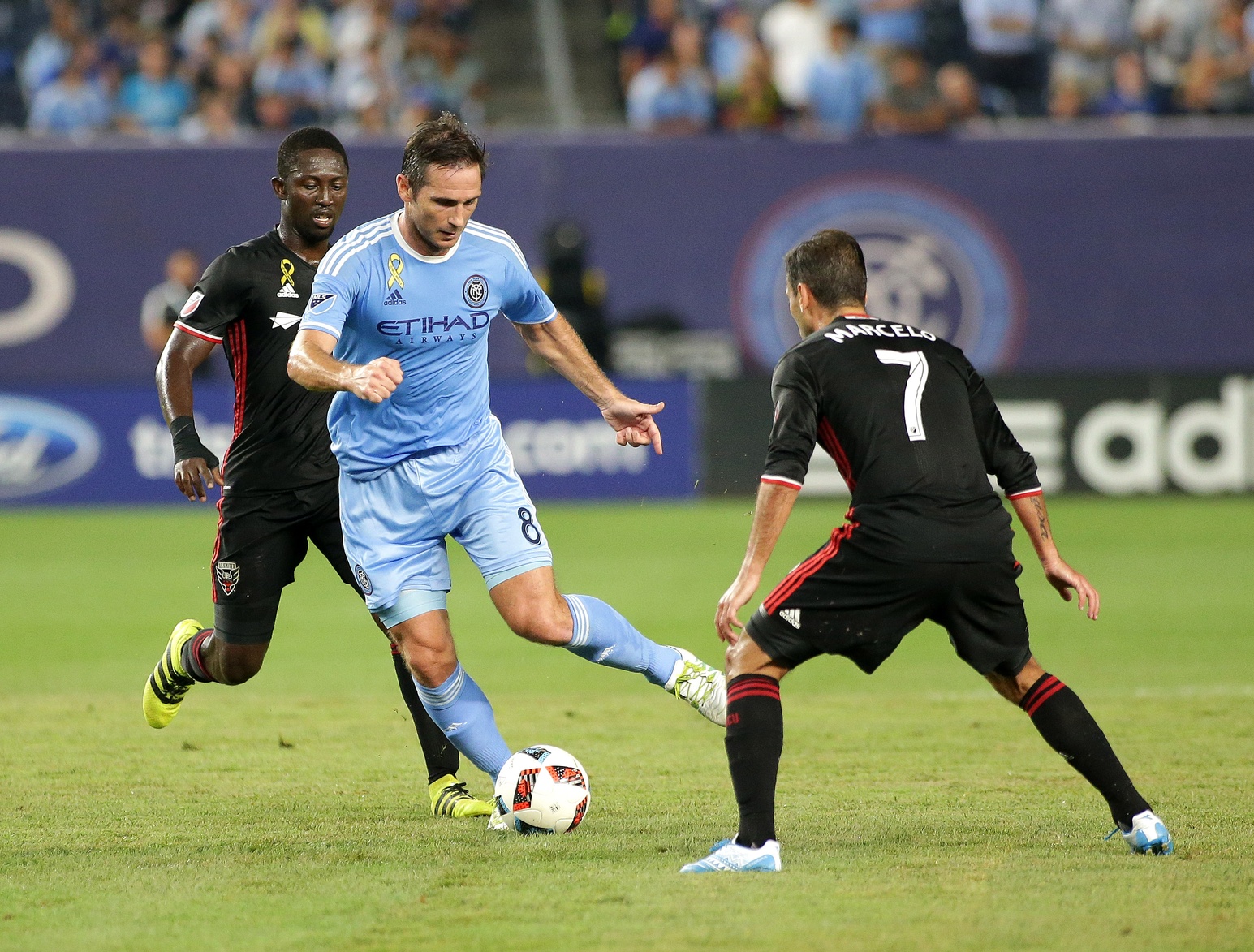 According to Mayor Bill de Blasio, Thursday was Frank Lampard Day in New York City, even if the man himself wasn't quite sure what it meant. It was perhaps the most unusual honor bestowed upon a player that has had a career full of them, but it was one that Lampard himself admitted was a bit foreign to an Englishman still adjusting to the American way of doing things.
However, as the final whistle sounded on yet another remarkable performance, there was no doubt: it truly was Lampard's day.
Lampard provided two of NYCFC's three goals on Thursday, pushing the Eastern Conference contenders to a 3-2 win over D.C. United. The pair of finishes were Lampard's 10th and 11th in just 13 starts.
A season that began with boos has turned on its head in recent weeks, the cheers that greeted Lampard on Thursday were some of the most welcoming of his career as the English star has finally battled back from a miserable start to his NYCFC tenure.
"Last-minute winners are always the best ones. I don't get bored of that," Lampard said. "That what you work for. When I was injured earlier in the season,  you slug away in the gym and dream of moments like that. That's what inspires you to keep working away. Thankfully I've had a few of them since I've been back, but that was the best one yet because it was so important for us to get that win.
"I don't feel like I have a point to prove to people on the outside, but I always feel like I have a point to prove to myself," he added. "I don't want this to be a club I've come to at this point in my career and it doesn't work. I want to do everything I can to make it work. I have that desire. I'm fresh with that desire. Hopefully, we can get into the playoffs and push on from there."
It was a game that looked destined for anything but a Lampard moment. Through 79 minutes, NYCFC's attack was all but toothless, as D.C. United controlled play with a stout defense. The ball started rolling late as David Villa got NYCFC back into the game with an equalizing goal, but it was Lampard's finish just moments later that appeared to have locked up the win.
It didn't. Minutes after taking the lead, NYCFC was pushing yet again as Lamar Neagle headed home a stoppage time equalizer for the visitors. The rollercoaster appeared to be reaching it stop with both sides splitting a point apiece.
Shortly after Neagle's goal, Lampard grabbed David Villa and stated his belief that there was one more chance in the game. With five minutes of stoppage time, NYCFC had time to attack from kickoff and push for what could be a game-winning goal.
They did just that, and it was Lampard on the end of what could be a vital finish in pursuit of the Eastern Conference's top spot
"It takes something special to score at the crucial point in the game, and tonight it was Frank," said head coach Patrick Vieira. "I'm really pleased for him because he went through a difficult period in the preseason where he didn't play. The way that he responded was fantastic.
"He just showed how good he is. We never had a doubt about his talent. To see him scoring goals, that's a thing he's used to, but to keep scoring goals at this level is terrific."
Lampard says he is now approaching what he feels is his top level. After months away from game action, Lampard says he has felt a step slow, a step off, as fitness and strength have slowly build. The midfielder is now feeling fitter and fresher, something he hopes will be a major asset for NYCFC heading into the postseason race.
But before Lampard could look towards the postseason, or even NYCFC's next match, he was pondering aloud regarding the latest honor bestowed upon him in honor of his 300th goal.
"I'm going to investigate that. I don't know what that means," Lampard said with a big smile as he reminisced over a day that was certainly his. "I'm happy. I don't know. It's like a holiday or something. It was unexpected.
"I certainly appreciated it on a personal level, but now I have to investigate what my day means."