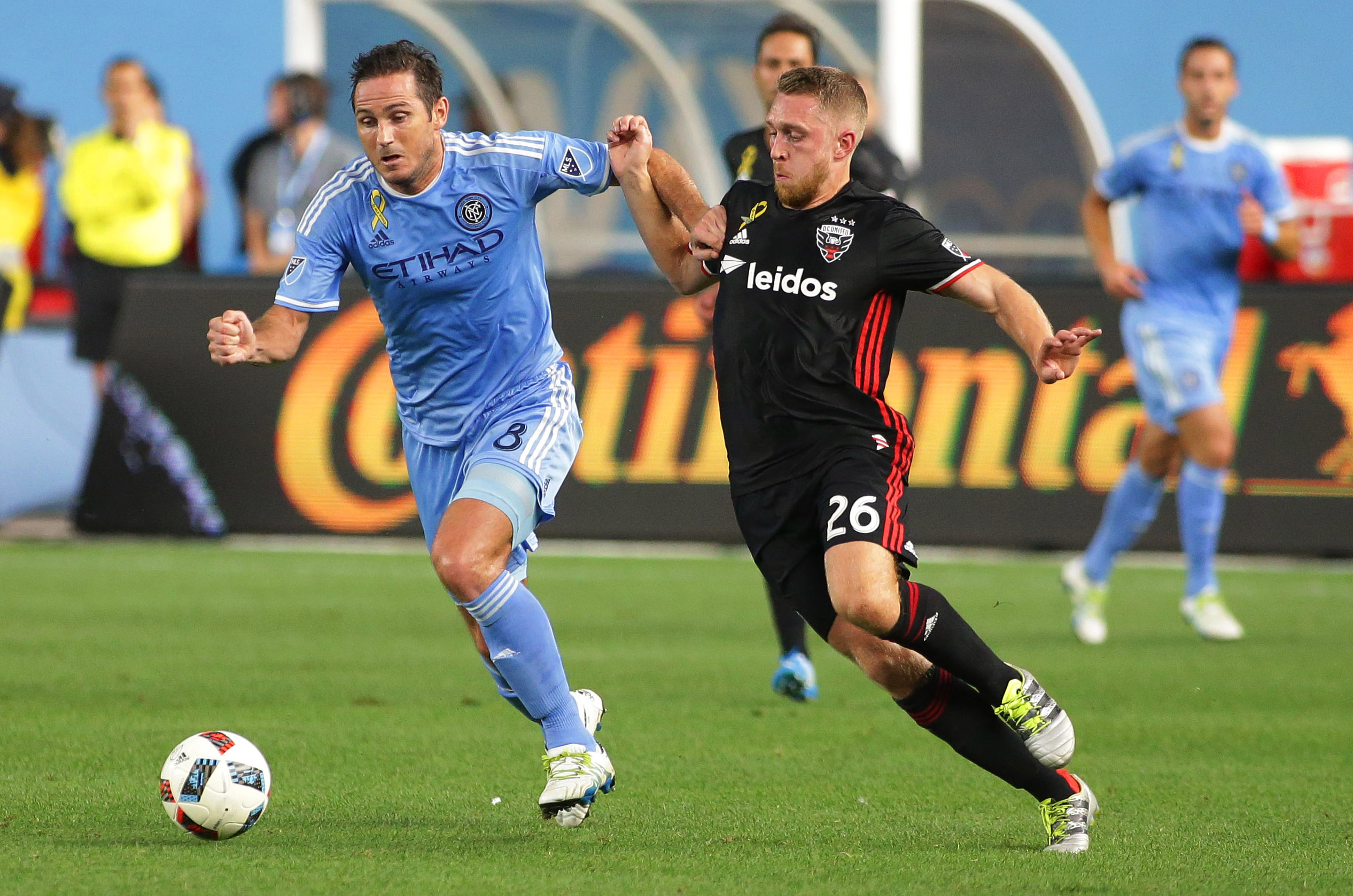 With just several minutes remaining in what had been a sleepwalk of a performance, New York City FC was en route to a disappointing home loss. Then, in a span of moments, the club's Designated Players turned the game on its head.
Four goals poured in after the 79th minute, with David Villa and Frank Lampard accounting for three of them as NYCFC erased a 2-0 deficit to earn a 3-2 win over D.C. United on Thursday night.
With just 11 minutes remaining and NYCFC's attack looking increasingly toothless, Villa pounced on a mistake at the back to punish a D.C. backline that had stood tall throughout. Six minutes later, Villa turned provider, setting up Lampard for what appeared to be a late winner.
A Lamar Neagle strike in the dying moments appeared to have snatched D.C. a draw, but Lampard fired yet again just moments later, earning a 3-2 win.
After a fairly tepid 36 minutes, a former New York Red Bull struck to give D.C. United the advantage against his former cross-river rivals. After dancing down the left-hand side, D.C. United playmaker Luciano Acosta fed Patrick Nyarko in space. The winger slid a pass across the field and straight into the path of Lloyd Sam, who took a touch before firing a shot past Josh Saunders for the game's opener.
Just moments before the break another former New York resident nearly punished the hosts for a second. Alone on Saunders, former NYCFC Patrick Mullins saw his shot pushed away by his former teammate, whose stop kept the D.C. lead  at just one.
After the half, Sam and a wide-open chance of his own trickle wide, depriving D.C. United of another chance to go two ahead. With just over 10 minutes left, NYCFC finally made D.C. pay, sealing a late three points from a game in which they rarely threatened until the dying moments.
MAN OF THE MATCH
Once again, David Villa proved to be the heart and soul of NYCFC, spurring a late comeback with a goal and assist in the game's closing stages.
MOMENT OF THE MATCH
While Villa's finish brought the NYCFC attack to life, Frank Lampard's winner sent Yankee Stadium into a frenzy as NYCFC snatched all three points.
MATCH TO FORGET
Sean Franklin's late giveaway allowed Villa to strike for the equalizing goal, starting the snowball effect that led to D.C.'s downfall.