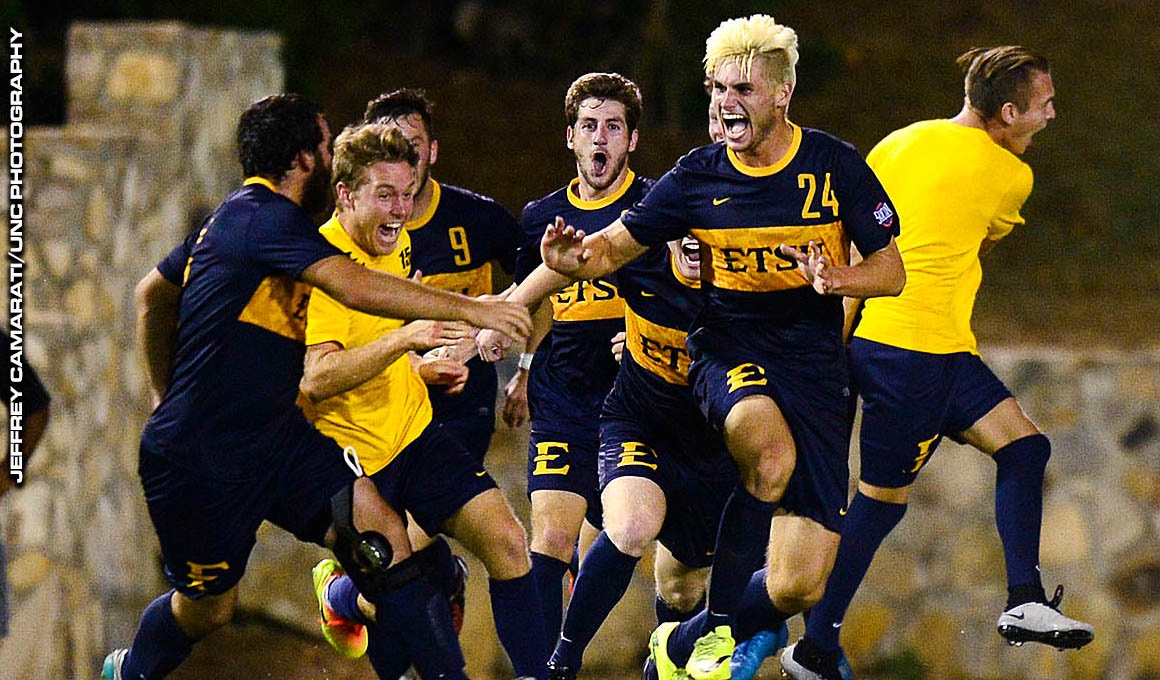 On Tuesday night, SBI No.1 ranked North Carolina was stunned at home by East Tennessee State, 1-0.
Freshman midfielder Fletcher Ekern scored the golden goal for East Tennessee State in the 92nd minute, the first goal of his ETSU career. The victory against North Carolina is the largest in program history for East Tennessee State. The last time the Buccaneers beat a top ten team was 2013, when ETSU beat then-No.8 UAB 1-0 in Birmingham, Alabama.
The Bucs advance to 3-2 on the year, and travel to UNC-Ashville on Sunday. The Tar Heels fell to 4-1, and host Pittsburgh on Friday night in Chapel Hill.
BIG 10 AND ACC POWERHOUSES REMAIN PERFECT
Indiana, Maryland, Notre Dame, and Syracuse remained perfect following mid-week fixtures. The Orange, Fighting Irish, and Terrapins, were all in action Tuesday night, with two of the powerhouses needing double overtime to achieve victory. Following a late goal in the 88th minute, No. 2 Syracuse defeated Hofstra, 1-0. Johannes Pieles scored his third goal of the year helping the Orange improve to 6-0.
In a thrilling double-overtime victory, No.4 Maryland defeated Rutgers, 2-1, improving to 3-0-2 on the year . With the Scarlet Knights and the Terps both scoring in the first half, junior midfielder Jake Rozhansky scored the golden goal for Maryland in the 104th minute. Sophomore transfer Gordon Wild scored his team-leading sixth goal of the year for the Terrapins also on Tuesday night.
Notre Dame also needed overtime to win on Tuesday. The Fighting Irish defeated UConn, 1-0, in South Bend, Indiana, to improve to 6-0 on the season. The Fighting Irish now have a +17 goal differential, scoring 15 goals and have only allowed  two goals.
Finally,  Fourth-ranked Indiana also advanced to 3-0-2 after the Hoosiers defeated the Michigan Wolverines, 2-0, in Ann Arbor on Wednesday night.
THE SPIRIT OF HARAMBE GUIDES UMASS-LOWELL. 
In June of this year, the story of Harambe, a gorilla shot and killed for abducting a child at the Cincinnati Zoo, captivated the nation. That legend of Harambe was remembered Wednesday night in Lowell, Massachusetts.The UMass-Lowell men's soccer team handed out mini Harambe dolls to the first 100 students attending Wednesday nights match. Those who decided to dress down in gorilla suits had an opportunity to win various prizes. The promotion was widely covered nationally since being announced earlier this week.
The Riverhawks improved to a perfect 6-0 on the season after defeating Brown, 2-1. Brown carried a 1-0 lead into the second half, but UMass-Lowell found goals from Wuilito Fernandes (6) in the 52nd minute, and Ivan Abromovic (4) scored the game winner for the Riverhawks in the 86th minute. UMass-Lowell hosts Dartmouth Saturday night in Lowell. The team promotion for Saturday's fixture will be a commemorative model of River Hawk Stadium cup.
MIDWEEK COLLEGE SCOREBOARD
TUESDAY
(1) North Carolina 0, East Tennessee State 1 (RECAP)
(2) Syracuse 1, Hofstra 0 (RECAP)
Rutgers 1 , (3) Maryland 2 (OT) (RECAP)
(6) Notre Dame 1, (25) UConn 0 (OT) (RECAP)
(8) Wake Forest 0, George Washington 0 (RECAP)
(16) Virginia Tech 1, Longwood 0 (RECAP)
WEDNESDAY
Michigan 0, (4) Indiana 2 (RECAP)
(11) Virginia 3, VCU 0 (RECAP)
(22) Delaware 3, Seton Hall 1 (RECAP)
THURSDAY
(9) Denver 2, Saint Louis 0 (RECAP)
(13) Utah Valley 1, (24) Gonzaga 0 (RECAP)