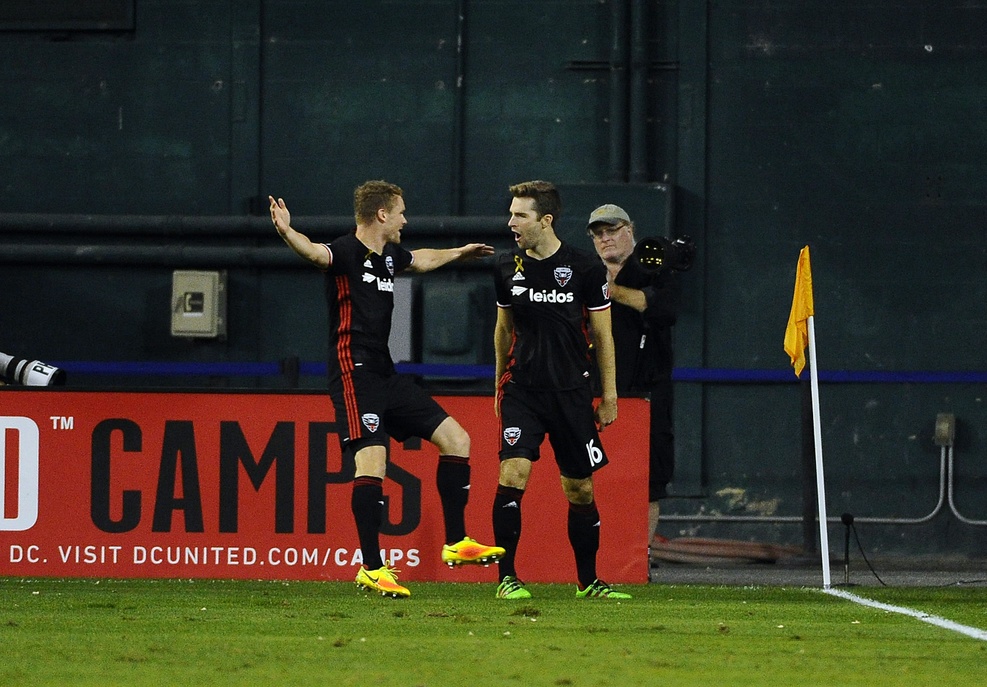 Both D.C. United and Orlando City entered the weekend in the thick of the Eastern Conference race, but only one of the postseason contenders looked like a playoff team on Saturday night.
A pair of Patrick Mullins goals sandwiched a finish from Lloyd Sam, as D.C. United cruised past Orlando City, 4-1, at RFK Stadium. With the win, D.C. United temporary pulls one game ahead of the New England Revolution while creating a three point gap between themselves and Friday's opponents.
The D.C. onslaught began in the 34th minute, and it was the result of a spectacular passing sequence. Starting with Sam on the right wing, the ball was pushed into the box and onto the feet of Patrick Nyarko, who found Taylor Kemp's back post run with a perfectly-time backheel. Kemp fizzed a first-time shot across the goal, where Mullins was waiting to direct a tap-in into the back of the net.
Kemp notched another assist early in the second half, feeding Sam for D.C. United's second of the match. Following several step-overs on the left side, Kemp lofted a cross into the center of the box. The ball in proved inch-perfect, as Sam rose above his defender to smash home a header to extend D.C. United's lead in the 51st minute.
Less than two minutes later, Mullins all but sealed the match, firing his second goal of the night and seventh in 11 matches since a mid-season trade from NYCFC.
A 72nd minute goal from Julio Baptista proved little more than a consolation, especially due to the straight red card issued to Antonio Nocerino six minutes prior. Rookie Julian Buescher added one more for good measure, sealing a 4-1 win while dooming Orlando City to the team's third-straight defeat.
MAN OF THE MATCH
Since joining D.C. United, Patrick Mullins has been one of the league's hottest forwards, and he did it yet again on Saturday with a two more goals. However, it was Taylor Kemp's three total assists that sealed Man of the Match honors.
MOMENT OF THE MATCH
While D.C.'s first goal was a display of passing brilliance, the hosts' second was a backbreaker, all but sealing a much-needed win.
MATCH TO FORGET
Antonio Nocerino simply lost control on Saturday night, earning a red card for an elbow. It wasn't a sequence befitting of a Serie A veteran, but it was one that will earn him a suspension as the season hits the home stretch.