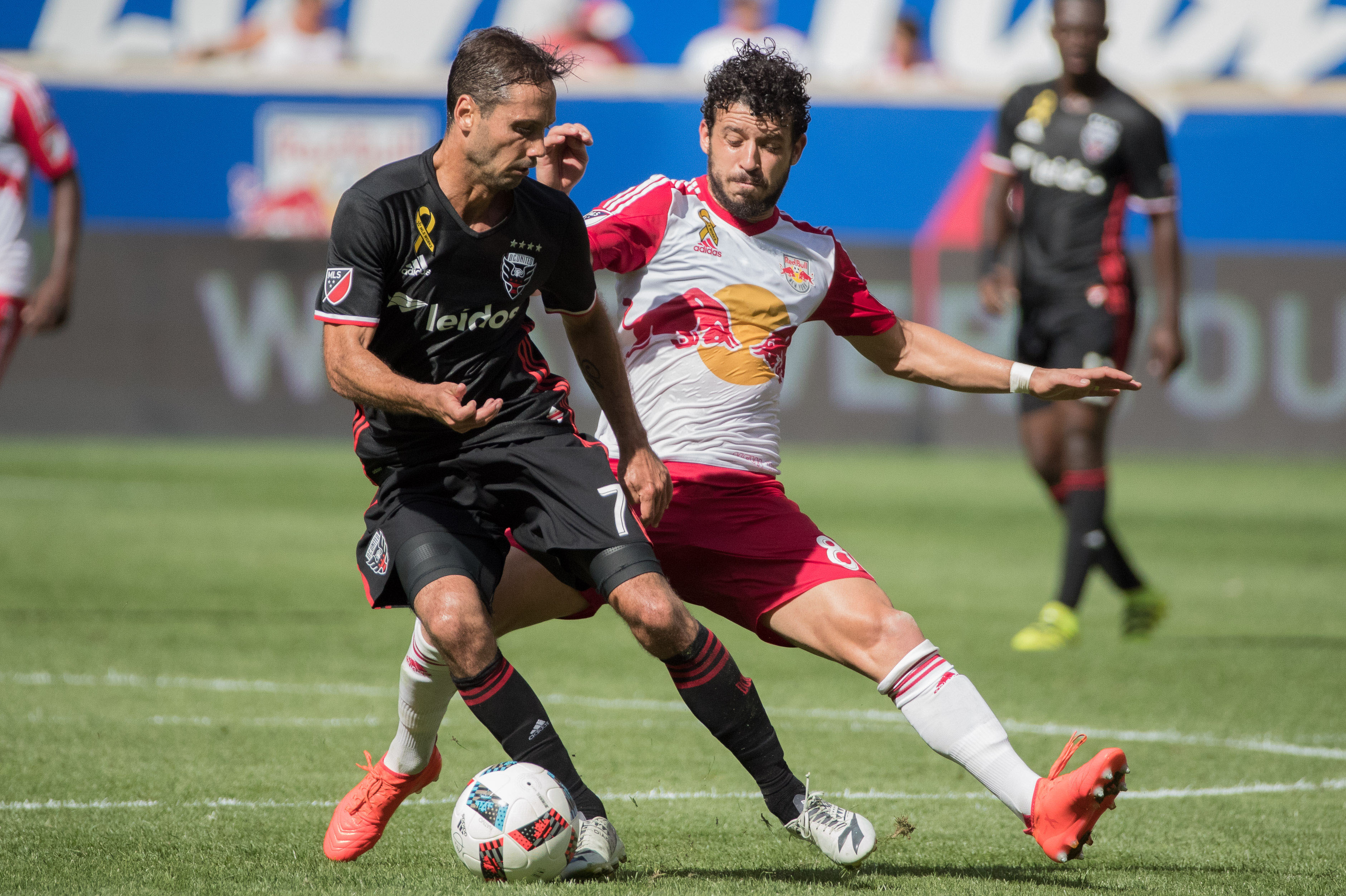 HARRISON, N.J. — Hindsight is 20/20, but the New York Red Bulls may have been better off knocking the ball around and keeping possession rather than attacking relentlessly en route to blowing another lead.
Regardless, the Red Bulls had little to no qualms about their approach late in the game.
The Red Bulls suffered their latest frustrating result of the season on Sunday afternoon, as two goals after the 88th minute saw D.C. United pull off an improbable comeback in a 2-2 draw at Red Bull Arena. The game was just the latest example of the Red Bulls dropping points despite being ahead, and it left head coach Jesse Marsch and his players disappointed and frustrated.
Still, the club had little regret about how it played down the stretch. Yes, the Red Bulls might have failed to protect their lead by searching for a third goal instead of slowing things down, but the dominant performance they put forth against their rival was a big takeaway for them in spite of the final score.
"For me that game was totally under control," said Marsch. "We've tried to not just come back into a shell because it invites pressure into your box, so we've tried to still play up the field and win balls up there, keep them under pressure. By doing that we create a bunch of opportunities for the third goal, but can't quite finish one off.
"Another day this is different. On another day it's different. Today we have to swallow it."
The Red Bulls' players echoed their coach's sentiments in the locker room. They were frustrated by the draw that cost them a chance to go atop the Eastern Conference, but seemed to be overall pleased with how well they played and controlled things against D.C. United.
They also did not regret going for the gusto in the waning minutes.
"I think the third goal would have really broke their back, and it's not like we were under any threat," said midfielder Sacha Kljestan." I don't think at any point when it was 2-0 were they really getting chances by breaking us down. It came from long balls and set pieces. I think the idea for us was still, slow the game down when we could, but when we got chances try to take them."
Added forward Bradley Wright-Phillips: "We find that's the how we play, we're always trying to attack. We don't plan to like that, but if they are going to give us the room we are going to go and attack."
The Red Bulls may be able to see out some games with their attack-first mentality, but matches like Sunday's serve as a reminder that there is still work to do if they wish to make a serious push for MLS Cup. You might live to fight another die if you blow a lead in the regular season, but that may not be the case once the playoffs roll around.
Even so, the Red Bulls are not panicking. They know they need to address this inability to close out matches, but believe they will do so in due time.
"I'm still very 'glass half full'," said Marsch. "This is a good team. I know what I'm looking at. The frustration of giving some late leads away, we'll continue to reinforce certain things with the mentality, look tactically at what we do, personnel choices, the whole bit.
"But this is a good team. We're making it hard on ourselves and we're going to get there the hard way, but we're going to get to where we need to go. We're going to get there."