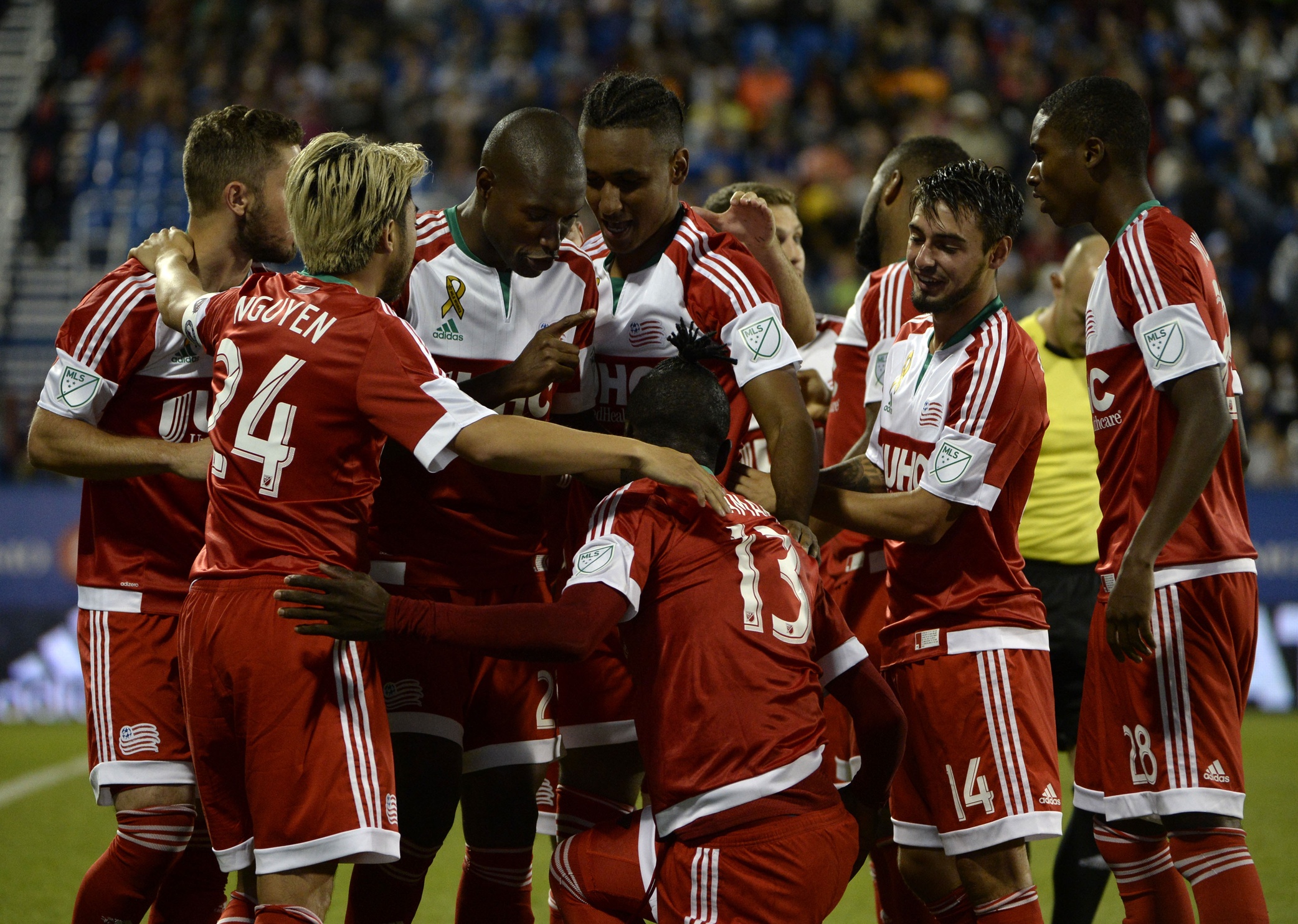 Just several days after falling in the U.S. Open Cup finale, the New England Revolution bounced back with a big win to move into a playoff position.
Kelyn Rowe led the way with two goals an assist, as the Revs took down the Montreal Impact, 3-1, at Stade Saputo. The win pushes the Revs back into sixth place in the East, two points ahead of D.C. United, who maintain a game in hand. With the loss, meanwhile, the Impact is now winless in three with two losses.
It took less than a minute for the Revs to get fight out of the post-USOC funk, as Kei Kamara opened the scoring just 23 seconds into the match to silence the home crowd. The Revs forward got on the end of a Rowe cross, heading home from close range to snag an early lead.
Rowe got a goal of his own 26 minutes later, as Kamara returned the favor with an assist of his own. After darting towards the end line, Kamara found himself trapped before leaving a pass for Rowe at the top of the box. The Revs midfielder took a touch towards goal before firing a dipping shot to the far post to push the lead to two.
Didier Drogba brought the Impact back with a penalty kick, but Rowe stepped up once again to remove all doubt of Saturday's result. After previously having a shot cleared off the line, Rowe smashed home a left-footed volley for his second of the match.
Now back in the playoff picture, the Revs return to action next Sunday against the suddenly-surging Columbus Crew. The Impact, who sit just five points above the red line, will look to bounce back one day earlier with a visit to the New York Red Bulls.
MAN OF THE MATCH
There was little doubt over who the best player on the field was in Saturday's match, as Kelyn Rowe carried the Revs to a big win.
MOMENT OF THE MATCH
Kei Kamara's early finish set the tone from the start, one that clearly showed the Revs are back in the hunt.
MATCH TO FORGET
The past several weeks have been ones to forget for the Impact, but Ignacio Piatti was particularly off his game on Saturday. The Argentinian star failed to put any of his six shots on target on a night where the Impact were far too wasteful.