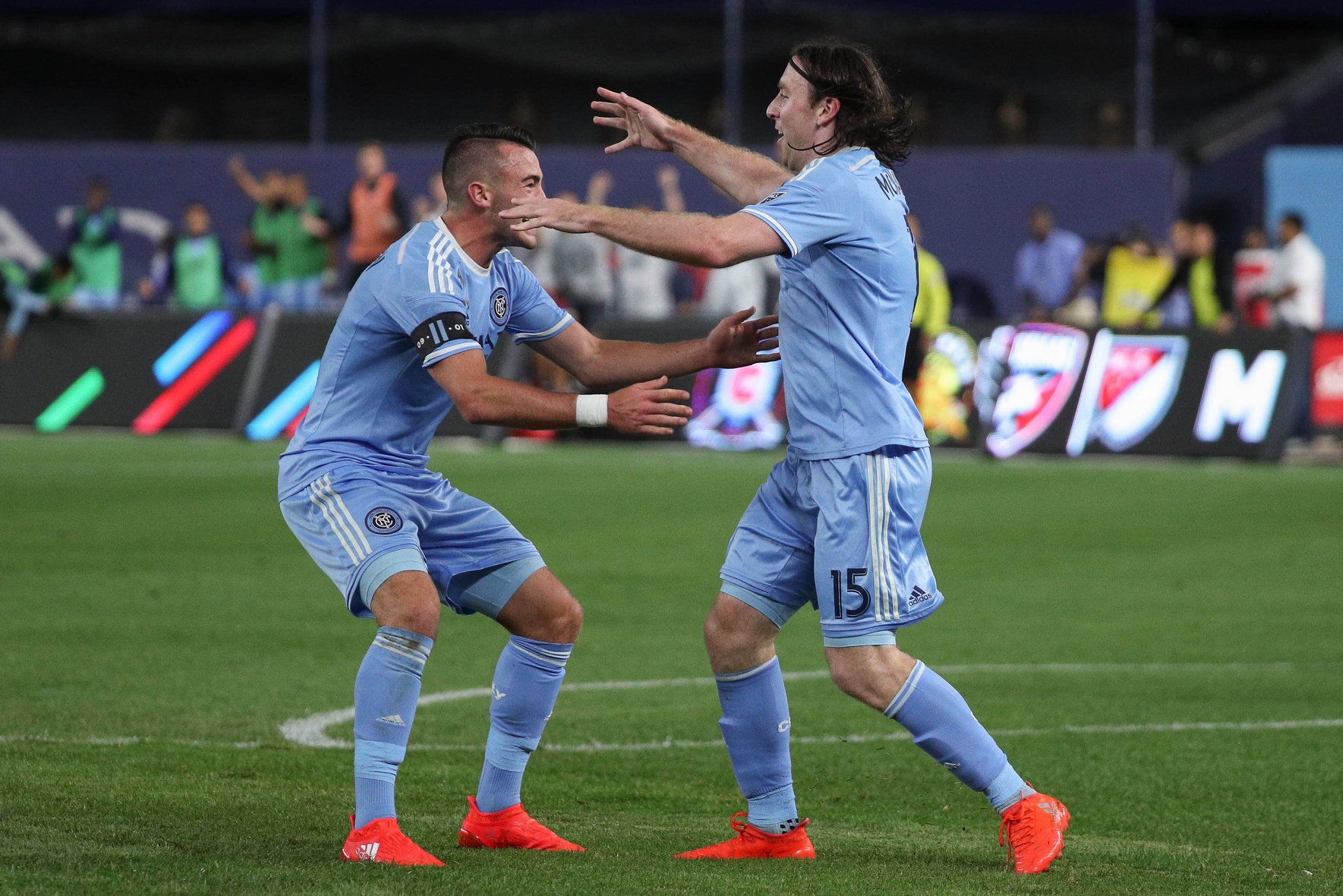 Through the first 78 minutes of Saturday's match, FC Dallas looked like a team that was having little issue with a post-U.S. Open Cup hangover. However, after a mostly dominant performance, a late goal saw the Western Conference contender drop two road points against New York City FC.
Khiry Shelton headed home a late goal on Saturday night, leading NYCFC to a 2-2 draw at Yankee Stadium. The tie sees NYCFC bounce back from last week's loss to the New England Revolution, while FC Dallas settles for just a point following Tuesday's U.S. Open Cup win over the Philadelphia Union.
As the second half continued with the hosts chasing a goal, NYCFC continued to pile on the pressure with little success. NYCFC failed to muster a second half shot until the 79th minute, but that shot proved the difference between a loss and a point.
Brought in as a second half substitute, Shelton headed home from close range for NYCFC's second goal sealing the draw.
However, it was not all positive for NYCFC, who saw Frank Lampard leave the match in the first half with an apparent calf injury.
Just days after defeating the Union to claim the club's first trophy in 19 years, FC Dallas began Saturday night's clash with the exact same XI that led them to U.S. Open Cup glory. Even still, it was NYCFC that opened the scoring just minutes into the game through Tommy McNamara, whose finish was his fifth of the campaign.
Following a deflection the ball fell to Jack Harrison on the left side, who tapped a pass past the FC Dallas defense. McNamara fired the shot past Chris Seitz and, despite offside protests from the FC Dallas backline, the goal stood as NYCFC jumped out to an eighth-minute lead.
From there, it was all FC Dallas. The U.S. Open Cup champions poured on pressure following the goal, earning corner kick after corner kick for their efforts. Finally, Urruti broke through, beating Josh Saunders from a tight angle to level the scoreline.
Six minutes into the second half, FC Dallas struck again with a beautiful sequence in the final third. Following a pass from Urruti, Mauro Rosales flipped a pass towards Barrios. Held onside by the last defender, Barrios finished with a defender on his back for FC Dallas' second goal.
With the game winding down and the score level at two, FC Dallas had their chance to get back into the game. All alone on Josh Saunders, Tesho Akindele's shot caromed off the NYCFC goalkeeper and off the post. The ensuing rebound was skied over the net, as FC Dallas squandered a late chance at three points. On the other end, NYCFC saw the same, as Steven Mendoza pushed a 90th minute shot wide of the mark as well.
After playing three matches in seven games, FC Dallas now gets a bit of a break ahead of next Saturady's clash with Real Salt Lake. NYCFC, on the other hand, faces off with the Chicago Fire on Friday night.
MAN OF THE MATCH
With an assist on each of his team's two goals, Jack Harrison was NYCFC's primary creator in a match where chances were few and far between.
MOMENT OF THE MATCH
Brought in as a second half substitute, Khiry Shelton made the most of his appearance by smashing a close-range header to earn his side a point.
MATCH TO FORGET
Throughout Saturday's match, Jefferson Mena struggled to find his feet, holding FC Dallas onside on several occasions while failing to truly cope with a dangerous FCD attack.