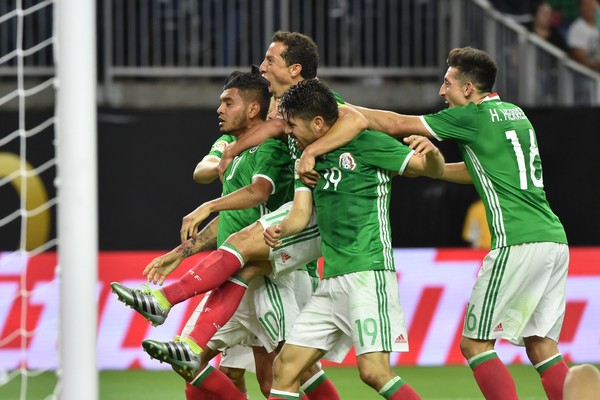 After a disappointing summer, Mexico looks to regain some poise with another positive result in the CONCACAF World Cup qualifying stage this weekend.
As the only team to have already secured advancement to the final Hexagonal stage of the CONCACAF qualifiers, El Tri will travel to take on El Salvador on Friday night. But Juan Carlos Osorio's squad is coming off a crushing 7-0 defeat at the hands of Chile in the quarterfinals of the 2016 Copa America Centenario back in June and hopes to find some answers to that poor showing.
The U.S. Men's National Team, meanwhile, will also be on the road to face St. Vincent and the Grenadines after picking up a 6-1 victory last November in the home fixture. Canada and Costa Rica, on the other hand, will face Honduras and Haiti, respectively.
In Europe, the UEFA qualifying contests will begin as well, with England headlining this weekend's action with a road match at Slovakia. Norway will host Germany and Poland will travel to Kazakhstan.
Stateside, MLS season carries on as clubs continue to make their respective pushes for the playoffs. The New York Red Bulls will take on the Vancouver Whitecaps while the Philadelphia Union look to take care of business in Chicago. The Western Conference will see FC Dallas host the Portland Timbers and the LA Galaxy taking on the Columbus Crew.
Here is a list of all the soccer action on TV this weekend, with all times Eastern:
FRIDAY
FIFA WORLD CUP QUALIFYING
3:30 p.m. — beIN Sports USA/beIN Sports en Español/beIN Sports Connect/Telemundo Deportes en Vivo — St. Vincent and the Grenadines vs. United States
5:06 p.m. — beIN Sports USA/beIN Sports Connect/NBC Universo/Telemundo Deportes en Vivo — Honduras vs. Canada
7 p.m. — NBC Universo/Telemundo Deportes en Vivo — Trinidad and Tobago vs. Guatemala
8 p.m. — beIN Sports USA/beIN Sports Connect/Telemundo Deportes en Vivo — Haiti vs. Costa Rica
9:30 p.m. — Telemundo Deportes en Vivo — Panama vs. Jamaica
10:06 p.m. — beIN Sports USA/beIN Sports en Español/beIN Sports Connect/Telemundo/Telemundo Deportes en Vivo/NBC Universo — El Salvador vs. Mexico
NASL
7 p.m. — ESPN3/NASL Live — Ottawa Fury vs. FC Edmonton
NCAA MEN
4 p.m. — Big Ten Network — Northwestern vs. Denver
7 p.m. — ACC Network — Creighton vs. Clemson
7 p.m. — SEC Network + — Dartmouth vs. Kentucky
7:30 p.m. — ACC Network — NC State vs. North Carolina
7:30 p.m. — ACC Network — Kentucky vs. Louisville
8 p.m. —ESPN3 — Fairleigh Dickinson vs. Bradley
8 p.m. — ESPN3 — UCLA vs. Duke
NCAA WOMEN
4 p.m. — ESPN3 — Northern Kentucky vs. Toledo
5 p.m. — ESPN3/ACC Network — Villanova vs. Minnesota
6 p.m. — Longhorn Network — Sam Houston State vs. Texas
7 p.m. — ESPN3 — Western Michigan vs. Oakland
7 p.m. — ACC Network/Longhorn Network — Illinois State vs. Notre Dame
7 p.m. — ACC Network — Miami (Ohio) vs. Miami (Fla.)
7 p.m. — ACC Network — Florida vs. Florida State
7 p.m. — SEC Network + — Clemson vs. South Carolina
7:30 p.m. — ACC Network — Dartmouth vs. Wake Forest
7:30 p.m. — ACC Network — North Carolina vs. Duke
7:30 p.m. — SEC Network + — San Francisco vs. Missouri
8 p.m. — Pac-12 Network — Oregon vs. Boise State
8 p.m. — SEC Network + — Iowa State vs. Auburn
8:30 p.m. — SEC Network + — Arkansas-Little Rock vs. Texas A&M
11 p.m. — Pac-12 Network — UCLA vs. Penn State
SATURDAY
MAJOR LEAGUE SOCCER
7 p.m. — MSG/MLS Live — Vancouver Whitecaps vs. New York Red Bulls
7:30 p.m. — MLS Live — New England Revolution vs. Colorado Rapids
8:30 p.m. — MLS Live — Chicago Fire vs. Philadelphia Union
9 p.m. — MLS Live — FC Dallas vs. Portland Timbers
10:30 p.m. — MLS Live — LA Galaxy vs. Columbus Crew
NASL
7 p.m. — One World Sports/ESPN3/NASL Live — Fort Lauderdale Strikers vs. New York Cosmos
7:30 p.m. — TWCSN/ESPN3/NASL Live — Carolina RailHawks vs. Jacksonville Armada
7:30 p.m. — ESPN3/NASL Live — Indy Eleven vs. Tampa Bay Rowdies
7:30 p.m. — ESPN3/NASL Live — Puerto Rico vs. Miami FC
8 p.m. — NASL Live — Minnesota United vs. Rayo OKC
AFRICAN CUP OF NATIONS QUALIFYING
1:55 p.m. — beIN Sports USA/beIN Sports Connect — Ivory Coast vs. Sierra Leone
SUNDAY
FIFA WORLD CUP QUALIFYING
Noon — ESPN3 — San Marino vs. Azerbaijan
Noon — Fox Sports 2/Fox Sports Go/Fox Deportes/Fox Soccer 2Go — Denmark vs. Armenia
Noon — WatchESPN/ESPN3 — Kazakhstan vs. Poland
Noon — Fox Soccer Plus/Fox Soccer 2Go — Lithuania vs. Slovenia
Noon — ESPN3 — Slovakia vs. England
2:45 p.m. — ESPN Deportes/WatchESPN/ESPN3 — Czech Republic vs. Northern Ireland
2:45 p.m. — Fox Sports 2/Fox Sports Go/Fox Deportes/Fox Soccer 2Go — Norway vs. Germany
2:45 p.m. — ESPN3 — Romania vs. Montenegro
2:45 p.m. — Fox Soccer Plus/Fox Soccer 2Go — Malta vs. Scotland
NCAA MEN
2 p.m. — ESPN3 — St. Edward's vs. Colorado School of Mines
4 p.m. — ESPN3 — Albany vs. Loyola-Chicago
4:30 p.m. — ESPN3 — Western Illinois vs. Valparaiso
7 p.m. — ESPN3 — Colgate vs. Monmouth
8 p.m. — ESPN3 — Utah Valley vs. Bradley
NCAA WOMEN
Noon — ESPN3 — Longwood vs. Youngstown State
1 p.m. — ESPN3 — Akron vs. Cleveland State
1 p.m. — ESPN3 — Detroit vs. Toledo
2 p.m. — ESPN3 — Kent State vs. Jacksonville
2 p.m. — ESPN3 — Green Bay vs. Illinois State
6 p.m. — ESPN3 — IPFW vs. Wright State
7 p.m. — ESPN3 — Texas-San Antonio vs. Stephen F. Austin