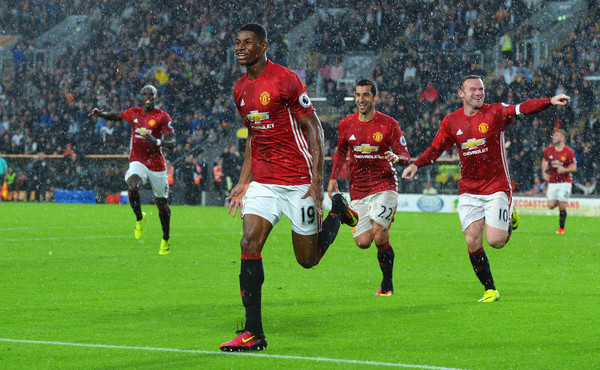 The first chapter of the Jose Mourinho-Pep Guardiola edition of the Manchester derby takes place this weekend.
The two world-class managers will lead their respective English powerhouses in a battle to remain perfect on the English Premier League season on Saturday at Old Trafford.
Missing from the action, however, will be City's Sergio Aguero, who is serving a three-match suspension, but stars like Zlatan Ibrahimovic, Kevin De Bruyne and others will still be sure to provide plenty of excitement in the fixture.
Liverpool-Leicester City provides the other more enticing EPL game this week with the defending champions looking to get on a roll with a result at Anfield.
Elsewhere, other European leagues also resume action. Real Madrid and Barcelona will have rather light tasks against Osasuna and Deportivo Alavés, respectively, while Bayern Munich will pay a visit to Schalke.
Stateside, the playoff push continues for Major League Soccer clubs. The LA Galaxy could see the return of Landon Donovan on Sunday at home against Orlando City, while the New York Red Bulls will host rival D.C. United.
Here is a rundown of all the soccer action on TV this weekend, with all times Eastern:
FRIDAY
MAJOR LEAGUE SOCCER
8 p.m. — UniMás/Univision Deportes/MLS Live — Sporting Kansas City vs. Houston Dynamo
NCAA MEN
5 p.m. — Big Ten Network — Michigan State vs. Rutgers
7 p.m. — ACC Network — Louisville vs. Pittsburgh
7 p.m. — ACC Network — Syracuse vs. NC State
7 p.m. — ACC Network — Virginia Tech vs. Notre Dame
7:30 p.m. — Big Ten Network — Indiana vs. Maryland
7:30 p.m. — ACC Network — North Carolina vs. Clemson
8 p.m. — ESPN3 — Portland vs. Evansville
9 p.m. — Pac-12 Network — Stanford vs. Minnesota
NCAA WOMEN
4:30 p.m. — ACC Network — High Point vs. Clemson
7 p.m. — ACC Network — Old Dominion vs. Wake Forest
7 p.m. — ACC Network — West Virginia vs. Duke
7 p.m. — SEC Network — Vanderbilt vs. Auburn
7 p.m. — ESPN3 — Loyola (Md.) vs. Monmouth
7:30 p.m. — Pac-12 Network — USC vs. Loyola Marymount
7:30 p.m. — ACC Network — Indiana vs. Virginia Tech
7:30 p.m. — ACC Network — Ball  State vs. Louisville
8 p.m. — SEC Network + — Missouri vs. Ole Miss
8 p.m. — SEC Network + — Arkansas vs. Mississippi State
10 p.m. — Pac-12 Network — UCLA vs. North Carolina
SPANISH LA LIGA
2:45 p.m. — beIN Sports en Español/beIN Sports Connect — Real Sociedad vs. Espanyol
GERMAN BUNDESLIGA
2:30 p.m. — Fox Sports 1/Fox Sports Go/Fox Soccer 2Go — Schalke 04 vs. Bayern Munich
MEXICAN LIGA MX
10 p.m. — Azteca America — Veracruz vs. Pachuca
SATURDAY
MAJOR LEAGUE SOCCER
6 p.m. — MLS Live — Columbus Crew vs. Vancouver Whitecaps
7 p.m. — MLS Live — Philadelphia Union vs. Montreal Impact
8 p.m. — YES Network/MLS Live — New England Revolution vs. New York City FC
8:30 p.m. — MLS Live — Chicago Fire vs. Toronto FC
9 p.m. — MLS Live — FC Dallas vs. Colorado Rapids
10:30 p.m. — MLS Live — Portland Timbers vs. Real Salt Lake
10:30 p.m. — CSN California/MLS Live — San Jose Earthquakes vs. Seattle Sounders
NASL
7 p.m. — beIN Sports en Español/beIN Sports Connect/NASL Live — Fort Lauderdale Strikers vs. Indy Eleven
7 p.m. — One World Sports/NASL Live — New York Cosmos vs. Minnesota United
7:30 p.m. — NASL Live/TWCSN — Carolina RailHawks vs. Ottawa Fury
7:30 p.m. — NASL Live — Puerto Rico vs. Tampa Bay Rowdies
NCAA MEN
7 p.m. — ACC Network — Virginia vs. Wake Forest
7 p.m. — ESPN3 — Northern Kentucky vs. Oakland
ENGLISH PREMIER LEAGUE
7:30 a.m. — NBCSN/NBC Sports Live Extra/Telemundo /Telemundo Deportes en Vivo — Manchester United vs. Manchester City
10 a.m. — NBC Sports Live Extra — Bournemouth vs. West Bromwich Albion
10 a.m. — NBCSN/NBC Sports Live Extra/NBC Universo — Arsenal vs. Southampton
10 a.m. — NBC Sports Live Extra — Burnley vs. Hull City
10 a.m. — NBC Sports Live Extra — Middlesbrough vs. Crystal Palace
10 a.m. — NBC Sports Live Extra — Stoke City vs. Tottenham
10 a.m. — NBC Sports Live Extra — West Ham United vs. Watford
12:30 p.m. — NBCSN/NBC Sports Live Extra/NBC Universo — Liverpool vs. Leicester City
SPANISH LA LIGA
7 a.m. — beIN Sports en Español/beIN Sports Connect — Celta de Vigo vs. Atlético Madrid
10 a.m. — beIN Sports USA/beIN Sports en Español/beIN Sports Connect — Real Madrid vs. Osasuna
12:15 p.m. — beIN Sports en Español/beIN Sports Connect — Málaga vs. Villarreal
12:15 p.m. — beIN Sports en Español/beIN Sports Connect — Sevilla vs. Las Palmas
2:30 p.m. — beIN Sports USA/beIN Sports en Español/beIN Sports Connect — Barcelona vs. Deportivo Alavés
ITALIAN SERIE A
Noon — beIN Sports USA/beIN Sports Connect/RAI International — Juventus vs. Sassuolo
2:45 p.m. — RAI International — Palermo vs. Napoli
GERMAN BUNDESLIGA
9:30 a.m. — Fox Sports 1/Fox Sports Go/Fox Soccer 2Go — Bayer Leverkusen vs. Hamburg SV
9:30 a.m. — Fox Soccer 2Go — VfL Wolfsburg vs. Cologne
9:30 a.m. — Fox Soccer Plus/Fox Soccer 2Go — FC Ingolstadt vs. Hertha Berlin
9:30 a.m. — Fox Soccer 2Go — Darmstadt 98 vs. Eintracht Frankfurt
9:30 a.m. — Fox Sports 2/Fox Sports Go/Fox Soccer 2Go — Freiburg vs. Borussia Mönchengladbach
12:30 p.m. — Fox Sports 2/Fox Sports Go/Fox Soccer 2Go — RB Leipzig vs. Borussia Dortmund
MEXICAN LIGA MX
6 p.m. — Univision Deportes vs. Cruz Azul vs. Club América
8 p.m. — Azteca America — Morelia vs. Tigres UANL
8 p.m. — Univision/Univision Deportes — Monterrey vs. Tijuana
10 p.m. — Univision/Univision Deportes — Guadalajara vs. Chiapas
FIFA FUTSAL WORLD CUP
5 p.m. — Fox Soccer 2Go — Cuba vs. Egypt
7 p.m. — Fox Soccer 2Go — Uzbekistan vs. Panama
7 p.m. — Fox Soccer 2Go — Thailand vs. Russia
9 p.m. — Fox Sports 2/Fox Sports Go/Fox Soccer 2Go — Colombia vs. Portugal
SCOTTISH PREMIER LEAGUE
7 a.m. — Fox Sports 1/Fox Sports Go/Fox Soccer 2Go — Celtic vs. Rangers
SUNDAY
MAJOR LEAGUE SOCCER
1 p.m. — ESPN/ESPN Deportes/MLS Live — New York Red Bulls vs. D.C. United
7 p.m. — Fox Sports 1/Fox Sports Go/Fox Soccer 2Go/MLS Live — LA Galaxy vs. Orlando City SC
NASL
4 p.m. — NASL Live — FC Edmonton vs. Miami FC
8 p.m. — NASL Live — Rayo OKC vs. Jacksonville Armada
NCAA MEN
4 p.m. — Pac-12 Network — USC vs. North Carolina
NCAA WOMEN
2 p.m. — Pac-12 Network — Stanford vs. Notre Dame
NWSL
9:30 p.m. — Fox Sports 1/Fox Sports Go/Fox Soccer 2Go — Portland Thorns vs. Western New York Flash
ENGLISH PREMIER LEAGUE
11 a.m. — NBCSN/NBC Sports Live Extra/Telemundo — Swansea City vs. Chelsea
SPANISH LA LIGA
10 a.m. — beIN Sports en Español/beIN Sports Connect — Valencia vs. Real Betis
12:15 p.m. — beIN Sports en Español/beIN Sports Connect — Granada vs. Eibar
2:30 p.m. — beIN Sports en Español/beIN Sports Connect — Deportivo La Coruña vs. Athletic Bilbao
ITALIAN SERIE A
6:30 a.m. — RAI International — Bologna vs. Cagliari
9 a.m. — beIN Sports USA/beIN Sports Connect — AS Roma vs. Sampdoria
GERMAN BUNDESLIGA
9:30 a.m. — Fox Sports 1/Fox Sports Go/Fox Soccer 2Go — Werder Bremen vs. FC Augsburg
11:30 a.m. — Fox Sports 1/Fox Sports Go/Fox Soccer 2Go — Mainz 05 vs. Hoffenheim
MEXICAN LIGA MX
1 p.m. — Univision/Univision Deportes — Pumas UNAM vs. Querétaro
7 p.m. — Unvision Deportes — Puebla vs. Toluca
FIFA FUTSAL WORLD CUP
5 p.m. — Fox Soccer 2Go — Mozambique vs. Australia
7 p.m. — Fox Soccer 2Go — Vietnam vs. Guatemala
7 p.m. — Fox Soccer 2Go — Ukraine vs. Brazil
9 p.m. — Fox Soccer 2Go — Paraguay vs. Italy