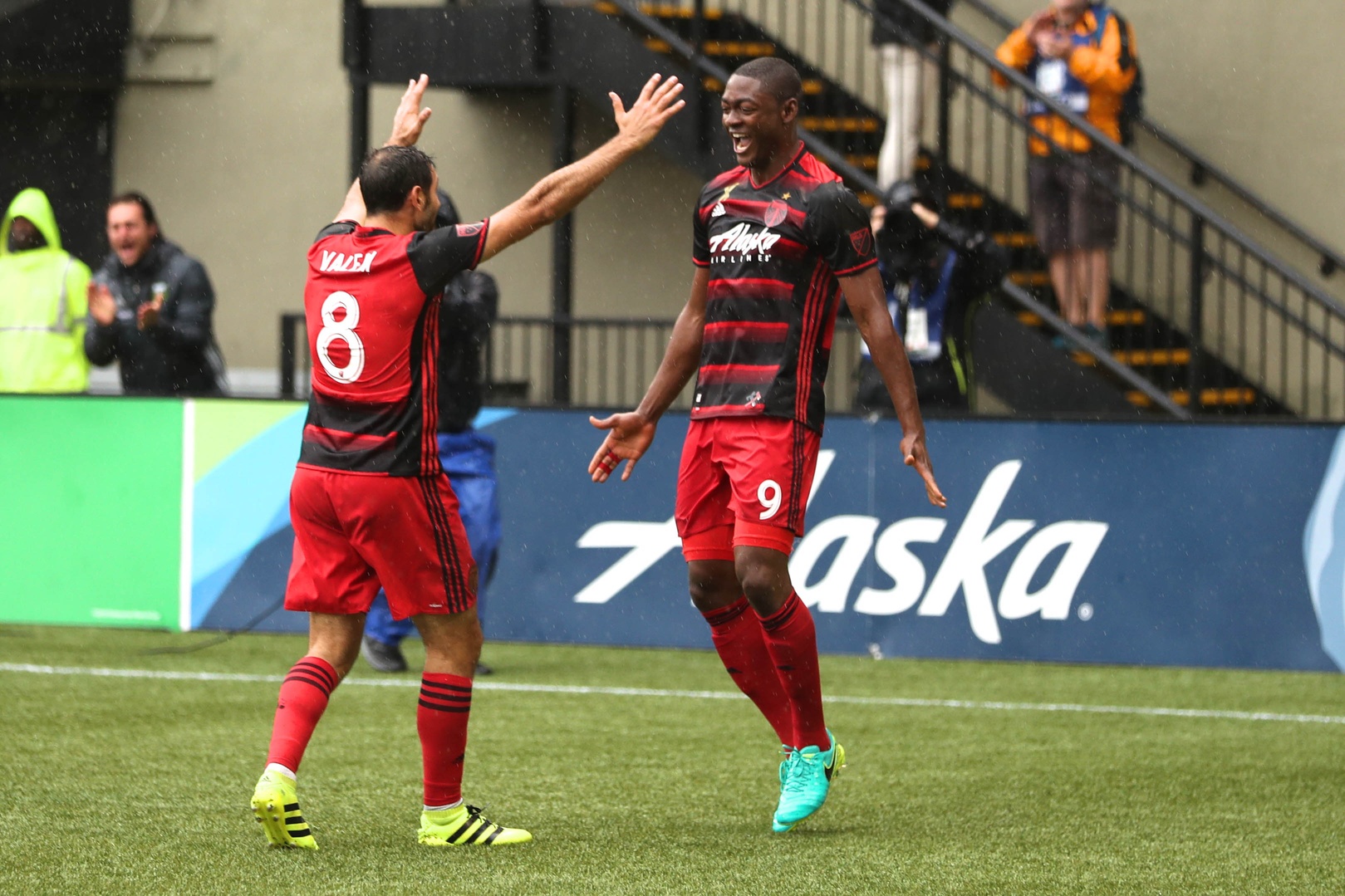 The goals came fast and furious in Saturday's clash between the Portland Timbers and Philadelphia Union but, when all was said and done, the reigning MLS Cup champions stood victorious.
A trio of goals within the first seven minutes of the second half provided plenty of excitement at Providence Park as the Timbers escaped with a 2-1 win on Saturday night. The win sees the Timbers maintain six-point lead over the seventh-place Seattle Sounders, while the Union's loss sees the Eastern Conference contender fail to gain ground on the three teams above them.
After a tepid first half, the two sides exploded in the opening minutes of the second stanza.
The goalfest started with Diego Valeri, who pushed the Timbers ahead with a goal in the first minute of the second half. As Darren Mattocks drove down the left side, Valeri's piercing run was rewarded with a centering cross, leaving the Argentina with a first-time tap-in to open the scoring.
Just one minute later, the Union were back in it through Chris Pontius. After breaking down the field just seconds after kickoff, Fabian Herbers left the ball behind at the top of the box. It fell to an onrushing Pontius, who unleashed a shot from the top of the box to level the scoreline at one apiece.
Once again, it didn't last long and, once again, it was Mattocks who paved the way. After darting past his defender once again, Mattocks unleashed a shot towards the far post. En route, the ball took a deflection off of Fanendo Adi's outstretched foot, leaving Andre Blake helpless as the Timbers regained the lead.
With just moments remaining, the Union's hopes of a comeback were doomed with the dismissal of Josh Yaro, who earned his second yellow card in the 85th minute.
The Timbers now look ahead towards next Saturday's clash with the Houston Dynamo, while the Union visit a fellow Eastern Conference contender in Toronto FC that same day.
MAN OF THE MATCH
Darren Mattocks had his way down the left all day long, and his work led to both Timbers goals in a  vital win.
MOMENT OF THE MATCH
Just six minutes after seeing his side squander a lead, Fanendo Adi's deflected goal restored the hosts' advantage while sealing three valuable points in the Western Conference race.
MATCH TO FORGET
Keegan Rosenberry remains a very strong candidate for Rookie of the Year, but Saturday was far from his best performance. The fullback struggled to keep up with Mattocks throughout in what was one of his only bad games of a young MLS career.