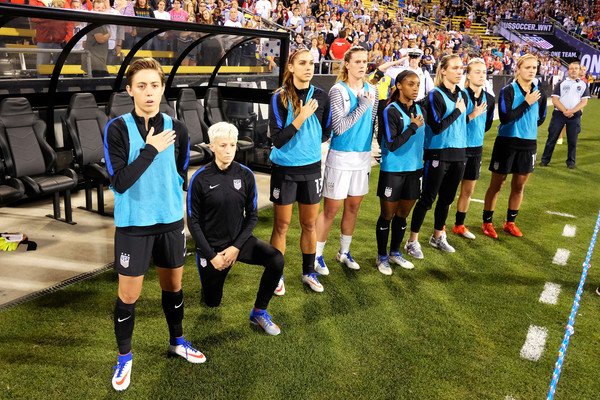 Megan Rapinoe's ongoing protest of the national anthem extended to Thursday night's U.S. Women's National Team match, prompting a statement from U.S. Soccer.
The midfielder knelt once again during the national anthem prior to the USWNT's lopsided win over Thailand. The gesture is one that Rapinoe has done for several weeks in an effort to protest social inequalities following inspiration from NFL quarterback Colin Kaepernick. While Rapinoe's actions have already generated plenty of controversy, the midfielder knelt once again Thursday, for the first time with the national team.
Rapinoe's decision prompted U.S. Soccer to release a statement that made it clear it didn't approve of Rapinoe protesting the national anthem while on national team duty.
"Representing your country is a privilege and honor for any player or coach that is associated with U.S. Soccer's National Teams. Therefore, our national anthem has particular significance for U.S. Soccer," the statement read. "In front of national and often global audiences, the playing of our national anthem is an opportunity for our Men's and Women's National Team players and coaches to reflect upon the liberties and freedom we all appreciate in this country.
"As part of the privilege to represent your country, we have an expectation that our players and coaches will stand and honor our flag while the national anthem is played."
Rapinoe's protest began on Sept. 4 as she first knelt prior to an NWSL match. Three days later, the Washington Spirit played the anthem before Rapinoe and other players could take the field in a effort to prevent Rapinoe's protest.  In her most recent club match, Rapinoe stood and locked arms with teammates to mark the anniversary of Sept. 11.
The USWNT returns to action on Sunday for a friendly against the Netherlands.