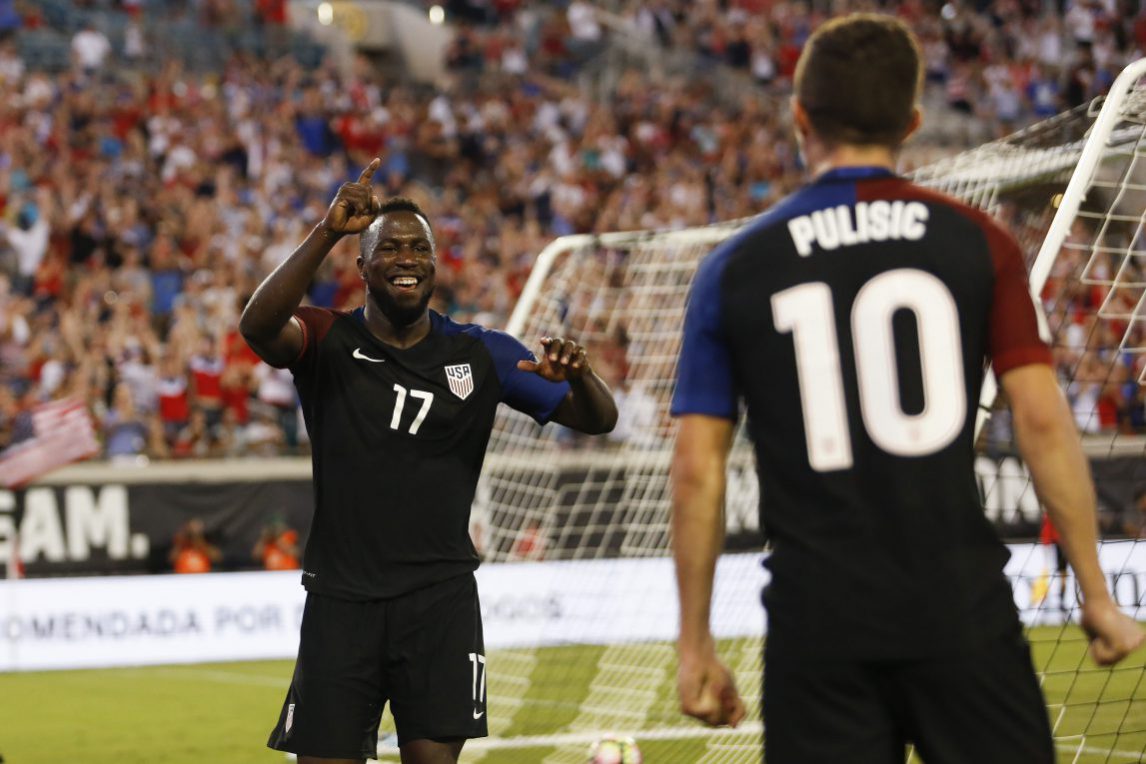 The U.S. Men's National Team knew what they needed to do. Just a draw, or even a not-too-lopsided loss, would earn them a spot in the Hexagonal round. Instead, they dominated a good Trinidad & Tobago team for 90 minutes, entering the next stage of World Cup qualifying on a high.
It was a performance worthy of advancement and one that featured plenty of bright spots. Leading the attack, Jozy Altidore stood tall yet again, firing in two more goals to further cement his comeback to the national team.
Alongside him, a 17-year-old star continued to add to the mythos that surrounds him. It was perhaps Christian Pulisic's best performance in a USMNT jersey, one which will have many clamoring for more of the young star.
But he wasn't the only rising youngster to shine. Players like Paul Arriola and Jordan Morris turned in impressive efforts, while Caleb Stanko earned his first taste of USMNT action. Now, the U.S. turns towards the Hex with their heads held high as bigger games and better teams await.
Here are some takeaways from Tuesday's 4-0 USMNT win over T&T:
PULISIC MORE THAN JUSTIFIES EXPANDED ROLE
In the days leading up to Tuesday's match, there was plenty of debate over how the U.S. should utilize Christian Pulisic. Following his efforts against T&T, that debate has been all but settled as it is now very apparent that he is ready to take the next step.
Pulisic was spectacular throughout Tuesday's match, earning SBI USMNT Man of the Match honors in the process. Although he did not score a goal of his own, the 17-year-old star did provide an assist while paving the way for countless other chances. It was easy to see that Pulisic was far and away the USMNT's most creative outlet in a match that saw virtually every attacker at their best.
It wasn't just Pulisic's play, but also the attitude that came with it. Time and time again, Pulisic ran at defenders, either besting them to the line or frightening them into a tailspin down the middle. Defensively, the Borussia Dortmund prospect darted back frequently. It seemed like every time Pulisic lost the ball, he was the one to win it back, as if he took each and every mistake personally throughout the match.
Pulisic looked both physically and mentally ready for the road ahead, one which certainly does get tougher as the Hex kicks off. The hype train continues and, with performances like Tuesday's, it's hard to see an end in sight.
ALTIDORE STEPS UP, BUT PARTNERSHIP WITH WOOD STILL NEEDS WORK
Jozy Altidore's goalscoring form continued on Tuesday night, but there's still work to be done at the forward position heading into the Hex.
The Toronto FC striker fired two more goals against T&T, surpassing Clint Dempsey for the USMNT's all-time lead in World Cup qualifying goals. Including his recent hot-streak on the club level, Altidore is in top form, and has silenced many doubters after several years of wasted time due to injury.
While both Altidore and forward partner Bobby Wood looked good individually throughout the two-game set, the pair still have work to do as a duo. Throughout Tuesday's match, Altidore and Wood never seemed to be 100 percent in sync, as it took until the closing moments of the first half to truly break down the T&T defense. Once Wood was taken out in the second half, Altidore lit up, working seamlessly with Paul Arriola, Jordan Morris and Pulisic in the attacking third.
That isn't to say that the Wood-Altidore partnership isn't what's best for business. The two are far and away the best forwards in the pool, and their partnership should be nurtured going forward. However, at least for one night, it appeared there's still some kinks to work out as the two look to fuse individual success with a cooperative partnership.
ARRIOLA HEEDS KLINSMANN'S ADVICE
Jurgen Klinsmann frequently tells young players to express themselves. According to the USMNT boss, the key for younger prospects is to show some personality while displaying their own unique play-style while representing their country.
Paul Arriola certainly heeded that advice on Tuesday.
In just his second senior appearance, the Tijuana winger contributed his second international goal, latching onto the end of a rebound late in the second half. Following an impressive debut against Puerto Rico before the Copa America, Arriola returned with yet another solid performance as he looks to make the leap from youth team star to USMNT contributor.
Throughout his 24-minute run out, Arriola certainly expressed himself. Whether it was his shot from range that tested T&T goalkeeper Marvin Phillip or his ability to create down the wing, Arriola showed he has something to offer the current USMNT.
For the past several years, wing play hasn't quite been the USMNT's strength. The current version of Arriola may or may not be the answer, but the 21-year-old certainly made his case on Tuesday night.
USMNT HOLDS SERVE, BUT BIGGER TESTS AWAIT
It was certainly a bit of a rollercoaster, but the USMNT is through to the Hex. While the past two matches have been a positive sign of things to come, the game is about to change in a major way.
Since switching to the six-team format in 1998, the U.S. has qualified for each Hexagonal round. Doing so again is merely holding serve, even if the run-up to the current edition was one of the more bumpy roads in recent memory. The U.S. faced adversity and bounced back, sealing a spot in a round that they're supposed to be in.
That's not to say there isn't reason for excitement. The past two games were almost faultless, as the U.S. beat up on teams they were supposed to beat up on. New stars emerged, players stepped up and, as a team, the U.S. handled business.
The business ahead, however, is about to change in a big way. A visit from Mexico and a trip to Costa Rica loom as the USMNT's first two matches, and the pair of CONCACAF powerhouses are certainly no St. Vincent & the Grenadines. The U.S. will need to be at an elite level, one showed in flashes on Tuesday, if they are to emerge from the opening games with something to show for it.
Still, the road ahead looks positive. The U.S. leads the Hex's all-time table with 98 points through 50 games, 11 better than El Tri. As the two sides prepare to lock horns in November, the U.S. appears to be on an upswing and will need to continue that upswing to start the Hex on the right foot.