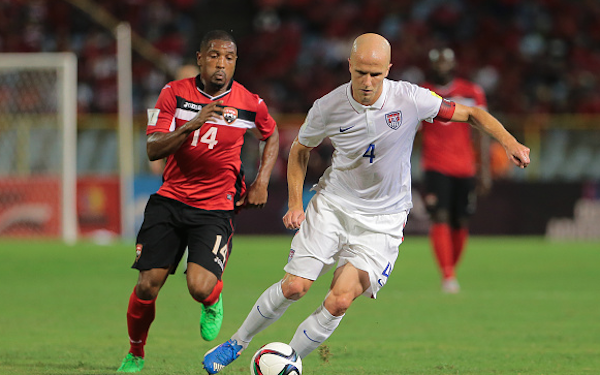 It was a bit more of a roller-coaster than many expected, but the U.S. Men's National Team's ride through the fourth round of World Cup qualifying is all but guaranteed for success. The only things standing in the USMNT's way are Trinidad & Tobago and, in some ways, themselves.
The U.S. hosts Trinidad & Tobago on Tuesday night in the final match of Group C play. The Soca Warriors have already booked their spot in the upcoming Hexagonal round, while the U.S. appears set to join them following a 6-0 thrashing of minnows St. Vincent & the Grenadines on Friday. Barring a catastrophic collapse that would require Guatemala to overcome a 12-goal deficit, the U.S. is safe and sound heading into Tuesday's clash in Jacksonville.
Still, there is plenty at stake. A spot atop the group remains on the line and, with it, what the U.S. sees as a more favorable run to begin the Hex. Knowing that, Jurgen Klinsmann isn't prepared to take risks or talk down Tuesday's game, one which the team still sees as a marquee clash.
"We're looking at the strongest lineup to beat Trinidad & Tobago," Klinsmann said. "This is it. This is World Cup qualifying. This is not the time to experiment. We can talk about that when everything is done and we have friendlies, but not World Cup qualifying. We take this very seriously.
"The guys were very professional and very focused going into Saint Vincent & The Grenadines. It's not easy. There are a lot of new guys coming with us. They got the job done and we expect the same approach and the same attitude from the first second tomorrow night. It will definitely be the strongest lineup that we think is right to get the points."
Leading the Trinidad & Tobago attack will be a series of familiar faces. Former Premier League star, and future Atlanta United Designated Player, Kenwyne Jones remains the focal point of the attack while providing a bustling physical presence atop the field. While Jones occupies whoever is manning the centerback positions, players like Kevin Molino and Joevin Jones dart down the flanks. While the Guatemala defense keyed in on Kenwyne Jones on Friday, it was Joevin Jones that did the damage for T&T by providing a brace to lead the way in a 2-2 draw that sealed a spot in the Hex.
On the other side, the USMNT squad will look a bit different than the one that toppled St. Vincent & The Grenadines on Friday afternoon. Matt Besler and DeAndre Yedlin have left the squad, while Michael Bradley and Michael Orozco have joined following one-game suspensions. The only guaranteed starter heading into Tuesday's match is Tim Howard, who will enter in favor of Brad Guzan in goal.
"I've been a part of a few of these and they're all exciting and they're all meaningful," said Howard, who will surpass Kasey Keller as the team's all-time leader in World Cup Qualifying appearances with his start on Tuesday. "We certainly need to get a result Tuesday night to help us advance and we want to go through as top. I'm excited. I'm always excited to be here.
"You never know. I don't think we're nervous. I think we're ready, I think we're prepared. We're at home and we expect to win. That plays on our minds and we're making sure that we're ready to do that."
Klinsmann says he and his team have too much respect for T&T to put anything at risk, especially with a spot in the Hex on the line. The USMNT boss says that Tuesday's opponents have more than earned their spot in the next stage, and that it is now time for the U.S. to do the same.
Part of achieving that goal is mentality. With just one game standing between them and taking another step towards the ultimate goal, the U.S. is expecting a very game T&T side, one that will make them have to fight to earn a result on Tuesday night.
"There's nothing bigger in the group than playing us. There's nothing bigger for their players to showcase themselves against the U.S. team," Klinsmann said. "I expect them, they traveled right after their game on Saturday morning, and I expect them to be hungry for that game. They have nothing to lose. They can go in there with no fear, no nervousness, no nothing. I think, in their minds, they'll want to show off. They'll want to go for contracts, whatever. They will be motivated. They will be going for it. We have to make it clear from the first second that this is our home game and that we badly want these three points and to finish first in the group.
"I'm not talking about the Hex yet," he added, "because we have to get that done. We'll see how they approach it, but it's really important when that our team knows this is serious stuff and we have to go fully aggressive from the first minute on to try and get the result. No matter how they approach it, we have to do it our way and we will do it our way."