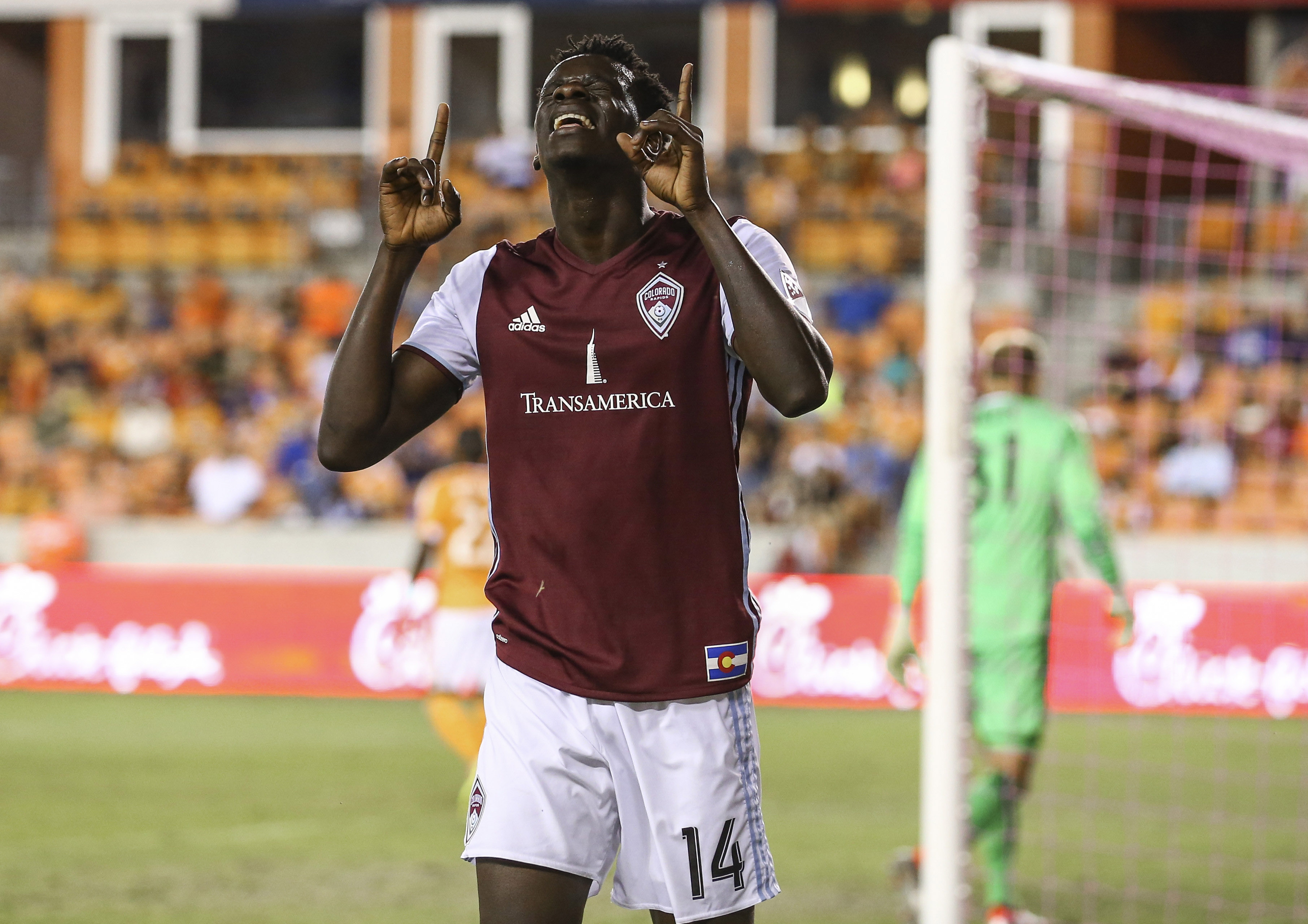 What a difference one year has made for the Colorado Rapids.
The Rapids extended their unbeaten streak to five games with a 3-2 win over the Houston Dynamo at BBVA Compass Stadium on Saturday night. The victory guaranteed the team a first-round bye and moved Colorado to within two points of league leaders FC Dallas.
Dominique Badji led the way for the visitors with a brace, while Shkelzen Gashi was also on the scoresheet. Mauro Manotas scored twice for the Dynamo in the loss.
Badji opened the scoring on 12 minutes after a brilliant assist from Dillon Powers over the Dynamo backline. Colorado continued pressuring the Houston goal through the Senegalese-born striker and Gashi, but they were thwarted by goalkeeper Joe Willis.
The hosts managed to equalize right before halftime as Manotas capitalized on Sheanon Williams' cross to move the Dynamo level.
However, the Rapids began the second half on a flyer. Powers once again penetrated the Dynamo's defense with a killer through ball to Badji, who made no mistake to give Colorado the lead again. Gashi bagged the clinching goal with a strike from distance.
Manotas completed his brace in the 81st minute to give the Dynamo some life at the end of the game, but they could not find an equalizer.
The Dynamo are now mathematically eliminated from postseason contention with the loss. They will face the red-hot Seattle Sounders on Wednesday in their next game, while the Rapids return to action on Thursday versus the San Jose Earthquakes.
MAN OF THE MATCH
Dominique Badji is the in-form striker for the Colorado Rapids at the moment. He finished both of his opportunities with incredible composure and now has four goals in his last five appearances. Not bad considering he's been replacing the injured Kevin Doyle in the starting XI.
MOMENT OF THE MATCH
The Houston Dynamo's equalizer couldn't have come at a worse time for the Rapids, but they deserve plaudits for recovering at the start of the second half. Dillon Powers, who was brilliant all night long, showed wonderful vision to pick out Badji for his second goal.
MATCH TO FORGET
There were plenty of disappointments in the Dynamo's XI, but Cristian Maidana was nowhere to be seen, especially when Houston was level with Colorado. He has been one of MLS' best playmakers over the past couple of seasons, but he was practically invisible on Saturday night.