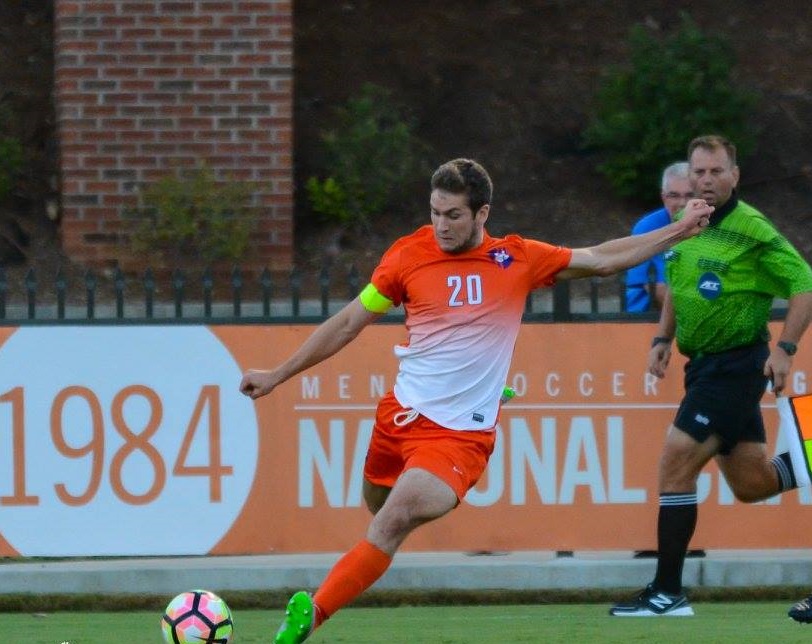 While Syracuse and North Carolina disappointed with a scoreless draw, Clemson topped Wake Forest, 1-0, in an intense match.
The SBI No. 4 Orange and No. 2 Tar Heels couldn't separate from one another over full time and two overtime periods. While not a win for the Tar Heels, the 0-0 result does represent their fourth shut-out in four ACC matches this year, maintaining a perfect 0 goals allowed. Also maintained is an unbeaten record against the Orange; the Tar Heels are 2-0-2 all-time against their conference foes. The Orange had the better of the match, however, out-shooting the Tar Heels 13-6 and winning the corner battle 7-4, but couldn't capitalize on their opportunities.
No. 7 Clemson needed only regulation and a Grayson Raynor goal, just minutes into the second half, to establish themselves in their ACC clash. The loss is Wake Forest's first in ACC play this season, as they couldn't bring the match level despite a late free-kick in dangerous position while Clemson keeper Ximo Miralles earned his second straight shut-out victory.
Notre Dame and Maryland coasted to wins in their respective matches on Friday, while Seattle pulled off an upset over SBI No. 13 Utah Valley.
Saturday saw a mix of results for the favorites. Denver, Loyola-Chicago, and Butler all cruised to victory in their respective matches against Eastern Illinois, Central Arkansas, and Georgetown. The news wasn't so good for Charlotte, West Virginia, and Delaware, as each found themselves on the receiving end of upset victories. Neither Creighton nor UMass-Lowell could pull away from their foes as each settled for 1-1 draws.
Sunday was far more pleasant for favorites on a day full of Pac-12 match-ups. No. 11 UCLA bounced back with a 2-0 victory over Oregon State while No. 17 Stanford bounced California, 1-0.
No. 18 San Diego State earned a strong victory over No. 25 Washington as well on Sunday. Travis Nicklaw scored the lone goal in a 1-0 victory over the Aztecs Pac-12 foes, with the winning effort coming just minutes into the overtime period. The win represents the Aztecs seventh shutout in 10 matches this season and bolsters their record to an impressive 6-1-3 (1-0-1 in Pac-12 play).
Here's a closer look at this weekend's action:
COLLEGE SOCCER WEEKEND SCOREBOARD:
FRIDAY
Northwestern 1, (1) Maryland 4, (RECAP)
(4) Syracuse 0, (2) North Carolina 0, (RECAP)
Pittsburgh 0, (3) Notre Dame 2 (RECAP)
(7) Clemson 1, (6) Wake Forest 0 (RECAP)
(24) Boston College 1, (12) Louisville 1 (RECAP)
Seattle 2, (13) Utah Valley 0 (RECAP)
(15) Virginia 0,(16) Virginia Tech 0 (RECAP)
SATURDAY
Eastern Illinois 0, (5) Denver 1 (RECAP)
St. John's 1, (9) Creighton 1 (RECAP)
Central Arkansas 1, (10) Loyola-Chicago 3 (RECAP)
(14) Butler 4, Georgetown 2 (RECAP)
Kentucky 1, (19) Charlotte 0 (RECAP)
(21) West Virginia 1, St. Mary's (Cal) 2 (RECAP)
(22) UMass-Lowell 1, Binghamton 1 (RECAP)
(25) Delaware 1,  Hofstra 2 (RECAP)
SUNDAY
(11) UCLA 2, Oregon State 0 (RECAP)
(17) Stanford 1, California 0 (RECAP)
(18) San Diego State 1, (25) Washington 0 (RECAP)