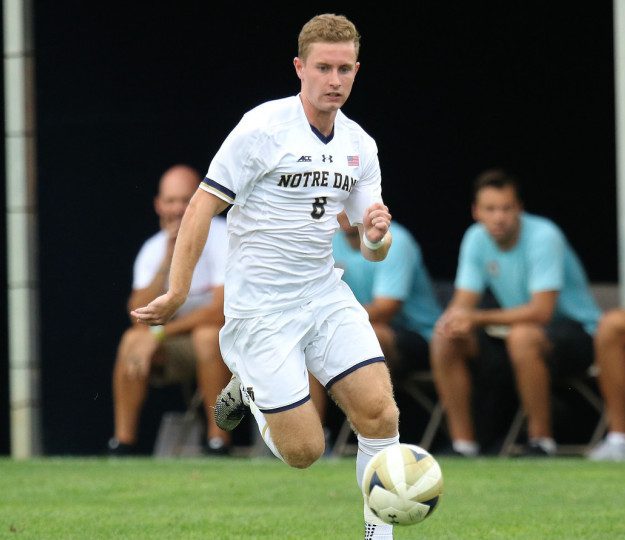 The ACC is the most stacked conference in college soccer, and this weekend's college matchups should help put the conference's Atlantic and Coastal divisions into focus.
SBI No. 2 Louisville is the lone unbeaten team in the ACC, but must travel to face No. 8 Wake Forest on Saturday. The Cardinals suffered a mid-week loss to Indiana, but can take a big step toward controlling the Atlantic division with a win over the Demon Deacons. Notre Dame is currently leading the Coastal Division, but faces a stiff challenge from No. 9 Virginia on Friday.
Out West, Stanford can secure first place in the Pac-12 with a win against arch-rival UCLA on Sunday. The No. 14 Cardinal have won four in a row, but face their toughest test since the beginning of the season when they face the No. 15 Bruins, who have won three in a row.
Here is a rundown of this weekend's top college soccer matchups:
FRIDAY
(1) Maryland vs. Wisconsin, 7pm
(9) Virginia vs. (3) Notre Dame, 7pm
Duke vs. (6) North Carolina, 7pm
(21) Boston College vs. (7) Clemson, 7pm
(10) Syracuse vs. (13) Virginia Tech, 7pm
(16) Florida Gulf Coast vs. Stetson, 7pm
Air Force vs. (17) Utah Valley, 9pm
Oregon State vs. Washington, 7pm
Missouri-Kansas City vs. Seattle University, 3pm
SATURDAY
(8) Wake Forest vs. (2) Louisville, 7pm
(4) Denver vs. Western Illinois, 9pm
(5) Creighton vs. Marquette, 7pm
Ohio State vs. (11) Indiana, 2pm
Evansville vs. (12) Loyola-Chicago, 7pm
St. John's vs. (18) Butler, 7pm
Penn State vs. (23) Michigan State, 7pm
Northern Illinois vs. (24) Akron, 7pm
(25) UConn vs. South Florida, 7pm
Old Dominion vs. Kentucky, 7pm
UNC-Wilmington vs. Hofstra, 7pm
Radford vs. Winthrop, 7pm
Binghamton vs. New Hampshire, 7pm
South Carolina vs. UAB, 7pm
Florida Atlantic vs. New Mexico, 5pm
West Virginia vs. Buffalo, 7pm
SUNDAY
Brown vs. (7) Clemson, 12:30pm
(14) Stanford vs. (15) UCLA, 8pm
Missouri-Kansas City vs. (17) Utah Valley, 8pm
California vs. (19) San Diego State, 5pm
Stony Brook vs. (20) UMass-Lowell, 2pm
====================