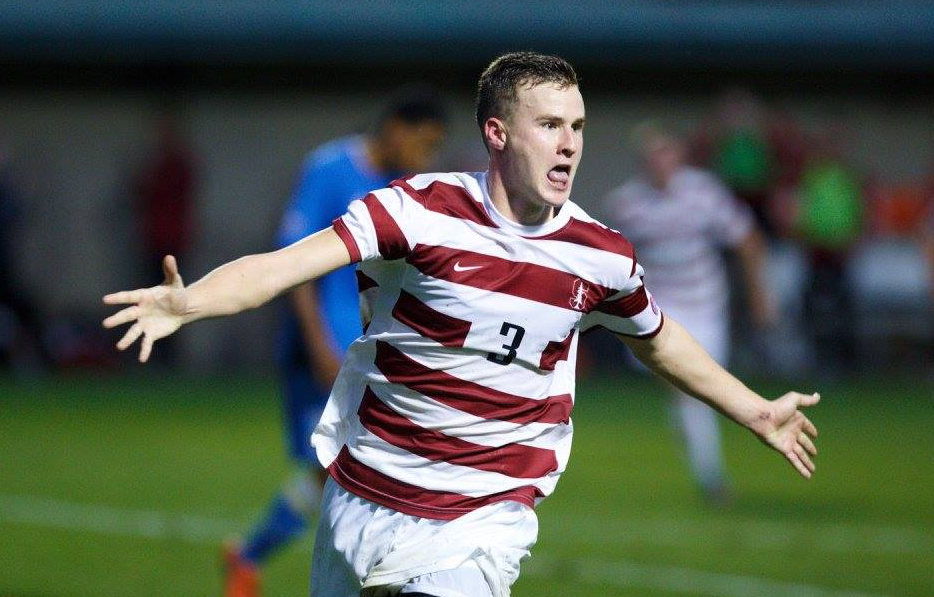 Stanford wasn't expected to follow up its NCAA title-winning season with another strong campaign after heavy losses to graduation, but this weekend provided a clear reminder that the Cardinal are still a national force.
SBI No. 14 Stanford cruised to a 3-0 victory over No. 15 UCLA on Sunday, improving the Cardinal to 5-0 in Pac-12 play.
Sam Werner, Tanner Beason and Adam Osharrafa scored to lead Stanford to a comfortable victory that has the Cardinal leading the way in conference play. Goalkeeper Andrew Epstein recorded three saves to preserve the shutout.
No. 8 Wake Forest earned an impressive 2-1 victory over No. 2 Louisville on Saturday, moving into a tie with the Cardinals in the ACC Atlantic standings in the process. A Jacori Hayes goal and Ian Harkes penalty kick paved the way for the Demon Deacons.
SBI No. 9 Virginia pushed its unbeaten streak to six matches by topping No. 3 Notre Dame, 1-0, on Friday. Cavaliers goalkeeper Jeff Caldwell recorded a career-high seven saves to help Edward Opoku's early goal stand up in this key ACC clash. The loss snapped Notre Dame's own five-match unbeaten run.
Maryland secured a share of Big 10 title with a dramatic overtime victory, 3-2, over Wisconsin. Sophomore midfielder Eryk Williamson scored the game-winning goal in the eighth minute of overtime to keep the Terrapins unbeaten on the season.
The Terps remain one of three unbeaten teams in the nation, along with No. 4 Denver and No. 20 UMass-Lowell, which both won matches this weekend.
Here is a rundown of the weekend's top college action:
WEEKEND COLLEGE RESULTS
FRIDAY
(1) Maryland 3, Wisconsin 2 (OT) (RECAP)
(9) Virginia 1, (3) Notre Dame 0 (RECAP)
Duke 1, (6) North Carolina 2 (RECAP)
(21) Boston College 0, (7) Clemson 0 (RECAP)
(10) Syracuse 1, (13) Virginia Tech 0 (RECAP)
(16) Florida Gulf Coast 6, Stetson 0 (RECAP)
Air Force 0, (17) Utah Valley 2 (RECAP)
Oregon State 1, Washington 2 (OT) (RECAP)
Missouri-Kansas City 1, Seattle University 1 (RECAP)
SATURDAY
(8) Wake Forest 2, (2) Louisville 0 (RECAP)
(4) Denver 2, Western Illinois 0 (RECAP)
(5) Creighton 2, Marquette 1 (RECAP)
Ohio State 2, (11) Indiana 2 (RECAP)
Evansville 1, (12) Loyola-Chicago 1 (RECAP)
St. John's 2, (18) Butler 1 (RECAP)
Penn State 1, (23) Michigan State 0 (OT) (RECAP)
Northern Illinois 0, (24) Akron 7 (RECAP)
(25) UConn 0, South Florida 1 (RECAP)
Old Dominion 0, Kentucky 2 (RECAP)
UNC-Wilmington 3, Hofstra 1 (RECAP)
Radford 2, Winthrop 0 (RECAP)
Binghamton 1, New Hampshire 2 (RECAP)
South Carolina 1, UAB 0 (RECAP)
Florida Atlantic 2, New Mexico 1 (RECAP)
SUNDAY
Brown 2, (7) Clemson 3 (RECAP)
(14) Stanford 3, (15) UCLA 0  (RECAP)
Missouri-Kansas City 0, (17) Utah Valley 2 (RECAP)
California 0, (19) San Diego State 1 (OT) (RECAP)
Stony Brook 0, (20) UMass-Lowell 1 (RECAP)
====================