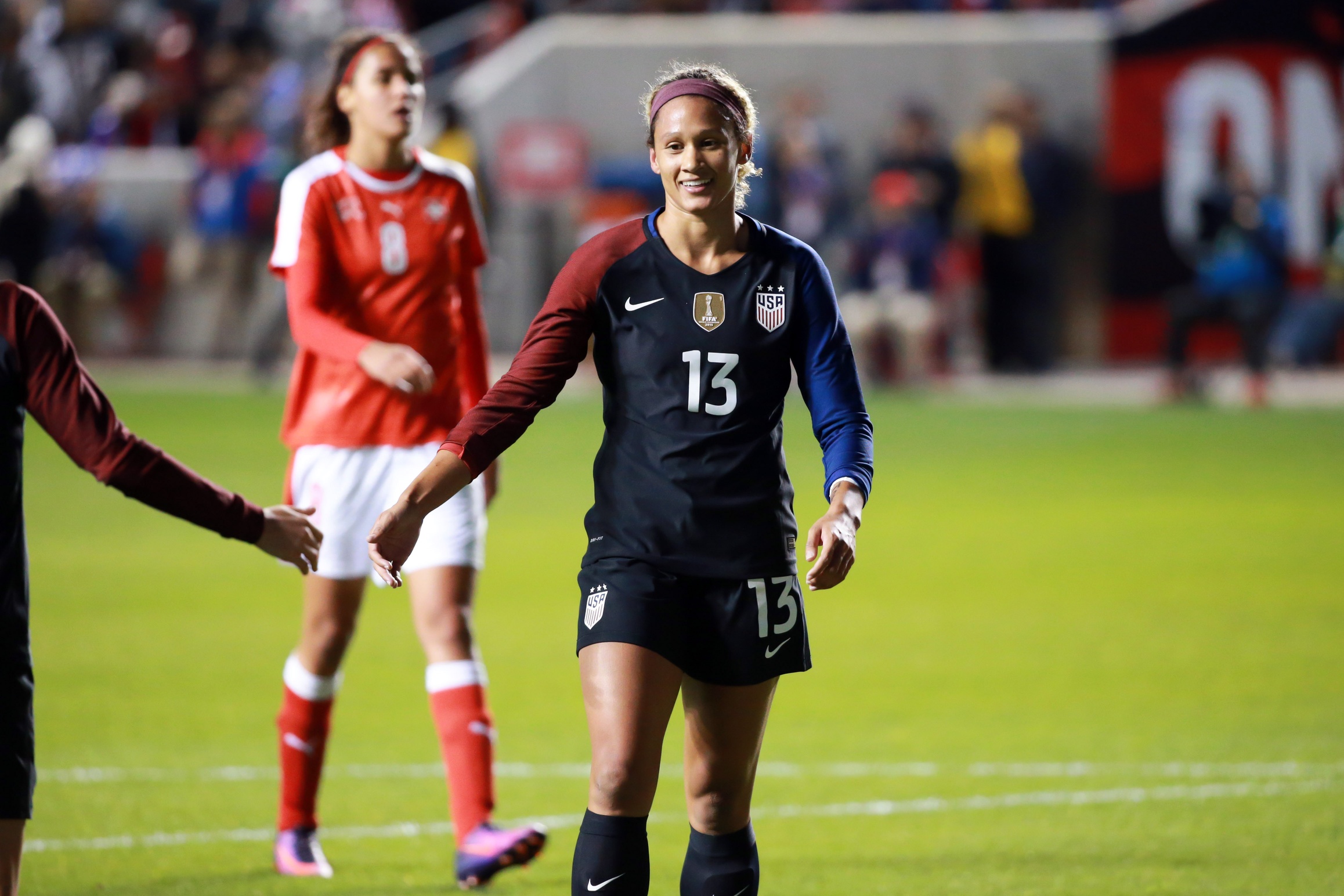 Lynn Williams felt chills. Even after a standout college career, even after making the leap to the pro game and even after claiming her first NWSL crown, the 23-year-old forward felt a sudden wave of nerves spread throughout her body as she prepared to enter for her U.S. Women's National Team debut.
Those nerves didn't last long. Just 49 seconds and four touches, to be exact.
Brought in as part of the USWNT recent youth movement, Williams entered Wednesday's match at halftime. She needed just 49 seconds to score her first international goal in her first international cap as the U.S. toppled Switzerland, 4-0. It was a surreal moment for a player less than two weeks removed from winning the NWSL crown as a member of the Western New York Flash. After reaching the mountain top with her club team, Williams once again was smiling from ear-to-ear.
After nicking the ball off a Swiss defender, Williams found herself in all alone on goal just seconds after coming onto the field. As she fired into the back of the net and turned around in celebration, she found Carli Lloyd, a superstar running to celebrate with a player that had just made a perfect introduction to the international game.
"It's been crazy. It's really been like I've been living a dream, obviously," Williams said. "The NWSL, when I was growing up, it didn't exist. Coming here and having girls to look up to and being in professional soccer, it's been a dream of mine. To go from people doubting us to winning (NWSL title) and then being on this team, there's women on this team that I've looked up to since I was little. Being able to play with them and call them my teammates, it's been a dream."
The goal was just the latest moment of a whirlwind for Williams. On October 9, Williams helped the Flash capture the club's NWSL crown in the most dramatic of fashions. After assisting USWNT teammate Samantha Mewis for a first half goal, Williams rose above to smash home a header in the 124th minute, sending the game to penalty kicks. She buried her ensuing shot from the spot, helping the Flash top the Washington Spirit, 3-2, in the shootout.
It was a fairy-tale ending to a fairy-tale club season. With 11 goals in 19 appearances, the 23-year-old claimed 2016 NWSL Golden Boot as the league's top scorer while also earning honors as NWSL MVP. But before she had even finished celebrating a perfect club season for both herself and her team, Williams was off, set to join the USWNT for the first time alongside club teammate Abby Dahlkemper.
Just one day after lifting the trophy in the NWSL final, Williams was back to Buffalo to prepare for USWNT camp. She joined the national team several days later, looking to make her mark in her first international call-up. Williams says the sequence offered no downtime, but added that she enjoyed how fast things moved from one step to the next.
Williams' goal was simple: impress USWNT head coach Jill Ellis. She did.
"I thought they were fantastic," Ellis said of the five debuting players. "To come in and play your first game and get your first cap, as much as they were allowed to express themselves, they also fit into the system… Lynn, a great finish, her work rate, penetration, back to pressure. She's multi-dimensional, and I thought her work rate was tremendous. I think both of them have come in and made an impression. I'm really pleased.. I'm exceptionally pleased that they all came in and looked like they belonged.
"The fact that she came in and made such an impression immediately was fantastic," Ellis added. "It was a planned substitution. Again, they deserve playing time based on how they trained. That's the message: how well they do in training gets them playing time, so I think they deserved that. I thought, again, to come in and play, Switzerland is a good team. To come in and be as impactful as they were, it's a real testament to the potential future of this group."
Williams' whirlwind is not yet over. The U.S. returns to action on Sunday against Switzerland yet again in a match that could see Williams build upon her ideal debut.
The second match will certainly be different. With a goal and a game under her belt, Williams now knows the expectations and weight that come with featuring for the USWNT. But, most importantly, she also knows what it feels like to shine on the highest level.
"Going in when they told us, 'you're going to be going in,' you first get some nerves coming over your body," Williams said. "Carli came up to me and just said to connect your first pass and go from there and Sam came up to me and said ' Lynn, you don't have to be anything that you're not. They brought you in for a reason and that's because it's you, so just go out there and be you'. That's what I tried to do. At the end of the day, it's soccer, and it's supposed to be fun, so I just tried to make it fun. "