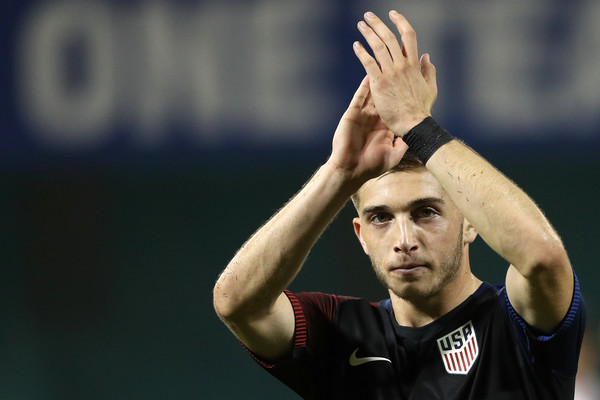 As his first U.S. Men's National Team appearance came to an end, Lynden Gooch lingered a bit. The Sunderland midfielder remained on the field, clapping for the fans in attendance while taking it all in under the RFK Stadium lights. His first camp was over, and in Gooch's mind, it was a good one.
Gooch made his USMNT debut in Tuesday night's friendly against New Zealand, logging 31 minutes in what ended as a 1-1 draw. It was a fitting reward to a lengthy 10-day camp, one which saw Gooch join a senior team that he had looked up to since childhood. When it was all over, as he stood on the field clapping, Gooch embraced what felt like a special moment after years of battling for respect for both club and country.
Although his appearance was somewhat brief, the 20-year-old midfielder's initial reviews were solid. From his introduction, Gooch was one of the USMNT's more active options, firing cross after cross in from the right side while remaining composed against a tight New Zealand backline. When all was said and done, Gooch only got on the ball a few times, but certainly tried to make the most of each chance to create.
"I think Lynden Gooch confirmed what we saw in training. He's fearless," USMNT boss Jurgen Klinsmann said. "He takes people on and is very physical as well. He doesn't shy away from physicality. There are a couple of things we saw that we didn't know before that camp.
"He's fearless. He's a very interesting character."
Gooch says Klinsmann limited his minutes to allow him to get a feel for his debut. The idea was to make sure Gooch didn't get burnt out in the first of what figures to be many USMNT appearances for the 20-year-old up-and-comer.
Still, Gooch wanted to make sure to take his chance. The midfielder joined a second half that felt "a bit flat". It was an effort to provide new energy and life to a game that had lost quite a bit.
One noticeable effort, his first action of the game, saw Gooch nearly pick out Jozy Altidore with a cross. The ball flew just over the forward's head before falling to Julian Green. The Bayern Munich forward's shot went soaring, but Gooch's initial USMNT ball was good enough to create a chance.
The midfielder says that, on another day, the U.S. may have scored a winning goal on one of those several late-game chances, but it wasn't to be. Even with the tie, though, Gooch sees a lot of positives from the result, as well as a 10-day long camp that saw him truly integrate himself with his country's first team.
"(I was surprised by) just how relaxed it was," Gooch said of camp. "Professionally, you do what you need to do to prepare yourself and just enjoy yourself being around these experienced players. These were players I've looked up to for a long time. It was good. I enjoyed it.
"It was a good camp. I thought I did very well. I worked really hard and tried to make an impact as much as I can. I think I did that. I was a bit disappointed not to play from the start tonight, but as long as I did my job when I went in."
While Gooch's attacking efforts were clearly noticed, it was his work ethic that yielded the biggest praise. Despite being a newcomer, Gooch jumped right in and immediately took to the pace of the international game, hustling back and forth in an effort to make an impression.
Michael Bradley said he was impressed by Gooch's eagerness and commitment throughout the 10-day stint, as the 20-year-old displayed traits that will go a long way towards earning more USMNT looks going forward.
"He's hard-working going both ways, in terms of his willingness to make things happen," Bradley said. "When balls turn over, he presses and chases things down. I think it was good for him to get his first taste with this group and now, as it goes for all of our young players and as it goes for everybody, the time is now to go back to club teams and get yourself in a good rhythm right away, get yourself back on the field and put yourself in a position to be in the next group."
Tuesday, in many ways, was just a start. Gooch now heads back to a Sunderland team that needs him as the season goes on. He's become an integral part of David Moyes' squad, and will certainly play in big games as the season wears on.
Internationally, Gooch isn't sure what to make of his immediate future. He's not sure if a call-up for the Hexagonal is in the cards, as the U.S. faces off with Mexico and Costa Rica in a pair of pivotal November qualifiers. However, he is confident in Tuesday's performance, one which he believes left a good first impression for those around the national team.
"I don't think I did much wrong tonight. I don't think I showed amazing, but I think I showed what I can do," Gooch said. "I can score a goal or set up a goal. With the time I had on the pitch, I think I did well."