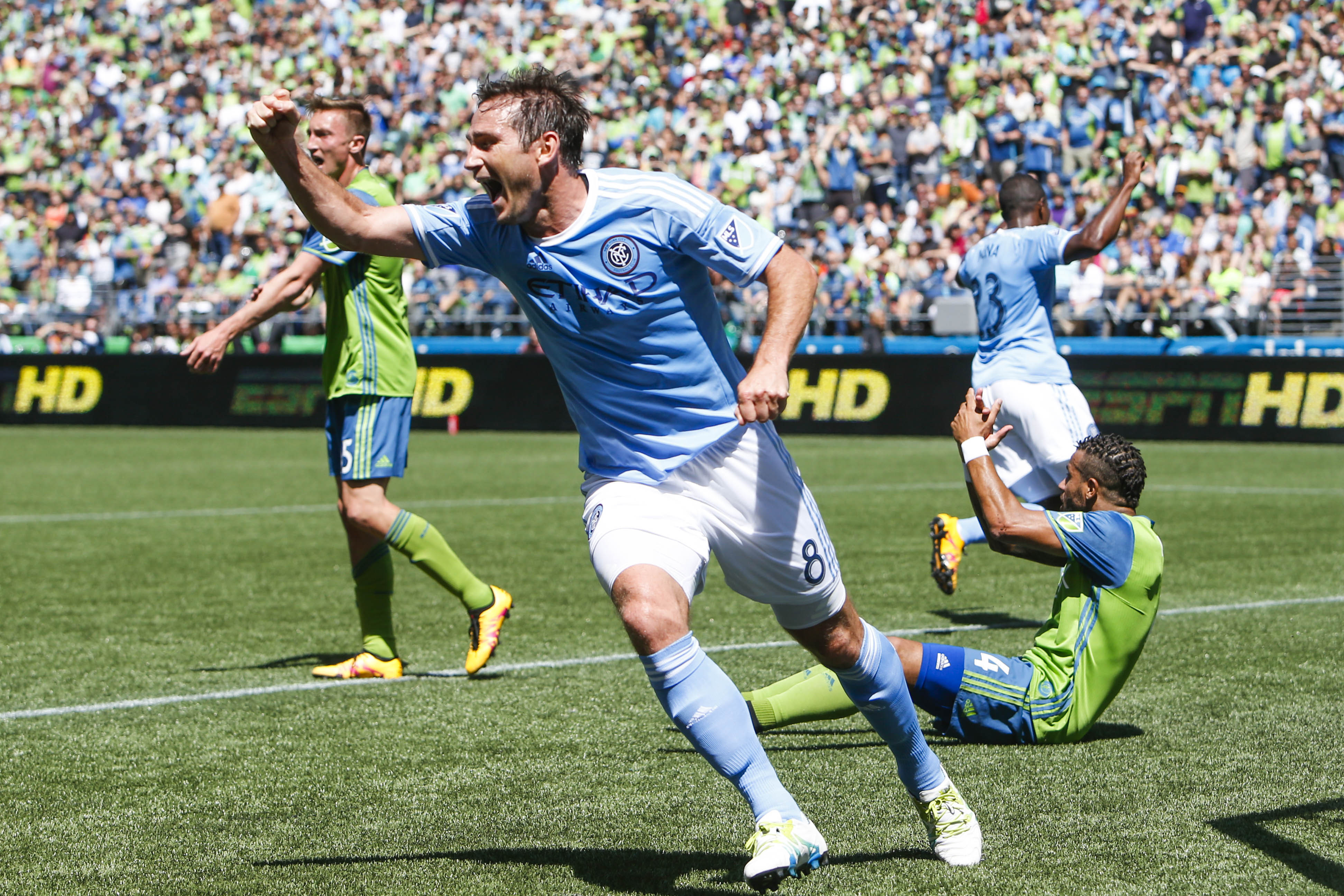 Despite an injury-riddled start to his controversial New York City FC career, Frank Lampard is enjoying life with the club and in the United States as a whole.
In an interview with the BBC's Gary Lineker, Lampard spoke about a variety of subjects including Patrick Vieira, the differences between MLS and the Premier League, and his feelings about living abroad.
"I love it here," said Lampard. "I'm loving it, it's a great life living in the city, the kids are coming over, me and [my wife] Christine are really happy. It's been a great experience. If it ended tomorrow, it's been an amazing experience, not just in terms of a little patch where I've hopefully helped the team in the playoffs, but just as a life experience.
"I definitely feel a bit wiser coming to another country and working."
Lampard began his MLS stint on rocky terms after a confusing saga with his contract. He then picked up niggling injuries before returning to full fitness in May when the former Chelsea midfielder went on a tear, racking up 12 goals in 14 starts before he suffered a calf strain.
The NYCFC star returned to action on Decision Day as a substitute and recorded two assists in the process.
Having lived in the United States for more than a year, Lampard has experienced American soccer fandom, which he has admired.
"It's a different culture," Lampard said. "A game, if you go back to the Premier League, what we love about it, is the rivalry between teams. If we play at Chelsea, going up to Tottenham, we bring 3000 fans, and hate each other for that. It's very tribal. Here, the whole culture, the fans come to be entertained.
"There isn't that rivalry of hatred for the other teams, and I quite like it. You can take a corner and you don't get called all sorts of names. You appreciate it when you go and play in those sorts of conditions."
The 38-year-old is often asked about the differences between the Premier League and MLS and he said there is an obvious contrast between the two.
In terms of European soccer on TV, Lampard cannot get enough of the Premier League's coverage in the U.S.
"The Premier League, for me, is the best league in the world," Lampard proclaimed. "Tradition, great players, lots of money, bringing the best in the world. The MLS is a growing league, but it's certainly improving. In the team I'm playing in, we've got some young kids running around, which is great. It sort of helps me and Pirlo save the legs a little bit.
"That's tough, because if you get here and you think it's a holiday, it's not going to work that way."
As for coach Patrick Vieira, Lampard was impressed with how the French tactician stuck to his philosophy despite the team's early struggles.
"The biggest credit I'll give to Patrick is that he came in with a real certain idea and principle," said Lampard. "He wanted to play from the back. It was real new to us as a team. Preseason, it wasn't great. He could have easily thrown the towel in like 'you know what? I'm just going to try and keep it basic.' He didn't. He kept doing what he wanted to do.
"We've really seen the team grow. Players have grown, they're learning from him. Everybody respects Patrick anyway, because of what he did in the game, but I think as a manager, he's proven himself in his own right here."
NYCFC will open its playoff campaign against Toronto FC in the Eastern Conference semifinals, with the first leg on Sunday at BMO Field.