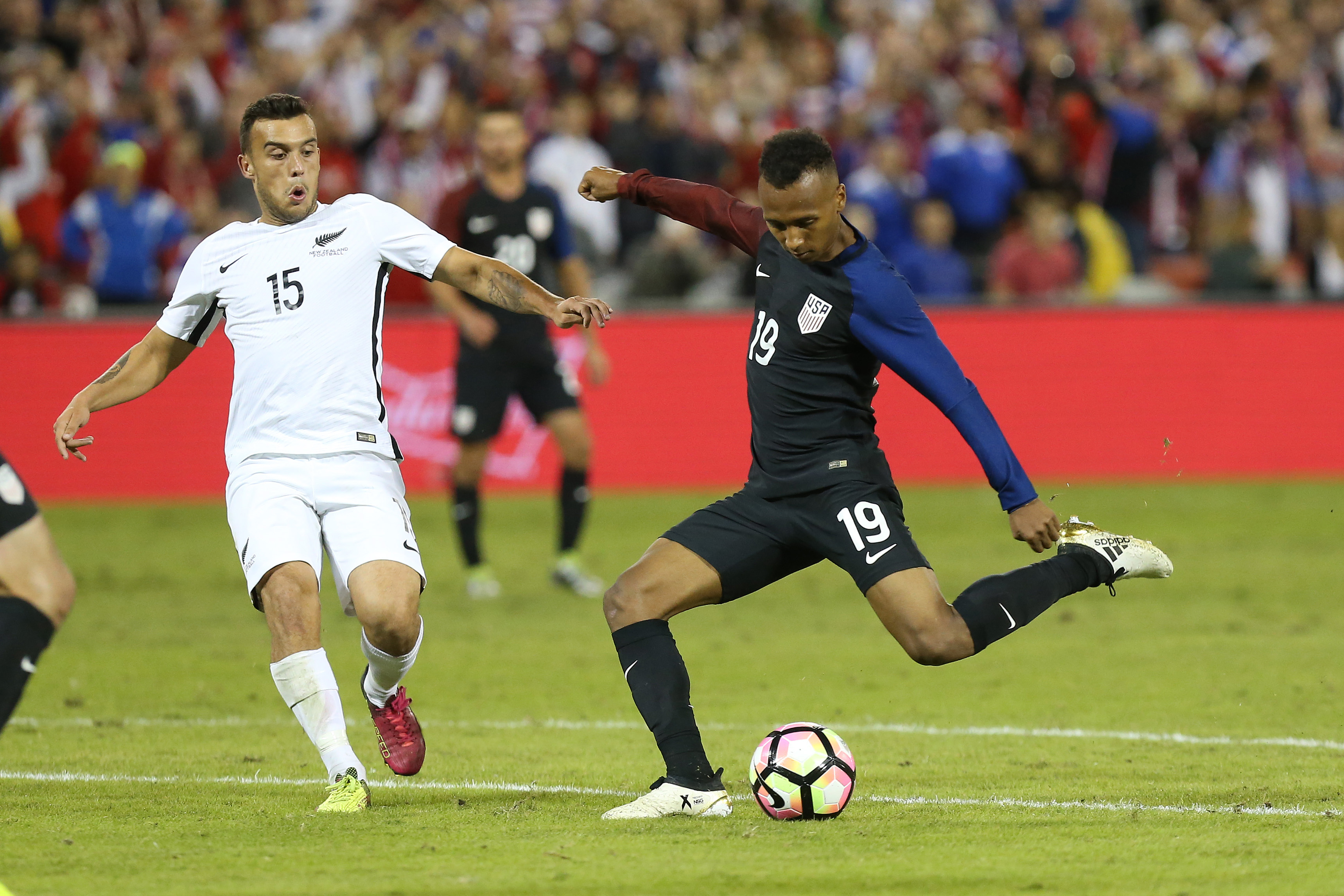 WASHINGTON – Highs and lows are part of every player's career, especially young ones.
Right now, in this moment, Julian Green is enjoying a high.
Four days after scoring a winner and helping set up a goal for the U.S. Men's National Team, Green found the back of the net again in a 1-1 draw with New Zealand on Tuesday night. It was mostly Green's own doing that led to his opening strike in the 27th minute of the match at RFK Stadium, as he collected a headed flick from Jozy Altidore on the left flank, took on a defender before cutting in, and unleashed a low right-footed shot to the near post.
It was not just the 21-year-old winger's tally vs. New Zealand that impressed many observers, however. Green looked a much more confident and capable player than he had in most of his recent international outings. He stayed active and involved over the course of his 78-minute outing, oozed confidence while repeatedly going at players, and wasn't afraid to pull the trigger when he had a chance.
The complete body of work of Tuesday's shift was another step in the right direction for a player who had endured his share of tough times since emerging onto the scene by scoring at the 2014 World Cup. It, combined with his performance in last week's 2-0 win over Cuba, was also a sign that a young player still finding his way as a professional is growing.
"Julian Green is back in the picture. I think not only (by) scoring today, but overall in training sessions," said U.S. head coach Jurgen Klinsmann. "He's becoming more mature, he's becoming stronger, he's far more confident. It's really nice to see his development, so that's one big plus over these 10 days."
"The way he presented himself these 10 days, actually from the first training session on, we said, 'Oh.'" Klinsmann added. "He made a big step forward. He becomes more of a personality. Again, he's still very young, and I think always when you deal with that age you've got them the ups and downs and just hope that they mature over time."
Green being able to make such an impression on Klinsmann during this international break should encourage U.S. fans. The youngster could have easily laid an egg and proven to be not up to snuff in this October camp given that he has not played much at the club level for Bayern Munich this season. In fact, he has just one 24-minute appearance to date, and that came in a DFB Pokal game back in August that was well decided before he entered the field.
Yet there Green was on Tuesday, looking like one of the Americans' more dangerous and in-form players despite his lack of first-team minutes in recent seasons.
"That's what I went through and every young player goes through: When you rise from 0-to-100 and then all of a sudden you don't find yourself playing that much for whatever reason," U.S. midfielder Danny Williams told SBI. "Of course Bayern Munich is big, but I can only give him compliments. He showed to the people and the manager that he wants to be in this team. I think he had two amazing games against Cuba and today against New Zealand, and we'll see what happens in the future."
What could be in Green's future as a result of his recent play for the U.S. is a call-up for next month's much-anticipated showdown with bitter rival Mexico. The Americans kick off the final round of CONCACAF World Cup Qualifying in November by hosting the Mexicans at Mapfre Stadium in Columbus, Ohio, and Green has tossed his name into the conversation for the roster Klinsmann will put together by showing well and scoring in these two friendlies.
Earning minutes from here until then at Bayern Munich would surely boost Green's chances of making the cut, but beating out stars like Frank Ribery and Arjen Robben for German Bundesliga time is not all that realistic.
It might also not be all that necessary for U.S. inclusion. Not when the maturing up-and-comer can stand out as much as he did on Tuesday.
"They are some of the best players in the world, so I can learn from everybody there," said Green. "I feel that I learn every day from them, so if I come here I know how it is to train at world-class level."