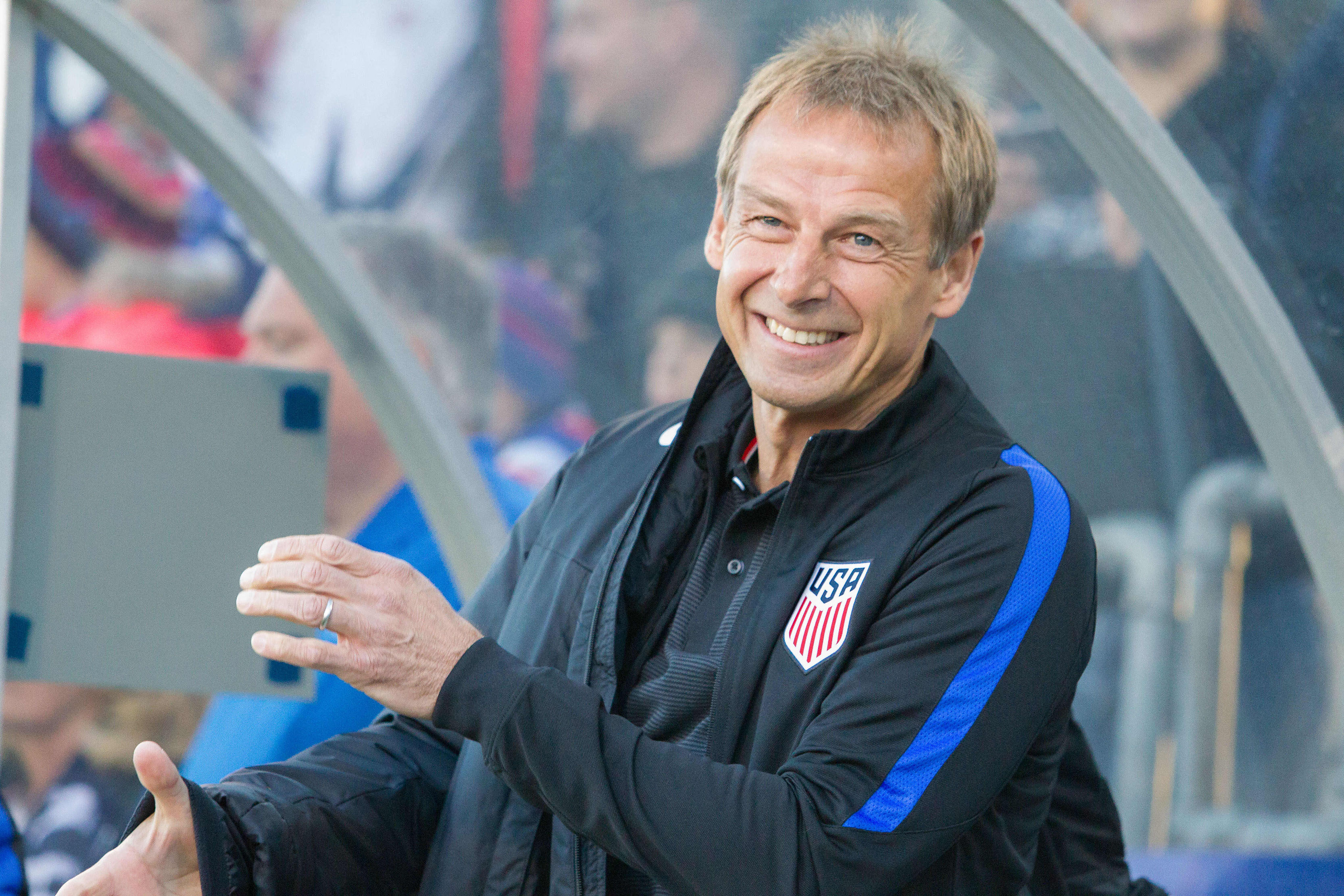 Jurgen Klinsmann has made plenty of bold personnel decisions as coach of the U.S. Men's National Team. More often than not, his fearlessness involves a younger player. In most circumstances, that youngster is given an opportunity to prove his worth in a meaningful game, where he will either sink or swim.
There have been several of these instances over the past two years alone. Arguably Klinsmann's most audacious choice to date was the omission of Landon Donovan off the USMNT's 2014 World Cup roster, with Julian Green making the cut.
Fast forward 29 months since that infamous day, and Green is back in camp for the first time since last May. The Bayern Munich winger, once regarded as the USMNT's most exciting prospect, was practically in the wilderness. That was until this past summer, when Carlo Ancelotti saw enough from the 21-year-old to include him in Bayern's first team.
A few months later, Klinsmann decided to give Green an opportunity with the national team. The youngster made the most of his chance against Cuba on Friday, which left a good impression on his coach.
"He played a good game," Klinsmann said during his Q&A on Facebook. "Obviously he scored the second goal, and he was instrumental on the first goal through [Chris Wondolowski]. But most importantly, we see Julian just maturing, getting stronger, and as it is with all young players, sometimes you take a step backwards, then take two forward."
It's clear that Green personifies Klinsmann's description about youngsters. The forward went on a disastrous loan spell to HSV, where he only earned four appearances due to injuries and untimely coaching changes at the club.
More than a year after his forgettable stint with Hamburg, Klinsmann can see a major difference in Green's attitude.
"He went through a huge learning curve over the last two years since the World Cup in Brazil," Klinsmann said. "He had Pep Guardiola, now he has Carlo Ancelotti, who is a very, very experienced coach and he's just trying to improve every day in training and we've seen this week that Julian is maturing. He's getting stronger, he shakes things off easier, he's going one against one, which is one of his biggest strengths, so hopefully we see that more over the next [few] months."
Ethan Horvath, another 21-year-old was in the USMNT camp and earned his first cap in Friday's 2-0 win over Cuba. Despite making his debut on a less-than-ideal playing surface, the Molde goalkeeper kept a clean sheet.
The performance and clean sheet was crucial considering Bill Hamid has returned to the fold for the friendly versus New Zealand on Tuesday. Hamid is seemingly another candidate to become the USMNT's No. 3 goalkeeper along with David Bingham and William Yarbrough, but Klinsmann has taken note of Horvath's strong debut.
"I think Ethan had a tremendous first [USMNT] cap," said Klinsmann. "You're a goalkeeper, you get your first opportunity on a very bumpy field, and you just hope for him that he doesn't concede a goal. Obviously Cuba did us a favour by hitting the post twice, but I think Ethan showed himself very well. He was very balanced, he was calm, his composure was very, very good and he kept his clean sheet.
"He's a national team player and he deserves it. He's one of our biggest talents in that position."
There is no shortage of young talent in the U.S. player pool these days, many of whom are plying their trades in Europe. Christian Pulisic is the clear pick of the lot and has continued to grow with every appearance at Borussia Dortmund and the USMNT.
Pulisic isn't the only prospect contracted by a big European club, though. Two American centerbacks in Matt Miazga and Cameron Carter-Vickers are on the books of Chelsea and Tottenham, respectively. Miazga is currently on loan at Vitesse Arnhem in the Eredivisie, while the 18-year-old Carter-Vickers "can be one of the best centerbacks in England" in the future according to his manager Mauricio Pochettino.
Klinsmann has been tracking their recent progress and it's safe to assume that if Miazga is starting for Vitesse, American fans can expect to see him with the USMNT very soon.
"We're waiting for him to take a starting role in his new environment at his new club," said Klinsmann. "Once he is in a starting position and he's getting games week in, week out, hopefully we get him in a flow and he'll be back with the senior national team down the road."
The former New York Red Bulls defender was in a tough spot during preseason with Chelsea. It was clear that the 21-year-old was not in Antonio Conte's plans once David Luiz was purchased from Paris Saint-Germain, which meant that he had to leave the Blues in order to earn consistent minutes.
Miazga was attracting loan offers from a few clubs in the final weeks of the summer window. Eventually, the defender packed his bags for the second time this year and moved to the Netherlands for the rest of the European season.
The ambition to test himself in an unfamiliar setting is what caught Klinsmann's attention.
"This makes us very happy because he took that risk leaving his comfort zone and now he is trying to prove himself in a not-so-easy environment. This is a good thing and we can't wait until he starts the games and then we'll take it from there."
Carter-Vickers will likely need to earn more minutes in order to be called into camp on a permanent basis, but he's rising up the ranks with Spurs quickly. He started in the League Cup in September, he's been in the matchday squad for Champions League matches and he was rewarded with a new contract in recent weeks. The U.S. under-20 captain is only 18, so there's still plenty of time for him to break through.
The Tottenham defender's time will come. However, it's clear that there are several exciting prospects who are excelling at the right time, which could give Klinsmann a selection headache.