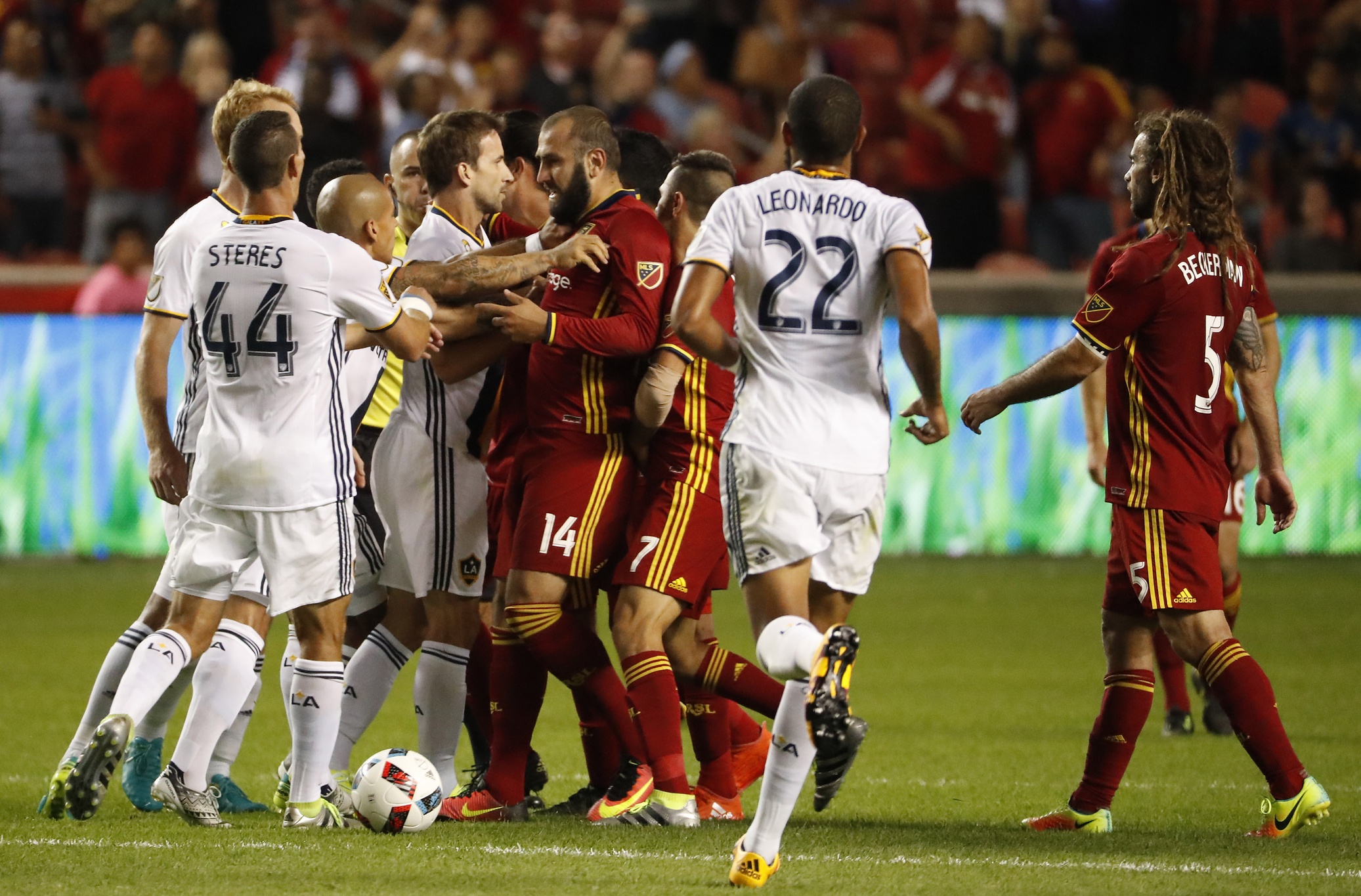 The LA Galaxy and Real Salt Lake are familiar playoff partners. They've met several times over the years, including in the league's ultimate game. On Wednesday, the two sides will collide yet again in postseason play, as both teams look to make a run through a wide open Western Conference playoff field.
The third-seeded Galaxy are set to host the sixth-seeded RSL, which travels to the StubHub Center riding a seven-game winless run. The Galaxy, meanwhile, have been equally poor, winning just one of their last seven matches. Entering the 2016 postseason, the Galaxy hold a 3-1-1 edge over their conference rivals, although that singular loss came in the most vital game, as RSL claimed the 2009 MLS Cup in a penalty kick shootout.
None of that matters on Wednesday, though, as both teams jockey for a win in a single-game playoff that would keep their MLS Cup hopes alive.
Here's a closer look at Wednesday's Western Conference clash:
SEASON SERIES– The Galaxy cruised past RSL back in April, riding goals from five different players en route to a 5-2 win. When the two teams faced off again in September, it proved to be another goalfest, but one RSL earned a point from in a 3-3 draw.
PLAYERS TO WATCH– LA GALAXY: Giovani dos Santos has played like the star many expected him to be upon his move to MLS. While he cooled off a bit in October, the Galaxy forward provided five goals and four assists in September, helping set his side up for a postseason home game REAL SALT LAKE– Both sides have scored in bunches against one another, but Joao Plata was perhaps the most dangerous player on the field when the teams last played. The diminutive forward scored twice while adding a stoppage time assist, and stopping him will be vital if the Galaxy are to walk away with a win.
MATCHUP TO WATCH– Kyle Beckerman vs. Giovani dos Santos. Kyle Beckerman may be getting older, but the RSL midfielder still has the ability to put out fires in front of his defense. The Galaxy attack comes in waves, but stopping Giovani dos Santos is vital to limiting the creativity in the center of the attack. Beckerman may not necessarily be man-marking dos Santos for 90 minutes, but he will be charged with keeping an eye on the Mexican star and making him uncomfortable throughout Wednesday's clash.
X-FACTORS–LA GALAXY: Jeff Larentowicz will be a player targeted by RSL. Since the departure of Nigel de Jong, Larentowicz has stepped in to the No. 6 role, but the veteran does not have the presence of the Dutch midfielder, for better or for worse. With Javier Morales buzzing around, Larentowicz will need to have a big game to keep RSL quiet. REAL SALT LAKE– Yura Movsisyan has battled injuries in recent weeks, but the forward will need to be a vital piece on Wednesday. If he can get hold up play and get in a rhythm with the wingers around him, RSL can certainly break down a beatable Galaxy defense. If not, RSL will be on their heels, a scary proposition given how good the opposition is in the attacking half.
OUTLOOK: 
Both teams enter Wednesday's clash in lackluster form, as two sides come in combining for just one win in their past 10 matches. The two now limp into a postseason clash that has the potential for fireworks, even if goals have been hard to come by in recent weeks.
The Galaxy enter Wednesday's clash riding a significant rest period. With the third seed all but locked up, Bruce Arena opted to rest a majority of his regulars for the regular season finale against FC Dallas. That ensured the Galaxy have fresh legs, a welcome luxury for a team with several older players scattered throughout the lineup.
For the Galaxy, though, the injury questions remain. Robbie Keane looks likely to feature, while Gyasi Zardes won't be ready in time to rejoin the team for the opening-round clash. Steven Gerrard has played just twice since August, but could be ready to reclaim a spot in the midfield.
With several regulars ready to rejoin the opposition's lineup, Justen Glad and Jamison Olave will need to be alert and active to stop a vicious Galaxy attack. To their credit, RSL has looked significantly better since September's 3-3 draw. In the six matches since, RSL has allowed just six goals, but has failed to register a win.
That makes the attacking end vital for RSL, who have struggled to score in recent months. With Yura Movsisyan returning to health, RSL now has an outlet, but the team needs to find a new rhythm to break down a Galaxy defense that has locked it down since a 4-2 defeat to the Seattle Sounders a few weeks back.
As the third seed on their home field, the Galaxy enter as rightful favorites, especially given both sides' recent form. However, if Movsisyan and co. can get going, Wednesday night's clash has the potential to be a back-and-forth shootout with a spot in the conference semis on the line.