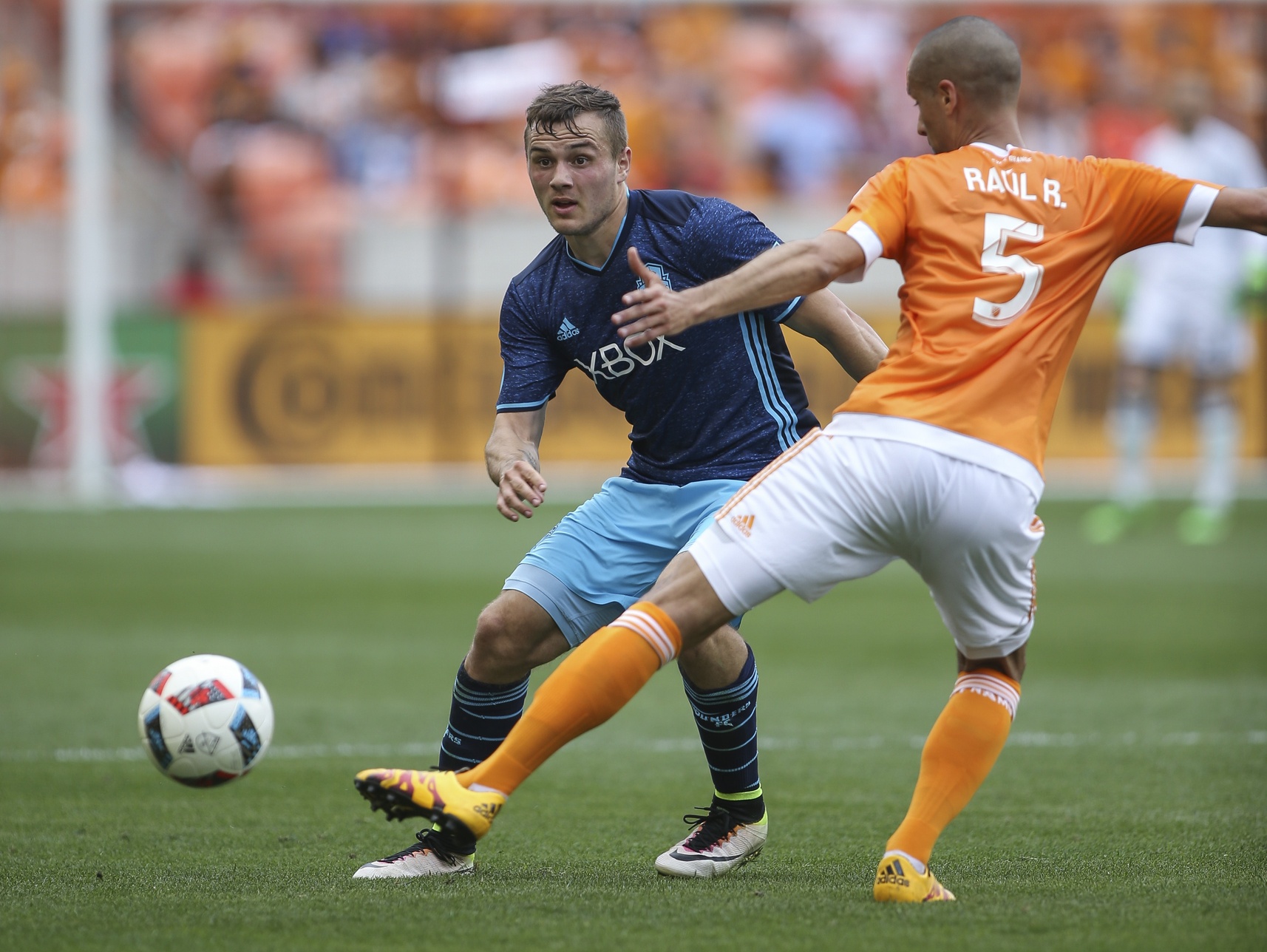 The international break is just ending, but MLS returns to action on Wednesday night to kickstart a midweek slate of three games.
All three matches have major playoff implications, starting with Wednesday's clash that pits the Seattle Sounders against the Houston Dynamo. As things stand, the Sounders are three points clear of the red line with a game in hand. The Dynamo, meanwhile, are merely looking to play spoiler, and have done so quite successfully by recently taking points off of Sporting KC, Real Salt Lake and the Portland Timbers.
On Thursday, the Columbus Crew look to keep their faint playoff hopes alive with a visit to the Chicago Fire as last season's MLS Cup runners-up look to make up a seven-point gap. In addition, the Colorado Rapids look to push towards a Supporters' Shield on Thurday night in a clash with the San Jose Earthquakes.
Here's a look at Wednesday and Thursday's action:
SEATTLE SOUNDERS vs. HOUSTON DYNAMO (Wednesday, 10:30 p.m., MLS Live)
The Seattle Sounders are in a good spot, and a win on Wednesday would lock up a playoff berth.
Jordan Morris and Nicolas Lodeiro each left their respective national teams early in anticipation of Wednesday's match, one which could lift the Sounders up to fourth in the West. Even without Clint Dempsey, the Sounders are riding a four-match winning streak, one which puts them just three points away from an improbable playoff spot. To that aim, the Sounders will need to keep tabs on a surging Mauro Manotas, who has scored six goals in five matches for the already-eliminated Dynamo.
CHICAGO FIRE vs. COLUMBUS CREW (Thursday, 8:30 p.m., MLS Live)
A tie or loss would not be good enough. The Columbus Crew have to win on Thursday night.
Anything less than three points would see the Crew eliminated from playoff contention less than one year after coming within a goal of lifting the MLS Cup. Entering their third match of the season against the Chicago Fire, the Crew have claimed four points from the two previous encounters, the most recent of which was a 3-0 win on October 1. Waylon Francis will miss out following surgery, while Federico Higuain is listed as questionable, putting pressure on regular contributors like Ola Kamara, Justin Meram and Ethan Finlay to attack a Fire backline that has allowed the third-most goals in MLS.
COLORADO RAPIDS vs. SAN JOSE EARTHQUAKES (Thursday, 9 p.m., MLS Live)
The Colorado Rapids control their own destiny as they push towards what could be a shocking Supporters' Shield.
After finishing last in the West last season, the Rapids can claim the Supporters' Shield with wins in their last three matches. Tim Howard remained with the club through the international break, giving the Rapids a boost. However, the U.S. Men's National Team goalkeeper will have to face one of his international teammates, Chris Wondolowski, who scored the opener and was named SBI USMNT Man of the Match against Cuba. A loss on Thursday would eliminate the Quakes for playoff contention, giving Wondolowski and co. plenty of motivation to try and earn a result from a difficult away trip.