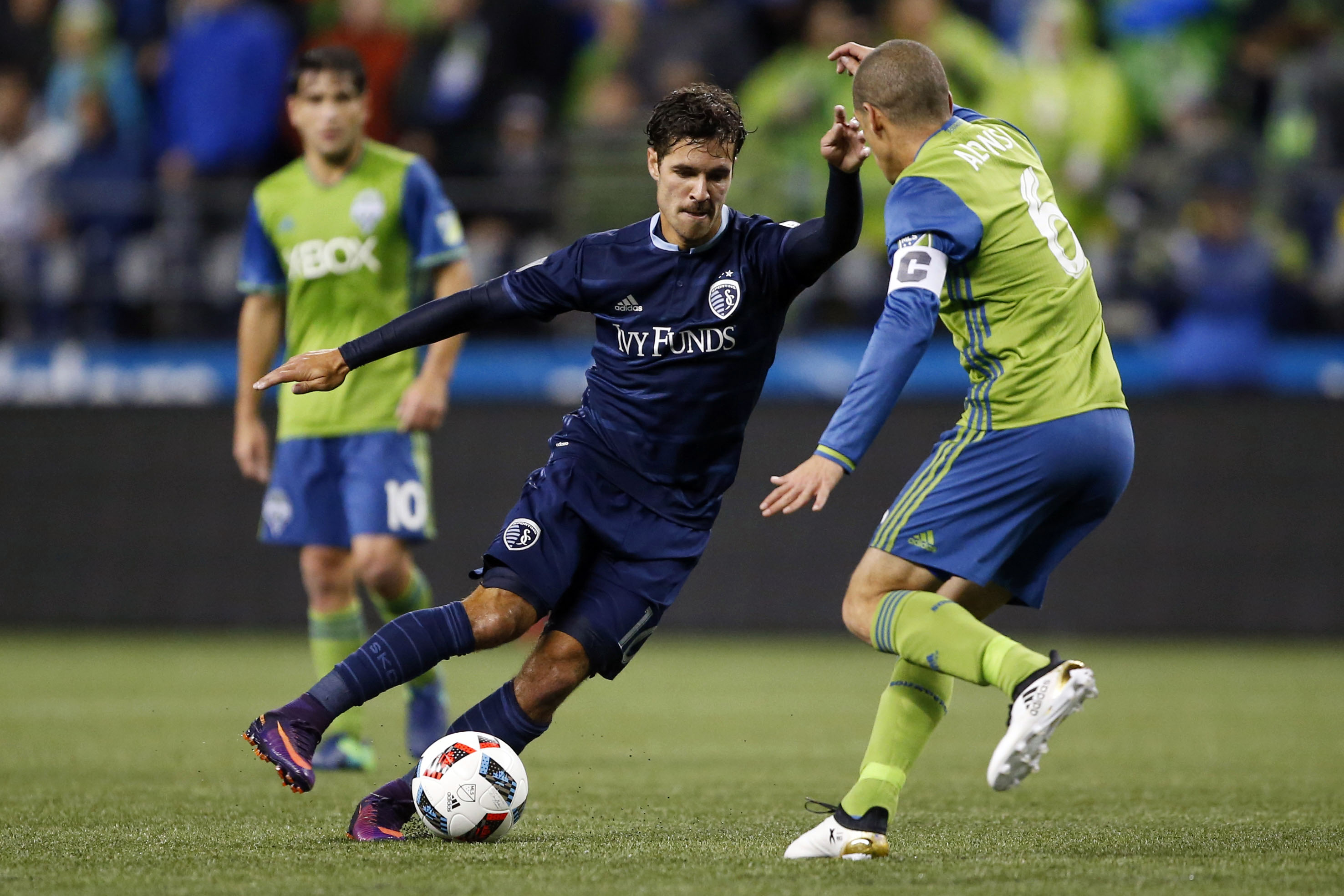 SEATTLE– After Thursday night's tumultuous match at CenturyLink Field, the scoreboard said the Seattle Sounders topped Sporting Kansas City 1-0 in the knockout round of the 2016 MLS playoffs.
Peter Vermes wasn't so sure.
In his postgame comments, the Sporting KC head coach cited a series of calls and non-calls that he believed cost his team a chance to play FC Dallas in the conference semifinal. He ultimately requested an apology from both MLS and the Professional Referee Organization, the group responsible for managing league officiating.
"I will tell you," Vermes said, "in my opinion, and for our organization, I think that PRO and Major League Soccer owe our club an absolute apology because this game was taken away from us today."
Vermes' anger stemmed from his belief that Seattle's lone goal should have been called back for offside; that his team had a goal of its own wrongly called back; and that the Sounders should have played with 10 men for the final 23 minutes.
"Unfortunately," Vermes said, "the game was one in which we scored and our guy was onside, they scored and their guy was offside. Unfortunately (Osvaldo) Alonso for them should've been thrown out of the game, which would've changed the game. There were three plays within the game that would've completely changed the match."
Vermes certainly had cause to gripe about the game-winning goal, a Nelson Valdez header off a whipped-in cross from Joevin Jones. While Valdez wasn't yards behind the back line, replays showed he had a half-step on Sporting's last defender.
"Like I said, they scored their goal on an offsides play, referee misses it, and it changes the outcome of the game," Vermes said.
Evidence to fully support the rest of Vermes' fury is a little harder to find.
The first incident to draw his ire came seven minutes into the second half. Matt Besler appeared to give Sporting KC a 1-0 lead with a powerful header off a Benny Feilhaber free kick, but was ruled offside. Replays showed Besler was indeed likely offside, if by the slimmest of margins.
Vermes was also furious referee Ismail Elfath didn't eject Sounders midfielder Osvaldo Alonso for a 67th-minute tackle on Feilhaber. Alonso — already carrying a yellow card for a rugged and tardy first-half challenge on Roger Espinoza — slid with his right leg extended as Feilhaber began to scoot down the left touchline on the counter. Feilhaber tumbled to the FieldTurf as the ball rolled out of bounds.
"I can't even understand how you don't give Alonso the second yellow card," Vermes said, "which puts him out of the game."
At full speed and to the naked eye it certainly seemed a reckless challenge worthy of a second yellow, but replays showed Alonso did in fact get to the ball, and that Feilhaber probably initiated contact by dragging his trailing foot across Alonso's leg.
Elfath conferred with fourth official Ricardo Salazar before deciding not to award a foul on the play. For his part, Vermes said he didn't care where the call came from, but that even if Alonso got the ball it was still a tactical foul.
"You can call it whatever you want," he said. "It's a tackle. You can call it from the side, you can call it from behind. It's a tactical foul. I don't really care (where the call comes from), but it's easily deserving of a second yellow in the open field like that."
Feilhaber, who picked up a yellow card of his own for dissent after taking umbrage with the lack of a red card, seemed to have his tongue planted firmly in cheek when asked about the play.
"No, I was wrong," he said. "It was obviously a correct call. You know, they got the throw-in, so obviously Alonso kicked it right off me. (It was) a clean tackle, obviously, and I was definitely wrong in asking for a yellow card on that play."