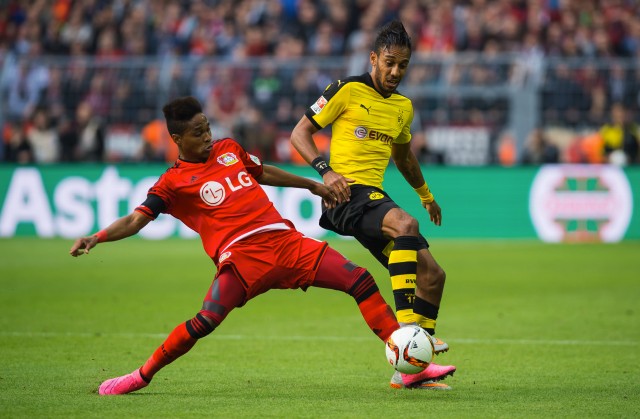 As the international break looms, Saturday presents a busy day of soccer action.
Starting in Germany, several contenders featuring American stars take the field. A clash pitting Bobby Wood's Hamburg against John Brooks' Hertha Berlin headlines the early action, while powerhouse Bayern Munich looks to continue their run atop the league in a match against Cologne. In the late match, Christian Pulisic's Borussia Dortmund takes on Bayer Leverkusen.
In England, several teams look to push up the table heading into October. Chelsea faces off with Hull City as Antonio Conte's side looks to bounce back from a 3-0 shellacking from Arsenal. Meanwhile, West Ham faces off with Brad Guzan's Middlesbrough, while Lynden Gooch and Sunderland take on West Brom.
Elsewhere, Paris Saint-Germain takes on Bordeaux, while a full slate of seven MLS matches headlines the evening schedule.
If you will be watching today's action, please feel free to share your thoughts and opinions in the comments section below.
Enjoy the action (Today's TV schedule below):
ENGLISH PREMIER LEAGUE
7:30 a.m. — NBCSN/NBC Sports Live Extra — Swansea City vs. Liverpool
10 a.m. — NBCSN/NBC Sports Live Extra — Hull City vs. Chelsea
10 a.m. — NBC Sports Live Extra — Sunderland vs. West Bromwich Albion
10 a.m. — NBC Sports Live Extra — Watford vs. Bournemouth
10 a.m. — NBC Sports Live Extra — West Ham United vs. Middlesbrough
SPANISH LA LIGA
10:15 a.m. — beIN Sports en Español/beIN Sports Connect — Sevilla vs. Deportivo Alavés
12:30 p.m. — beIN Sports en Español/beIN Sports Connect — Osasuna vs. Las Palmas
2:45 p.m. — beIN Sports en Español/beIN Sports Connect — Deportivo La Coruña vs. Sporting Gijón
GERMAN BUNDESLIGA
9:30 a.m. — Fox Sports 2/Fox Sports Go/Fox Soccer 2Go — Bayern Munich vs. Cologne
9:30 a.m. — Fox Soccer 2Go — Hertha Berlin vs. Hamburg SV
9:30 a.m. — Fox Soccer 2Go — FC Ingolstadt vs. Hoffenheim
9:30 a.m. — Fox Soccer 2Go — Darmstadt 98 vs. Werder Bremen
9:30 a.m. — Fox Deportes/Fox Soccer 2Go — Freiburg vs. Eintracht Frankfurt
12:30 p.m. — Fox Sports 2/Fox Deportes/Fox Sports Go/Fox Soccer 2Go — Bayer Leverkusen vs. Borussia Dortmund
FRENCH LIGUE 1
11 a.m. — beIN Sports USA/beIN Sports Connect — Paris Saint-Germain vs. Bordeaux
ITALIAN SERIE A
2:45 p.m. — beIN Sports USA/beIN Sports Connect — Udinese vs. Lazio
MAJOR LEAGUE SOCCER
7 p.m. — MSG +/MLS Live — New York Red Bulls vs. Philadelphia Union
7:30 p.m. — MLS Live — Toronto FC vs. D.C. United
7:30 p.m. — MLS Live — Columbus Crew vs. Chicago Fire
7:30 p.m. — MLS Live — New England Revolution vs. Sporting Kansas City
9 p.m. — MLS Live — Colorado Rapids vs. Portland Timbers
9 p.m. — MLS Live — FC Dallas vs. LA Galaxy
10:30 p.m. — KMYU Utah/MLS Live — San Jose Earthquakes vs. Real Salt Lake
NASL
7:30 p.m. — ESPN3 — Tampa Bay Rowdies vs. Miami FC
8 p.m. — ESPN3 — Minnesota United vs. Jacksonville Armada
NCAA MEN
5 p.m. — SEC Network +/WatchESPN — Charlotte vs. Kentucky
7 p.m. — ESPN3/WatchESPN — Green Bay vs. Cleveland State
7 p.m. — ESPN3/WatchESPN — Missouri State vs. Evansville
7 p.m. — ESPN3/WatchESPN — Belmont vs. Wright State
7 p.m. — ACC Network/WatchESPN — Florida State vs. Pittsburgh
NCAA WOMEN
1 p.m. — ESPN3/WatchESPN — Milwaukee vs. Detroit Mercy
1 p.m. — ESPN3/WatchESPN — Manhattan vs. Canisius
1:30 p.m. — ESPN3/WatchESPN — Lincoln Memorial vs. Wingate
2 p.m. — ACC Network/WatchESPN — Florida State vs. Pittsburgh
4 p.m. — ESPN3/WatchESPN — Northern Kentucky vs. Cleveland State
7 p.m. — ACC Network/WatchESPN — Clemson vs. Virginia Tech
7 p.m. — ACC Network/WatchESPN — Notre Dame vs. Louisville
MEXICAN LIGA MX
6 p.m. — Univision Deportes — Cruz Azul vs. Veracruz
8 p.m. — Univision/Univision Deportes — Monterrey vs. Club América
10 p.m. — Univision/Univision Deportes — Guadalajara vs. Morelia
ENGLISH LEAGUE CHAMPIONSHIP
12:30 p.m. — beIN Sports USA/beIN Sports Connect — Wolverhampton Wanderers vs. Norwich City
FIFA FUTSAL WORLD CUP
3:20 p.m. — Fox Soccer 2Go — Russia vs. Argentina
FIFA U-17 WOMEN'S WORLD CUP
9 a.m. — Fox Sports 1/Fox Sports Go/Fox Soccer 2Go — Nigeria vs. Brazil
9 a.m. — Fox Soccer Plus/Fox Soccer 2Go — Ghana vs. Japan
Noon — Fox Soccer Plus/Fox Soccer 2Go — United States vs. Paraguay
Noon — Fox Soccer 2Go — England vs. North Korea
DUTCH EREDIVISIE
1:45 p.m. — Univision Deportes — Heerenveen vs. PSV Eindhoven
SCOTTISH PREMIER LEAGUE
7:15 a.m. — Fox Soccer 2Go — Dundee vs. Celtic