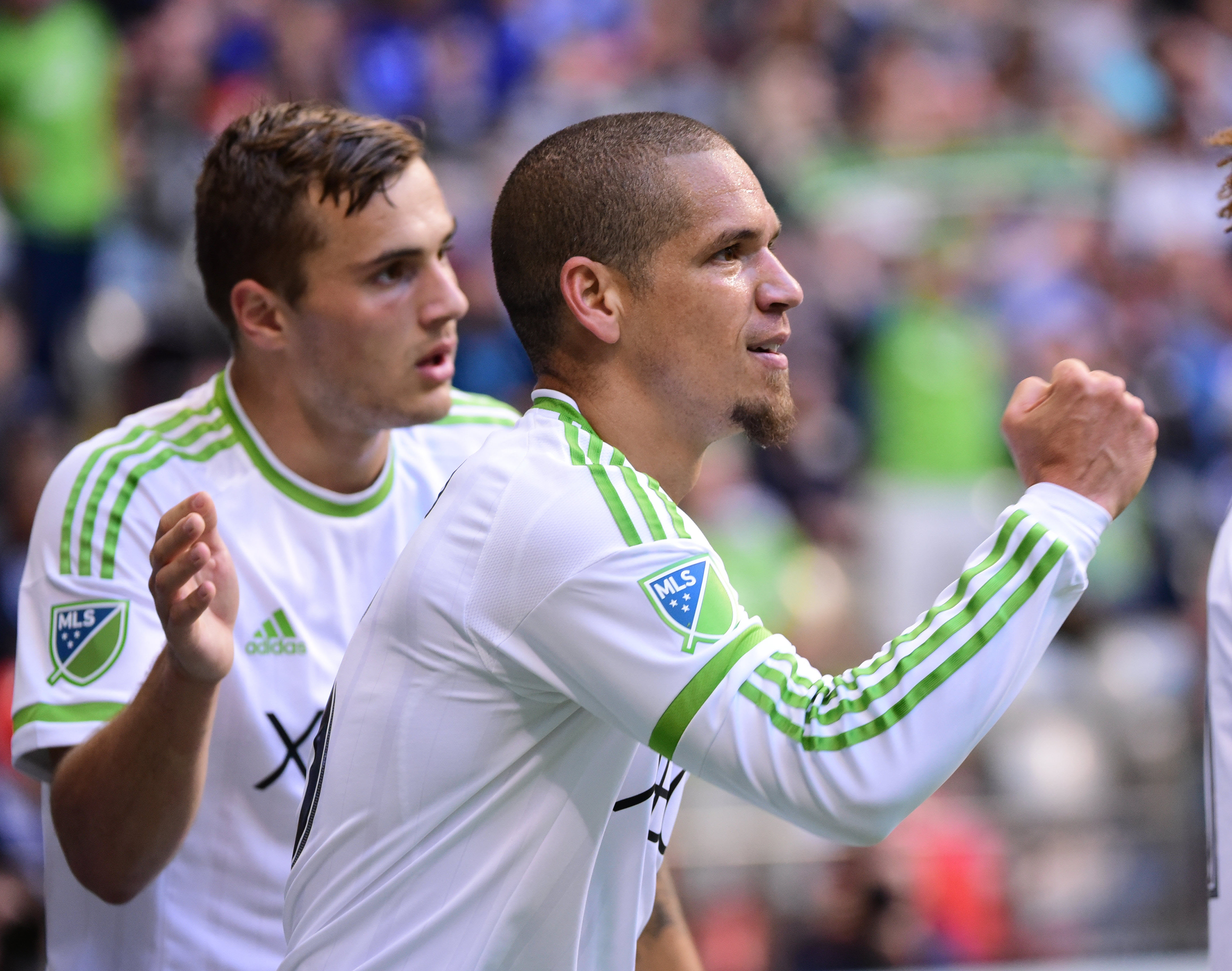 The Seattle Sounders boosted their playoff hopes whilst eliminating the Vancouver Whitecaps from contention.
The Sounders came from behind in Vancouver thanks to goals from Osvaldo Alonso and Brad Evans to win 2-1 at BC Place on Sunday in a game that saw both sides reduced to 10 men. The Sounders have now won four straight games and moved up to fifth place in the Western Conference, while the Whitecaps are now officially eliminated from the playoff race with the loss.
The match began at a tepid pace, although 15-year-old Alphonso Davies was wreaking havoc on the right flank for Vancouver. Finally, in the 24th minute, the teenager knocked the ball down the touchline, beat Oneil Fisher, who then fouled Davies in the box which lead to a penalty. Pedro Morales converted from the spot to give the Whitecaps the lead.
Davies continued to dominate Fisher and even registered four shots, more than any other Vancouver player. However, none of his attempts troubled goalkeeper Stefan Frei.
The Sounders eventually ramped up the pressure and found the equalizer as Alonso made a darting run into the box and emphatically connected with Joevin Jones' cross to get Seattle on the board.
The match began to unravel for the Whitecaps after Morales was sent off for elbowing Cristian Roldan in the head. The Whitecaps captain pleaded his case, but to no avail.
With just under 10 minutes left, Seattle took its first lead of the match following a handball in the box from Jordan Harvey. Evans buried the penalty, but was sent off moments later for a headbutt on Whitecaps defender David Edgar. Despite that, the Sounders managed to hold on for the victory.
Seattle now has a three-point lead over the seventh-placed Portland Timbers with a game in hand. The Sounders are also just one point adrift of Real Salt Lake and are on pace to clinch a home playoff game. Meanwhile, Vancouver is only three points above the Houston Dynamo, who are currently at the bottom of the standings in the West.
MAN OF THE MATCH
Osvaldo Alonso's goal certainly helped his case, but even if he did not score, the midfielder had another tremendous game defensively. Alonso was constantly dispossessing the Whitecaps' attackers and was always looking to initiate a Sounders attack whenever he was on the ball.
MOMENT OF THE MATCH
The Sounders looked flat in the final third without the suspended Nicolas Lodeiro, but Alonso's well-timed run and perfect finish to level the match before halftime was massive for the visitors.
MATCH TO FORGET
Pedro Morales has struggled most of the year and his sending off in the 53rd minute was the latest incident in a season of disappointments. The captain had no reason to lead with his elbow and reduced the hosts to 10 men when they needed a goal to keep their playoff hopes alive.