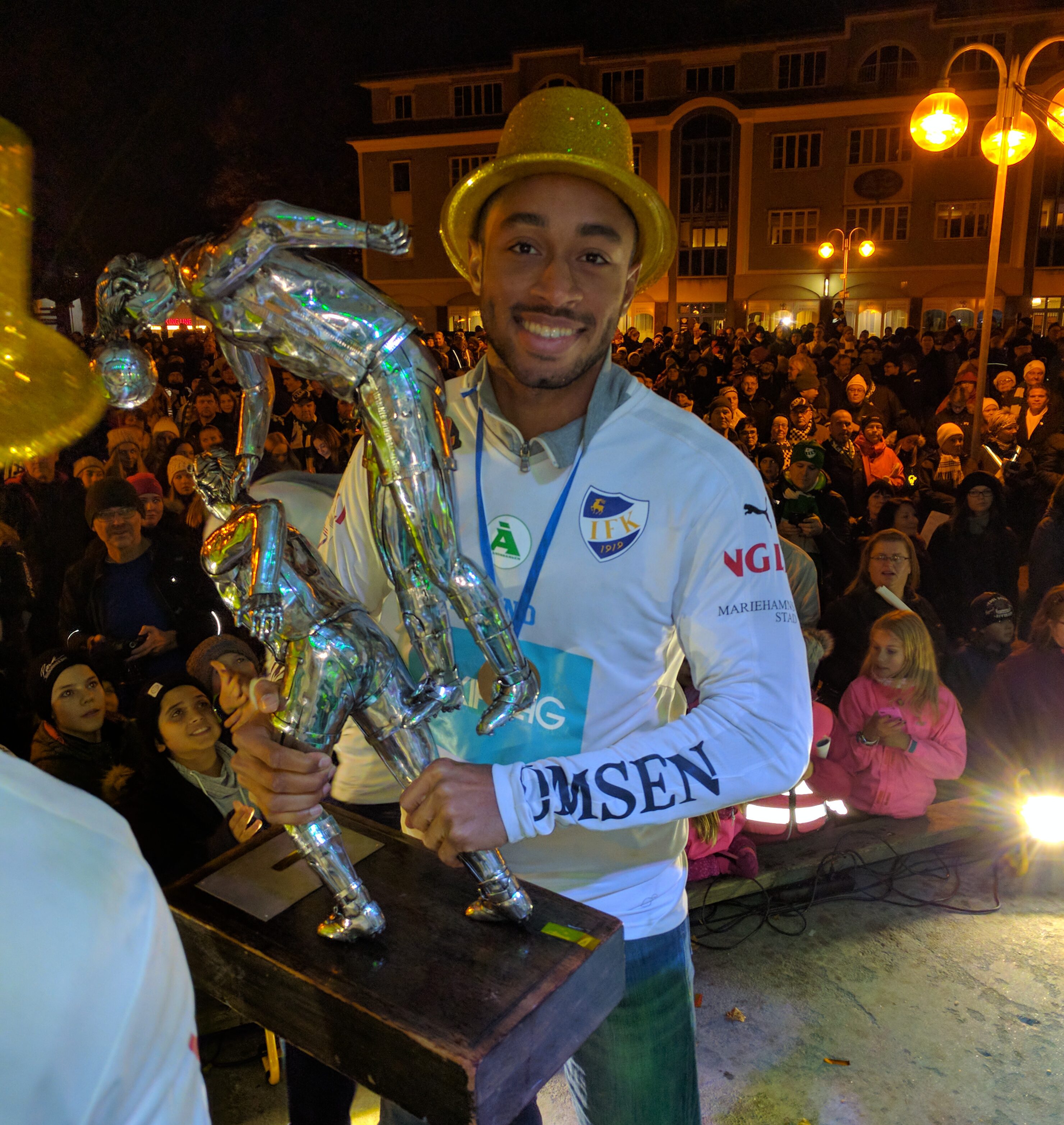 Brian "Cobi" Span wasn't ready for the weight. He marveled at the trophy in front of him, one depicting two players in an aerial duel. It was heavier than it looked, "30 or 40 pounds", a large solid block that certainly felt and looked much larger than anticipated.
As he looked up and saw crying fans, teammates and friends, though, the trophy felt lighter and lighter. It was one he and his team had earned, an achievement that seemed so unlikely just several months prior.
Span and IFK Mariehamn claimed the Veikkausliiga title as Finland's club champions on Sunday, sealing the title with a 2-1 home win over Ilves. The small club, based on an island town of just 11,521, has been since dubbed the Finnish Leicester City, a team that took on all comers despite lacking resources and prestige. Just 12 years after the club's first season in the top flight, Mariehamn was one of the unlikeliest champions in Finnish history.
"I think about it, all of the training sessions, the grinding of the games. Every single game, giving it 100 percent, it all led to that one moment, the one game against Ilves at home," Span told SBI. "That was the most memorable moment. I had a great game. I felt like I gave everything I could possibly give and when the whistle blew, it was a release. All of the work we put in this year, everything. It just came out. We got the gold. It all paid off. Everything we did and worked for, it all paid off when that one whistle blew. That was our one goal, and we deserved it."
Like many Americans making their way through Europe, Span's road to the title of Finnish champion hasn't always been easy.
Following two productive seasons at the University of Virginia, Span made the move abroad, joining Swedish club Djurgården in 2012. By 2014, he was headed back home to join FC Dallas, but the now 24-year-old winger found playing time hard to come by due to the wealth of options in the attack. A loan to Orlando City helped Span find the field before he departed FC Dallas in 2015. His connections in Scandinavia helped bring him to Mariehamn, a small club with little history of success in the Finnish league.  A cup triumph soon followed, as Mariehamn made a shocking run to a Finnish Cup win over FC Inter in 2015 to book a spot in the 2016-17 Europa League.
Now a league champion, a Champions League berth awaits Mariehamn, as the small Finnish club enters the second qualifying round next summer. It's a historic event for the island town, and one that Span has all intentions of being a part of. Span says he has yet to re-sign with the club, but talks are ongoing. A new contract "looks good" as he just awaits a formal sitdown with club officials. Span wants to play in the Champions League after all, and he feels he has more to give.
"Depending on what players we lose, there's the motivation to be just as good as this year if not better," Span says. "People will want to take us down. We're the champions now. I think it's important for all of us to continue improving individually, because as we all give our best, we improve every game. We can all improve ourselves to show we deserve to be champions. We won't go away easily."
To understand just how far Mariehamn has come, you have to understand the makeup of the Finnish league, the Veikkausliiga. HJK Helsinki, the country's powerhouse, is a record 27-time champions. The 2015 winners, SJK, were expected to contend again. The big clubs, Span says, have rosters of 30 players, all on higher wages than those at Mariehamn. Span and co., meanwhile, boasted a roster of just 18, at best, injuries pending.
Mariehamn was projected as potential relegation fodder. The club was certainly on a high after claiming its first trophy last season, but was not projected for much more than a bottom half finish in just the club's 12th season in the top division of Finnish soccer.
Following the 2015 season, Mariehamn saw the departure of  long-time head coach Pekka Lyyski, a move which many saw as damning to the club's chances of even competing. In his stead, the club appointed Peter Lundberg and Kari Virtanen as co-managers. The former had been an assistant with the club for three seasons, while the latter was brought in to help ease Lundberg to the expectations of a head coaching gig.
A Europa League campaign came and went, a byproduct of last season's cup win, as Span and Mariehamn was eliminated by Norwegian side Odds in the qualifying stages. However, throughout the season, the coaches implemented a counter-attacking style, much like Leicester City, one which the club took to immediately. The system meant that the team saw little of the ball, as they finished second-to-last in the league in possession. Jamaican forward, and former Vancouver Whitecap, Dever Orgill led the way with 13 goals, while Span finished with two goals and four assists. When all was said and done, Mariehamn allowed just 25 goals while scoring 40 in 33 games. They didn't kill teams; they just grinded out results.
It came to the final game, a home clash with Ilves. Tied with 15 minutes left, Span says the coaching staff informed the players a draw would be good enough, as HJK was set to drop points in their final match. Still, the message was "keep pushing on", and they did, scoring 15 minutes later. Span says the nerves, stress, anxiety, it was all gone. After a year of what felt like final after final, it was done, as Span had wrapped up a historic achievement for both himself and his club.
Span and Mariehamn now look ahead towards next year. On the club level, Mariehamn is now tasked with keeping up with the elite, as the top teams will inevitably retool. Span, meanwhile, believes he himself has much more to offer. At 24-years-old, there's room for growth, as he looks to aid Mariehamn's title defense.
"We have more to give. It looks we'll have mostly the same guys, and we'll probably build on that with one or two more," Span said. "Individually, for me I think I can get more points, more goals and assists, more everything. I still feel like I have more to give. I'm a young player and I wan to improve on everything I have. Scoring, helping the team in anyway I can. I think I can be more selfish at times, more efficient. I can do more individual things in the final third to create chances for myself or my team. Sometimes, you just have to take that extra risk."
It was a risk that brought Span to Europe in the first place and, with a pair of trophies now in his hand, that risk has paid off. Span says it's a memory that can and will last a lifetime and, with the Champions League looming, Span is ready to create more special moments alongside a club and city he now calls home.
"No one really expected this," Span said. "People knew we were a good team. Last year, we won the cup. People knew and the whole town got more and more excited as we kept pushing on. Any time you'd walk around town, people would say good luck or to bring the gold home. For the last game, the whole town was at the game. This is everything for the town and people that live there. It was the biggest thing that ever happened on the island, it felt like. We had to do it. This was the time.
"We earned it. We killed it this year. We were strong the whole year. We were consistent, won important games all the way down to the last game, which was a must-win game for us to win the league. We did it."