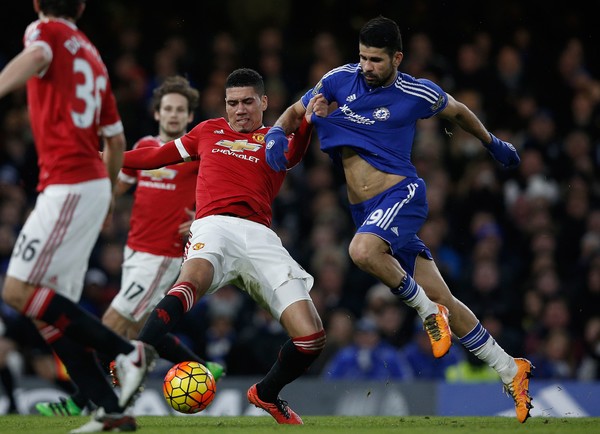 Nearly 10 months after getting fired by Chelsea, Jose Mourinho makes his return to Stamford Bridge on Sunday.
After guiding Manchester United to a 4-1 victory over Fenerbahçe in UEFA Europa League action on Thursday, Mourinho looks to help his squad pick up its first league victory in almost a month against the Antonio Conte and the Blues. The two sides drew in both meetings last season but with Chelsea coming off a convincing 3-0 win over Leicester City last week, getting a result in London may be a difficult task for United.
Meanwhile, league leaders Manchester City and Arsenal will both be home, taking on Southampton and Middlesbrough, respectively. Third-place Tottenham will visit Bournemouth and Liverpool will host West Bromwich Albion.
In Serie A, the marquee contest this weekend will be Milan hosting Juventus. Neither sides have suffered a loss since mid-September and five points currently separate the two in the standings.
In Germany, Christian Pulisic and Borussia Dortmund hope to regain some momentum in league play when they travel to FC Ingolstadt, while Bayern Munich look to build onto its Bundesliga lead against Fabian Johnson and Borussia Mönchengladbach.
As for international competition, the U.S. Women's National Team will take part in a friendly against Switzerland, while the 2016 FIFA U-17 Women's World Cup wraps up with a final between Korea DPR and Japan.
Here is a rundown of all the soccer action on TV this weekend:
THIS WEEKEND'S SOCCER ON TV
(All times Eastern)
FRIDAY
GERMAN BUNDESLIGA
2:30 p.m. — Fox Soccer Plus/Fox Soccer 2Go — Hamburg SV vs. Eintracht Frankfurt
SPANISH LA LIGA
2:45 p.m. — beIN Sports en Español/beIN Sports Connect — Osasuna vs. Real Betis
FRENCH LIGUE 1
2:45 p.m. — beIN Sports USA/beIN Sports Connect — AS Monaco vs. Montpellier
MEXICAN LIGA MX
10 p.m. — Azteca America — Club Tijuana vs. Chiapas
NCAA MEN
7 p.m. — YES Network/WatchESPN/ACC Network/MASN/MASN2/Fox Sports (regional channels) — Duke vs. Notre Dame
7 p.m. — ESPNU — Clemson vs. Syracuse
NCAA WOMEN
7 p.m. — ESPN3/WatchESPN — UNC Greensboro vs. Samford
8 p.m. — Fox Sports Prime Ticket — Oklahoma vs. Kansas
8 p.m. — ESPN3/WatchESPN — Stephen F. Austin vs. Abilene Christian
8 p.m. — Longhorn Network/WatchESPN — Texas vs. Texas Tech
FIFA U-17 WOMEN'S WORLD CUP
10 a.m. — Fox Sports 2/Fox Sports Go/Fox Soccer 2Go/Telemundo Deportes en Vivo — Venezuela vs. Spain (third-place match)
1 p.m. — Fox Sports 2/Fox Sports Go/Fox Soccer 2Go/Telemundo Deportes en Vivo — Korea DPR vs. Japan (final)
SATURDAY
ENGLISH PREMIER LEAGUE
7:30 a.m. — NBCSN/NBC Sports Live Extra/NBC Universo/Telemundo Deportes en Vivo — Bournemouth vs. Tottenham
10 a.m. — NBCSN/NBC Sports Live Extra — Arsenal vs. Middlesbrough
10 a.m. — NBC Sports Live Extra — Burnley vs. Everton
10 a.m. — NBC Sports Live Extra — Hull City vs. Stoke City
10 a.m. — NBC Sports Live Extra — Leicester City vs. Crystal Palace
10 a.m. — NBC Sports Live Extra — Swansea City vs. Watford
10 a.m. — NBC Sports Live Extra — West Ham United vs. Sunderland
12:30 p.m. — NBC Sports Live Extra/NBC Universo/Telemundo Deportes en Vivo — Liverpool vs. West Bromwich Albion
GERMAN BUNDESLIGA
9:30 a.m. — Fox Sports 2/Fox Sports Go/Fox Soccer 2Go — FC Ingolstadt vs. Borussia Dortmund
9:30 a.m. — Fox Soccer Plus/Fox Deportes/Fox Soccer 2Go — Bayer Leverkusen vs. Hoffenheim
9:30 a.m. — Fox Soccer 2Go — Hertha Berlin vs. Cologne
9:30 a.m. — Fox Soccer 2Go — Darmstadt 98 vs. VfL Wolfsburg
9:30 a.m. — Fox Soccer 2Go — Freiburg vs. FC Augsburg
12:30 p.m. — Fox Sports 2/Fox Sports Go/Fox Soccer 2Go — Bayern Munich vs. Borussia Mönchengladbach
SPANISH LA LIGA
10:10 a.m. — beIN Sports — Valencia vs. FC Barcelona
ITALIAN SERIE A
12:15 p.m. — beIN Sports — Sampdoria vs. Genoa
2:40 p.m. — beIN Sports — AC Milan vs. Juventus
MEXICAN LIGA MX
6 p.m. — Univision Deportes — Cruz Azul vs. Puebla
8 p.m. — Univision Deportes — Querétaro vs. Club América
8 p.m. — Univision — Monterrey vs. Toluca
10 p.m. — Univision Deportes/Galavision — Club León vs. Morelia
NASL
7 p.m. — One World Sports — New York Cosmos vs. Miami FC
7:30 p.m. — beIN Sports en Espanol/beIN Sports Connect — Tampa Bay Rowdies vs. Ottawa Fury
7:30 p.m. — ESPN3/WatchESPN — Carolina RailHawks vs. Minnesota United
NCAA MEN
7 p.m. — ESPN3/WatchESPN — Wright State vs. Cleveland State
7 p.m. — ESPN3/WatchESPN — East Tennessee State vs. Furman
7 p.m. — ESPN3/WatchESPN — Monmouth vs. Canisius
7 p.m. — ACC Network/WatchESPN — North Carolina vs. Virginia Tech
7:30 p.m. — ESPN3/WatchESPN — Northern Kentucky vs. Detroit
7:30 p.m. — ESPN3/WatchESPN — UNC Greensboro vs. Wofford
11 p.m. — Fox Sports Prime Ticket — UC Santa Barbara vs. Cal Poly-San Luis Obispo
NCAA WOMEN
1 p.m. — ESPN3/WatchESPN — Canisius vs. Monmouth
1 p.m. — ESPN3/WatchESPN — Cleveland State vs. Green Bay
3 p.m. — ESPN3/WatchESPN — Youngstown State vs. Milwaukee
4 p.m. — ESPN3/WatchESPN — Wright State vs. Illinois-Chicago
4:30 p.m. — ESPN3/WatchESPN — Northern Kentucky vs. Detroit
MEXICAN LIGA MX
6 p.m. — Univision Deportes — Cruz Azul vs. Puebla
8 p.m. — Univision Deportes — Querétaro vs. Club América
8 p.m. — Univision — Monterrey vs. Toluca
10 p.m. — Univision Deportes/Galavision — Club León vs. Morelia
PORTUGUESE PRIMEIRA LIGA
3:30 p.m. — Univision Deportes — FC Porto vs. Arouca
SCOTTISH LEAGUE CUP
7:15 a.m. — Fox Soccer 2Go — Greenock Morton vs. Aberdeen
SUNDAY
ENGLISH PREMIER LEAGUE
8:30 a.m. — NBCSN/NBC Sports Live Extra/Telemundo/Telemundo Deportes en Vivo — Manchester City vs. Southampton
11 a.m. — NBCSN/NBC Sports Live Extra/Telemundo/Telemundo Deportes en Vivo — Chelsea vs. Manchester United
MAJOR LEAGUE SOCCER
4 p.m. — ESPN/WatchESPN/ESPN Deportes/KMYU Utah/MLS Live — Seattle Sounders vs. Real Salt Lake
4 p.m. — Fox Sports 1/Fox Sports Go/Fox Deportes/Fox Soccer 2Go/DirecTV/MLS Live — LA Galaxy vs. FC Dallas
4 p.m. — YES Network/MLS Live — New York City FC vs. Columbus Crew
4 p.m. — MSG/CSN Philadelphia/MLS Live — Philadelphia Union vs. New York Red Bulls
4 p.m. — CSN Chicago/MLS Live — Toronto FC vs. Chicago Fire
4 p.m. — MLS Live — Colorado Rapids vs. Houston Dynamo
4 p.m. — MLS Live — New England Revolution vs. Montreal Impact
4 p.m. — MLS Live — Orlando City SC vs. D.C. United
4 p.m. — MLS Live — Sporting Kansas City vs. San Jose Earthquakes
4 p.m. — MLS Live — Vancouver Whitecaps vs. Portland Timbers
SPANISH LA LIGA
10:15 a.m. — beIN Sports USA/beIN Sports en Español/beIN Sports Connect — Sevilla vs. Atlético Madrid
12:30 p.m. — beIN Sports en Español/beIN Sports Connect — Villarreal vs. Las Palmas
12:30 p.m. — beIN Sports en Español/beIN Sports Connect — Málaga vs. Leganés
2:45 p.m. — beIN Sports USA/beIN Sports en Español/beIN Sports Connect — Real Madrid vs. Athletic Bilbao
GERMAN BUNDESLIGA
9:30 a.m. — Fox Sports 1/Fox Sports Go/Fox Soccer 2Go — RB Leipzig vs. Werder Bremen
11:30 a.m. — Fox Sports 2/Fox Sports Go/Fox Deportes/Fox Soccer 2Go — Schalke 04 vs. Mainz 05
ITALIAN SERIE A
8:55 a.m. — beIN Sports USA/beIN Sports Connect — Atalanta vs. Inter Milan
MEXICAN LIGA MX
1 p.m. — Univision/Univision Deportes — Pumas UNAM vs. Tigres UANL
7 p.m. — Univision Deportes — Santos Laguna vs. Atlas
9 p.m. — Univision Deportes — Guadalajara — Pachuca
NCAA MEN
4 p.m. — MASN/MASN2/Fox Sports (regional channels) — TCU vs. Texas Tech
8 p.m. — Pac-12 Network — UCLA vs. Stanford
NCAA WOMEN
Noon — YES Network/ACC Network/Fox Sports Prime Ticket/Fox Sports (regional channels) — Wake Forest vs. Notre Dame
Noon — ACC Network/WatchESPN — Miami vs. Virginia Tech
1 p.m. — SEC Network +/WatchESPN — Florida vs. Mississippi State
1 p.m. — ACC Network/WatchESPN — Clemson vs. NC State
1 p.m. — ACC Network/WatchESPN — Syracuse vs. North Carolina
1 p.m. — ACC Network/WatchESPN — Florida State vs. Louisville
1 p.m. — ACC Network/WatchESPN — Virginia vs. Boston College
1 p.m. — ESPN3/WatchESPN — Indiana State vs. Loyola-Chicago
1 p.m. — ESPN3 — Toledo vs. Western Michigan
2 p.m. — MASN/MASN2/Fox Sports (regional channels) — Baylor vs. Kansas
2 p.m. — SEC Network +/WatchESPN — Vanderbilt vs. Ole Miss
2 p.m. — SEC Network +/WatchESPN — LSU vs. Alabama
2 p.m. — ESPN3/WatchESPN — East Tennessee State vs. Furman
2 p.m. — ESPN3/WatchESPN — Evansville vs. Illinois State
2 p.m. — ESPN3/WatchESPN — Stephen F. Austin vs. Incarnate Word
4 p.m. — SEC Network/WatchESPN — Georgia vs. Missouri
5 p.m. — SEC Network +/WatchESPN — Tennessee vs. South Carolina
5 p.m.  — ESPN3/WatchESPN — UC Irvine vs. UC Santa Barbara
6 p.m. — MASN/MASN2/Fox Sports (regional channels) — Texas vs. West Virginia
6 p.m.  — SEC Network/WatchESPN — Texas A&M vs. Auburn
7 p.m.  — ACC Network/WatchESPN — Pittsburgh vs. Duke
WOMEN'S INTERNATIONAL FRIENDLY
2 p.m. — Fox Sports 1/Fox Sports Go/Fox Soccer 2Go — United States vs. Switzerland
SCOTTISH PREMIER LEAGUE
7 a.m. — Fox Soccer Plus — St. Johnstone vs. Dundee