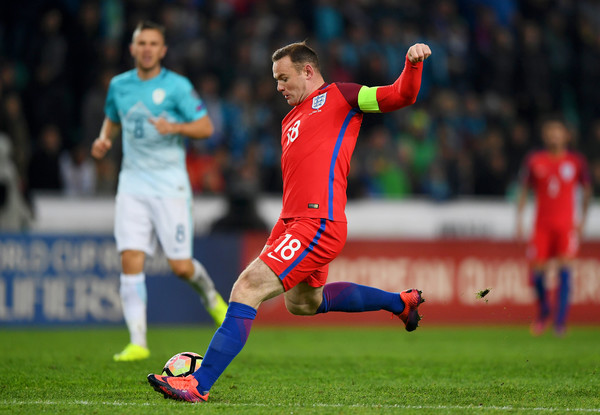 The third round UEFA World Cup qualifying is over, but there more questions than answers as the international break comes to an end.
England held onto a 0-0 draw with Slovenia on the road on Tuesday. The Three Lions could have easily lost the game if it wasn't for goalkeeper Joe Hart. The on-loan Torino shot-stopper was constantly busy and was forced to come up with a few big saves, mainly on Josip Ilicic. Wayne Rooney started the match from the bench and came on in the second half, but like the rest of his teammates, they could not the winning goal. The English still lead Group F on seven points. Lithuania now occupies second place after a 2-0 win over Malta, while Slovakia humbled Scotland 3-0.
In Group E, Robert Lewandowski scored at the death for Poland in its 2-1 win over Armenia at home. The victory moved the Poles into a tie for first place with Montenegro, who picked up a massive result in Denmark as it defeated the hosts, 1-0. Romania could not take advantage of the Danes' loss as the Tricolorii drew 0-0 with Kazakhstan.
It was business as usual in Group C with Germany shutting out Northern Ireland, 2-0. The world champions have yet to allow a goal in qualifying while scoring eight of their own. Azerbaijan continued their surprise start and moved into second place after drawing, 0-0, with the Czech Republic. San Marino gave Norway a scare after scoring its first away goal since 2001, but the hosts pulled through and won, 4-1, in the end.
Here is a closer look at the standings from each group after three games.
Group C
1. Germany (9 points | 3-0-0 | 8 Goals For | 0 Goals Against)
2. Azerbaijan (7 points | 2-0-1 | 2 Goals For | 0 Goal Against)
3. Northern Ireland (4 points | 1-1-1 | 4 Goals For | 2 Goals Against)
4. Norway (3 points | 1-2-0 | 4 Goals For | 5 Goals Against)
5. Czech Republic (2 points | 0-1-2 | 0 Goals For | 3 Goals Against)
6. San Marino (0 points | 0-3-0 | 1 Goal For | 9 Goals Against)
Group E
1. Montenegro (7 points | 2-0-1 | 7 Goals For | 1 Goal Against)
2. Poland (7 points | 2-0-1 | 7 Goals For | 5 Goals Against)
3. Romania (5 points | 1-0-2 | 6 Goals For | 1 Goals Against)
4. Denmark (3 points | 1-2-0 | 3 Goals For | 4 Goals Against)
5. Kazakhstan (2 points | 0-1-2 | 2 Goals For | 7 Goals Against)
6. Armenia (0 points | 0-3-0 | 1 Goal For | 8 Goals Against)
Group F
1. England (7 points | 2-0-1 | 3 Goals For | 0 Goals Against)
2. Lithuania (5 points | 1-0-2 | 5 Goals For | 3 Goal Against)
3. Slovenia (5 points | 1-0-2 | 3 Goals For | 2 Goals Against)
4. Scotland (4 points | 1-1-1 | 6 Goals For | 5 Goals Against)
5. Slovakia (3 points | 1-2-0 | 3 Goals For | 2 Goals Against)
6. Malta (0 points | 0-3-0 | 1 Goal For | 9 Goals Against)