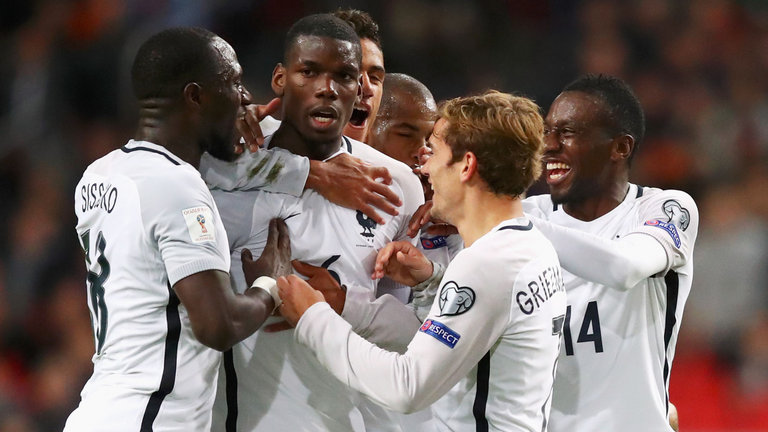 Home has not been sweet for the Netherlands over the past 16 months, especially in qualifying.
The Dutch lost, 1-0, to France in UEFA World Cup qualifying, which marked the fifth loss in their last six games at home in all competitions. This latest defeat has knocked Holland out of the top two. As for Les Bleus, Paul Pogba scored his first goal of the campaign in style with a strike from distance. The narrow victory moved the French into a tie with Sweden for the top spot in Group A with seven points. The Swedes earned a 3-0 victory over Bulgaria to move level. Belarus drew Luxembourg in the third game of the group.
Elsewhere, Portugal enjoyed another comfortable win as it crushed the Faroe Islands, 6-0, on the road. However, a narrow 2-1 win for Switzerland over Andorra keeps the Swiss on top of Group B with nine points after three rounds. The Faroese loss helped Hungary, who moved two points behind the Portuguese for second place after defeating Latvia, 2-0.
In Group H, Christian Benteke made history by scoring the fastest goal in a World Cup match — qualifying or finals — and finished with a hat trick as Belgium demolished Gibraltar 6-0. Greece managed to keep pace with the Belgians by shutting out Estonia 2-0 on the road, while Bosnia & Herzegovina returned to winning ways with an identical 2-0 victory.
Here is a closer look at the standings after three games.

Group A
1. France (7 points | 2-0-1 | 5 Goals For | 1 Goal Against)
2. Sweden (7 points | 2-0-1 | 5 Goals For | 1 Goal Against)
3. Netherlands (4 points | 1-1-1 | 5 Goals For | 3 Goals Against)
4. Bulgaria (3 points | 1-2-0 | 5 Goals For | 10 Goals Against)
5. Belarus (2 points | 0-1-2 | 2 Goals For | 5 Goals Against)
6. Luxembourg (1 point | 0-2-1 | 4 Goals For | 6 Goals Against)
Group B
1. Switzerland (9 points | 3-0-0 | 19 Goals For | 5 Goals Against)
2. Portugal (6 points | 2-1-0 | 21 Goals For | 9 Goals Against)
3. Hungary (4 points | 1-1-1 | 16 Goals For | 12 Goals Against)
4. Faroe Islands (4 points | 1-1-1 | 13 Goals For | 10 Goals Against)
5. Latvia (3 points | 1-2-0 | 11 Goals For | 8 Goals Against)
6. Andorra (0 points | 0-3-0 | 9 Goals For | 12 Goals Against)
Group H
1. Belgium (9 points | 3-0-0 | 13 Goals For | 0 Goals Against)
2. Greece (9 points | 3-0-0 | 8 Goals For | 1 Goals Against)
3. Bosnia & Herzegovina (6 points | 2-1-0 | 7 Goals For | 4 Goals Against)
4. Estonia (3 points | 1-2-0 | 4 Goals For | 7 Goals Against)
5. Cyprus (0 points | 0-3-0 | 0 Goals For | 7 Goals Against)
6. Gibraltar (0 points | 0-3-0 | 1 Goal For | 14 Goals Against)