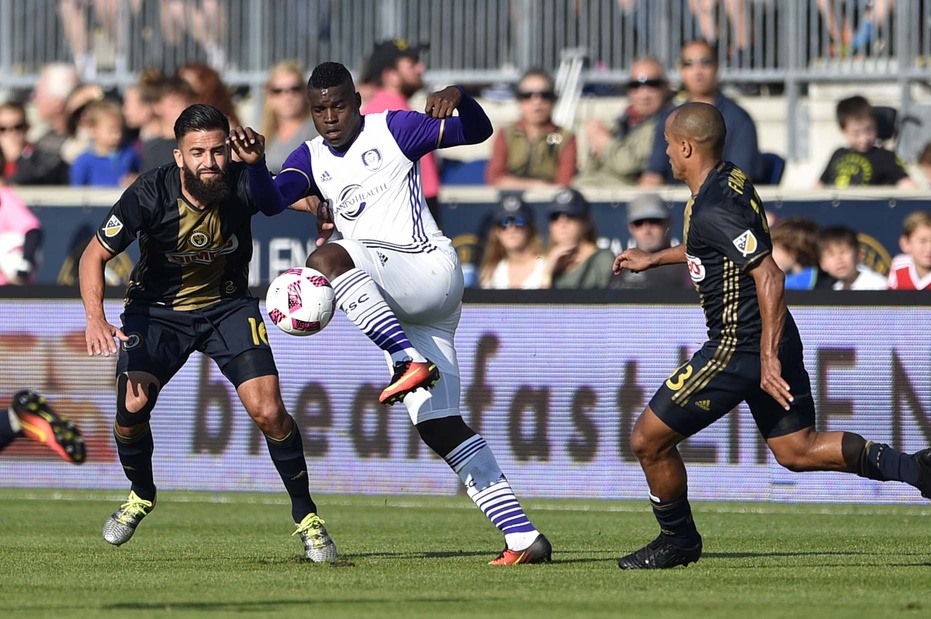 CHESTER, PA–The Philadelphia Union may be a playoff team, but they sure didn't play like it in their 2-0 loss to Orlando City on Sunday.
The Union's loss combined with the Chicago Fire's win over New England all but secured a playoff spot for Jim Curtin's men. New England would have to win by 12 goals next Sunday to overtake the Union.
Orlando's tallies were produced on breakaways down the center of the pitch by Carlos Rivas and Julio Baptista.
The best chance of the first half came right before the halftime whistle as Ken Tribbett knocked a shot onto his own post. Luckily for the Union center back, he avoided an own goal as the ball bounced directly off the left post and into the arms of Andre Blake.
Orlando struck out of nowhere in the 59th minute as Carlos Rivas took advantage of Fabinho's slip just past midfield. Rivas surged into the box, where he was met by Blake, but before Blake could reach him, Rivas sent the ball trickling toward the net. The opening tally was credited as an own goal to Keegan Rosenberry since the Union right back got a touch on the ball as it crossed the line.
The Union appeared to have an equalizer set up eight minutes after Rivas' strike, but Joe Bendik leaped into action on the line to deny Chris Pontius' header from close range.
Orlando almost secured a 2-0 lead in the 79th minute, but Andre Blake made a splendid diving save on Matias Perez Garcia after the midfielder cut around Tribbett on the right side of the box.
The Union came close in stoppage time, but Tranquillo Barnetta's header soared wide left of the net. Orlando then added a late strike in the closing stages of the match as Julio Baptista deflected a shot off Blake and into the right part of the net
Philadelphia will host the New York Red Bulls in the final week of the regular season, while the Lions will take on D.C. United at home.
MAN OF THE MATCH 
Joe Bendik made a few crucial denials, including his off-the-line save on Chris Pontius in the second half.
MOMENT OF THE MATCH
Carlos Rivas' break down the pitch created the opening strike of the contest off the boot of Keegan Rosenberry.
Match to Forget 
Fabinho's gaffe at midfield handed Rivas a golden chance to rush in on the net and the Orlando man took full advantage of the opportunity.