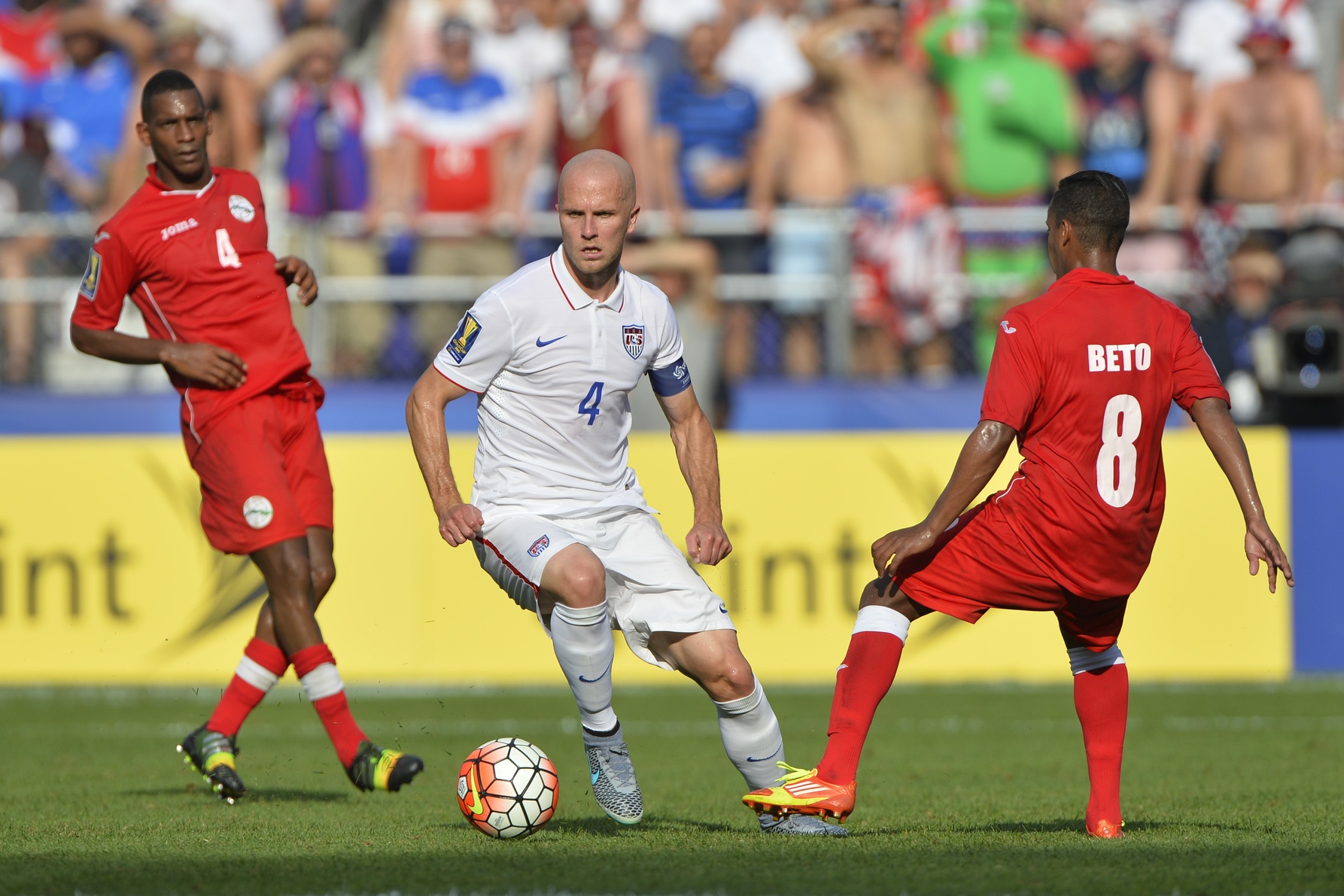 Jurgen Klinsmann isn't looking past Cuba. In truth, the U.S. Men's National Team head coach is looking forward to what he expects to be a "wonderful experience", for reasons both on the field and off of it. However, the USMNT head coach would be remiss if he didn't admit that a much bigger challenge remains the main focus of the upcoming slate of games.
The USMNT heads to Havana, Cuba on Friday for a friendly that Klinsmann expects to use as a launching pad. Clashes with Mexico and Costa Rica loom as World Cup qualifiers, and two of the most difficult matches of the cycle, are suddenly just a month away.
Cuba is no Costa Rica and certainly no Mexico. The Caribbean nation enters Friday's match ranked 139th in the world, a whole 117 spots behind the U.S. However, that makes Friday's match imperative for players looking to move up the depth chart heading towards the Hexagonal round.
"We deal with three different components," Klinsmann said. "Some play in Liga MX with their calendar, some in MLS with their calendar and the Europeans with the calendar, so we always have to improvise here and there. It's a good time for some of the guys to make that case, including the goalkeeper obviously. We continue to grow and work with each individual player and each individual situation. At the end of the day, we are measured by results, especially when you get in the Hexagonal when you need points from the beginning.
"That gives us, in these 10 days, a good opportunity to have a closer look at them and where they are right now," he added. "The bigger picture behind these 10 days is preparing for Mexico on Nov. 11. We gather as much information about every single player in order to make up our minds towards Mexico."
The match presents the USMNT's first trip to Cuba since a 2008 World Cup qualifier, while also serving as the USMNT's first friendly on the island since 1947.  While the two teams met at the most recent Gold Cup in a 6-0 USMNT win, the freshness of a trip to Havana adds some new layers to the match, while also bringing a bit of excitement to those involved.
Jozy Altidore, who says he's never been to the island, is looking forward to simply seeing a country that has remained a bit of a mystery to most Americans throughout his lifetime. Sacha Kljestan, who was a member of the 2008 qualifying team, says that match was a special one while adding that he's looking forward to getting another opportunity to visit the island with the national team. Of the 22 players currently on the roster, just three, Kljestan, Howard and Michael Bradley, were in the lineup the last time the U.S. took on Cuba.
However, while the allure of it all remains a fun part of the trip, the focus remains at winning a spot on the roster, something Kljestan seemingly did during September's World Cup qualifiers.
"It's a good practice for us to move forward and try to try out some new players, some young players that are here getting their chance," Kljestan said. "Obviously, I just want to make an impact on the game in a positive way so that, when it comes time for Mexico and Costa Rica, I'm in the starting XI.
"We're going to take these games very seriously," he added. "A lot of guys are here to prove their case and whenever we step on the field to represent the national team, we're always going to try and win. Hopefully, we get a couple of wins this week that gives us some good motivation and good confidence going into November."
The U.S. has several competitions brewing heading towards that Nov. 11 match against Mexico. At goalkeeper, Ethan Horvath, David Bingham and William Yarbrough have been called in to duke it out for the USMNT's third and final goalkeeping spot behind regular starters Howard and Brad Guzan. In the midfield, Danny Williams and Perry Kitchen are being looked at to seal a more regular spot heading into the Hexagonal. At forward, the U.S. is arguably deeper than it has been in years, as Altidore, Jordan Morris and Bobby Wood compete for one or two spots on the field.
Of the 22 call-ups, 15 were members of the most recent World Cup qualifying squad. Just one, Lynden Gooch, is making his first appearance in USMNT camp. Altidore says that Gooch is the player he is most looking forward to playing with, mostly because he's the only one he hasn't seen in quite awhile. Having seen Gooch as a youth player during his time at Sunderland, Altidore is excited by the midfielder's Premier League progress as he makes the leap towards the senior team.
Gooch, like the other 21 players on the roster, is now tasked with making a case for the future. A clash with Cuba serves as the start of that case, as the U.S. now prepares for bigger matches ahead.
"Whenever you have the opportunity to spend 10 days together, it's important," Bradley said. "A U.S.-Cuba game in Havana is special for so many reasons. Given where we are in terms of the qualifying cycle and just the development and evolution of the team. It's another great chance for us to spend a week-and-a-half together, get to work a little bit, play two good games and head back to our clubs for a few weeks before we come together in November to kick things off for a final round of qualifying."