With a slew of new faces in camp, the U.S. Men's National Team has some interesting lineup options ahead of Tuesday's clash with New Zealand.
Fresh off a less-than-inspiring 2-0 win over Cuba, the U.S. returns to RFK Stadium on Tuesday for a clash with New Zealand. Ahead of the match, seven new players have joined USMNT camp, while nine have departed following the Cuba match.
Among the new faces are a pair of interesting forward options in Juan Agudelo and Terrence Boyd, as well as young defensive options in Kellyn Acosta and Tim Parker. Meanwhile, veterans like Matt Besler and Michael Orozco give head coach Jurgen Klinsmann some choices to make in defense following the departure of a majority of the team's starting core.
Here's a look at a potential USMNT lineup for Tuesday's match.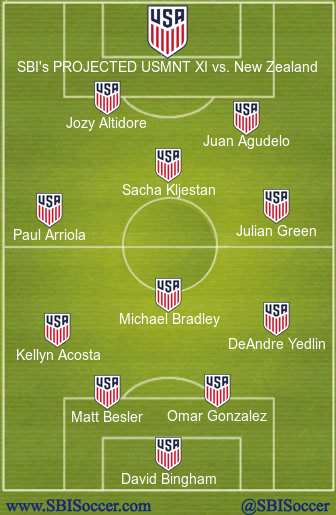 Here are some thoughts on the lineup:
Following the USMNT's win over Cuba, the squad has received a massive overhaul, as seven new faces have replaced the nine that have returned to their club teams. Several big-name players remain, though, and they're likely to feature prominently on Tuesday night.
If Jurgen Klinsmann wasn't expecting to fully utilize starters Jozy Altidore, DeAndre Yedlin and Michael Bradley, they would have gone home. Toronto FC remains in a playoff chase and take on the Montreal Impact over the weekend in a crucial clash. Newcastle is certainly better equipped to handle Yedlin's absence, but the fullback would have been with the wave of European departures if Klinsmann had no plans for him.
Yedlin's performance against Cuba was a bit up and down, making Tuesday's match a valuable one for the defender/winger. Firmly implanted as the USMNT's top right back, Yedlin still needs to show a bit better than he did on Friday. With players like Michael Orozco and Steve Birnbaum on the roster, Klinsmann has options for the right back position, but expect Yedlin to play at least a half on Tuesday.
On the other side of the defense, Kellyn Acosta comes in as a natural left back option. The FC Dallas midfielder looked solid at the position during September qualifiers, but still obviously has some fine-tuning to do as he continues to swap roles with the national team. Acosta is certainly a capable left back, and is likely looking to lock down a spot as Fabian Johnson's backup heading into qualifying.
The middle of the defense is a bit less clear cut. Hometown favorite Steve Birnbaum remains a candidate to start at RFK Stadium, although a head injury suffered against Cuba could keep him out. Veterans Matt Besler and Omar Gonzalez remain in the fold, and the two may be competing for one centerback spot heading into World Cup qualifying. Tim Parker is also in the mix after shining for the U.S. Under-23 Men's National Team during Olympic qualifying, but is almost certainly a bench option.
Like Yedlin, Bradley and Sacha Kljestan are likely to crack the lineup as two of the few holdovers from the starting XI against Cuba. The two were quiet during Friday's match, making Tuesday a vital match for developing a bit more chemistry moving forward.
On the wing is Julian Green, who was one of the best players on the field in the last match. While his decision-making wasn't always flawless, Green was certainly the USMNT's most active attacker, more than justifying another chance to shine. Green remains in the mix for a more consistent role, but he needs to take major steps with the national team due to his lack of club action. On the other side is Paul Arriola, who is another player looking to step up to a bigger role. Arriola, like Green, has taken advantage of his most recent opportunities and is deserving of heavy minutes on Tuesday.
Altidore should be penciled in for another start after remaining with the squad, but the question remains on who will partner him. Klinsmann could opt for a one-striker set, but given the team's recent performances in a 4-4-2, he likely won't want to shake things up too much. Green remains an option, depending on if Klinsmann sees him as a potential central player like Bayern manager Carlo Ancelotti does. Terrence Boyd is back in the fold after years of injury issues, but the forward is lacking game fitness and is a bit too similar to Altidore, which could complicate the attacking flow.
That leaves Juan Agudelo, a player that has played his way back onto the scene with a series of strong performances on the club level. The idea of Agudelo buzzing around Altidore is an exciting one, as the two forwards have the potential to form an interesting partnershi.
Finally, there's the goalkeeper position. While Bill Hamid is the sentimental choice, the D.C. United goalkeeper hasn't been in camp, and starting him would be a bit of a blow to the two goalkeepers that have been battling throughout the international break. That leaves David Bingham and William Yarbrough to battle it out for the third-string spot going forward.