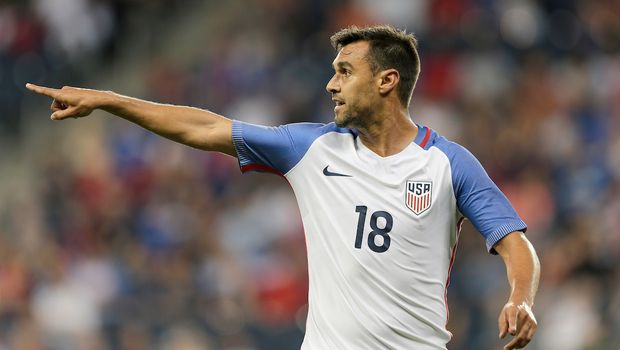 It certainly wasn't the U.S. Men's National Team's best performance. Ugly field conditions led to an even uglier first half before a pair of the more debated call-ups sealed a win.
Chris Wondolowski and Julian Green each scored a second half goal to push the USMNT to a 2-0 win over Cuba at the Estadio Pedro Marrero.
Wondolowski's breakthrough came in the 62nd minute, finally opening the scoring in match that had been lacking up to that point. As Green's shot was saved by Cuba goalkeeper Sandy Sanchez, Wondolowski pounced on the rebound to fire his 11th international goal into an open net.
Just nine minutes later, the San Jose Earthquakes forward turned provider, returning the favor for  Green for the USMNT's second. After receiving a pass from Timmy Chandler, Wondolowski slid a pass to Green for the Bayern Munich's first finish since his World Cup goal against Belgium.
The first half was, for lack of a better word, uneventful. As both sides dealt with poor pitch conditions, play was consistently sloppy. Accurate passing was rare, as set pieces and long balls looked to be the most likely avenue for a goal.
Both teams created very little throughout the opening 45. Green proved to be the USMNT's best attacking outlet in the opening stanza, while Ethan Horvath made a pair of saves in the first half of his debut.
The second half started a bit better as a Green shot was blocked off the line in the opening seconds. However, it was Cuba who most deserved an opener, as a Maykel Reyes shot smashed into the post in the 58th minute following a botched USMNT counter. A second shot from Roberney Caballero struck the post shortly after Wondolowski's opener, but it was not to be for a Cuba team that likely deserved at least one goal.
Following the win, the USMNT return to action on Tuesday against New Zealand at RFK Stadium.