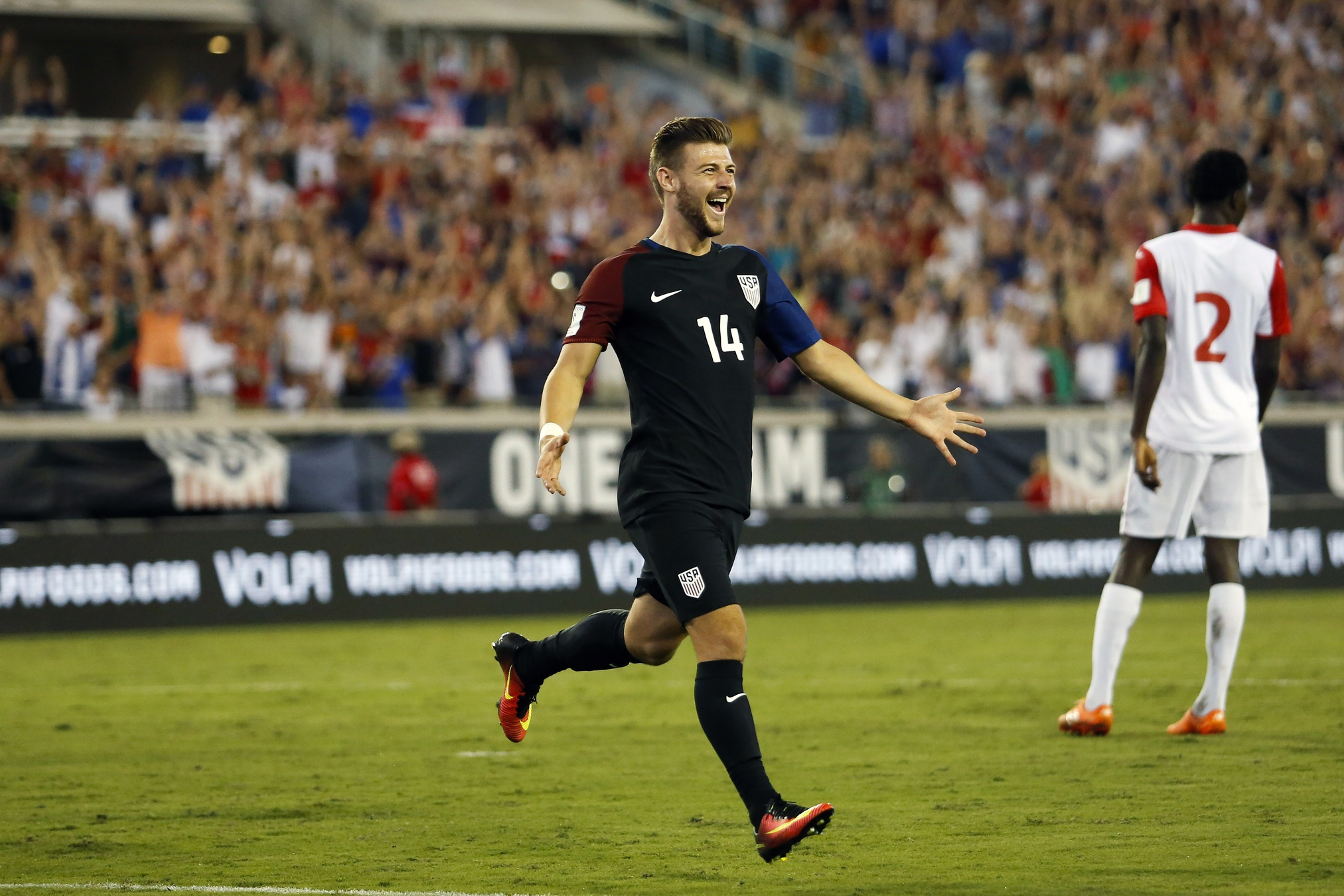 Christian Pulisic isn't the only exciting young winger in the U.S. Men's National Team pool and, following the Borussia Dortmund prospect's departure, a trio of young options will look to impress against New Zealand.
The U.S. enters Tuesday's match with three natural options on the roster: Paul Arriola, Lynden Gooch and Julian Green. In the absence of regulars Pulisic and Gyasi Zardes, the trio face a major chance on Tuesday, one that could make a difference when it comes time for Jurgen Klinsmann to select his roster for November World Cup qualifiers.
Arriola and Green both made appearances in Friday's win over Cuba, with the former earning 21 minutes at the end of the match. It was a quiet performance from Arriola, who completed all five of his passes and never lost the ball during his limited moments of action.
Green, shined in his first USMNT appearance since May's win over Puerto Rico. The Bayern Munich forward scored a goal while creating another in what turned out to be an eventful 90 minutes. Green also led the USMNT in shots on the day with seven, establishing himself as an unlikely leader for the USMNT attack. When all was said and done, Green had fired his first goal since his famous Belgium finish while also setting up Chris Wondolowski for the USMNT's opener
However, at times, it was quantity over quality. Green's decision-making wasn't always perfect as he lost the ball five times down the wing. Green showed flashes of what made him one of the more hyped prospects in USMNT history, but he also showed the rustiness that comes with a lack of playing time on the club level.
That leaves Gooch, who remains in search of his first USMNT cap from his first senior camp. The Sunderland star is likely to get game time on Tuesday, a fact signaled by his continued presence on the roster despite a wave of departures.
Of the three, Arriola is likely the highest on the depth chart thanks to a string of consistent USMNT performances. Prior to Friday's cameo, the Tijuana winger had scored in each of his two previous USMNT caps after previously starring throughout the youth national team system. He needs more time on the club level, but Arriola's performances on the national team have been solid.
Green remains in the mix as well, especially after his performance against Cuba. However, questions remain over his best position. Is he a forward, like Bayern Munich manager Carlo Ancelotti seems to believe, or is he more of a wide option? Against Cuba, he certainly acclimated well to a wing role, taking his defender on several times while cutting inside for shooting chances. His ability to desire to shoot and ability to do just that may see him tuck inside someday, but with a wealth of healthy forward options like Jozy Altidore, Bobby Wood and Jordan Morris, Green is unlikely to see many regular minutes up to for the national team any time soon. A wide role, though, is one that's certainly attainable, especially with Zardes remaining a doubt for the Mexico match due to a broken foot.
While Arriola and Green are riding the wave of positive performances, Gooch remains a wild card. The Sunderland midfielder has made a major impact in Premier League play this season, stepping in and becoming a regular under new coach David Moyes. The 20-year-old is a player that works hard throughout each and every match while also providing an attacking threat. His versatility is also a bonus, as Gooch can play out wide, as a No. 10 or as a central midfielder. With his ability to create and defend, Gooch has the potential to blossom into a solid two-way player, one who could contribute in a variety of different games and situations.
Two of the USMNT's most important matches of the qualifying cycle loom, and Klinsmann faces some tough calls at a variety of positions, including winger. Pulisic remains a virtual lock to remain in the fold, while Alejandro Bedoya, Graham Zusi and even Bobby Wood could earn minutes out wide. However, if Zardes does miss out, there is likely a spot up for grabs out wide, making Tuesday's match vital for Arriola, Gooch and Green if they hope to be included for the November qualifiers.