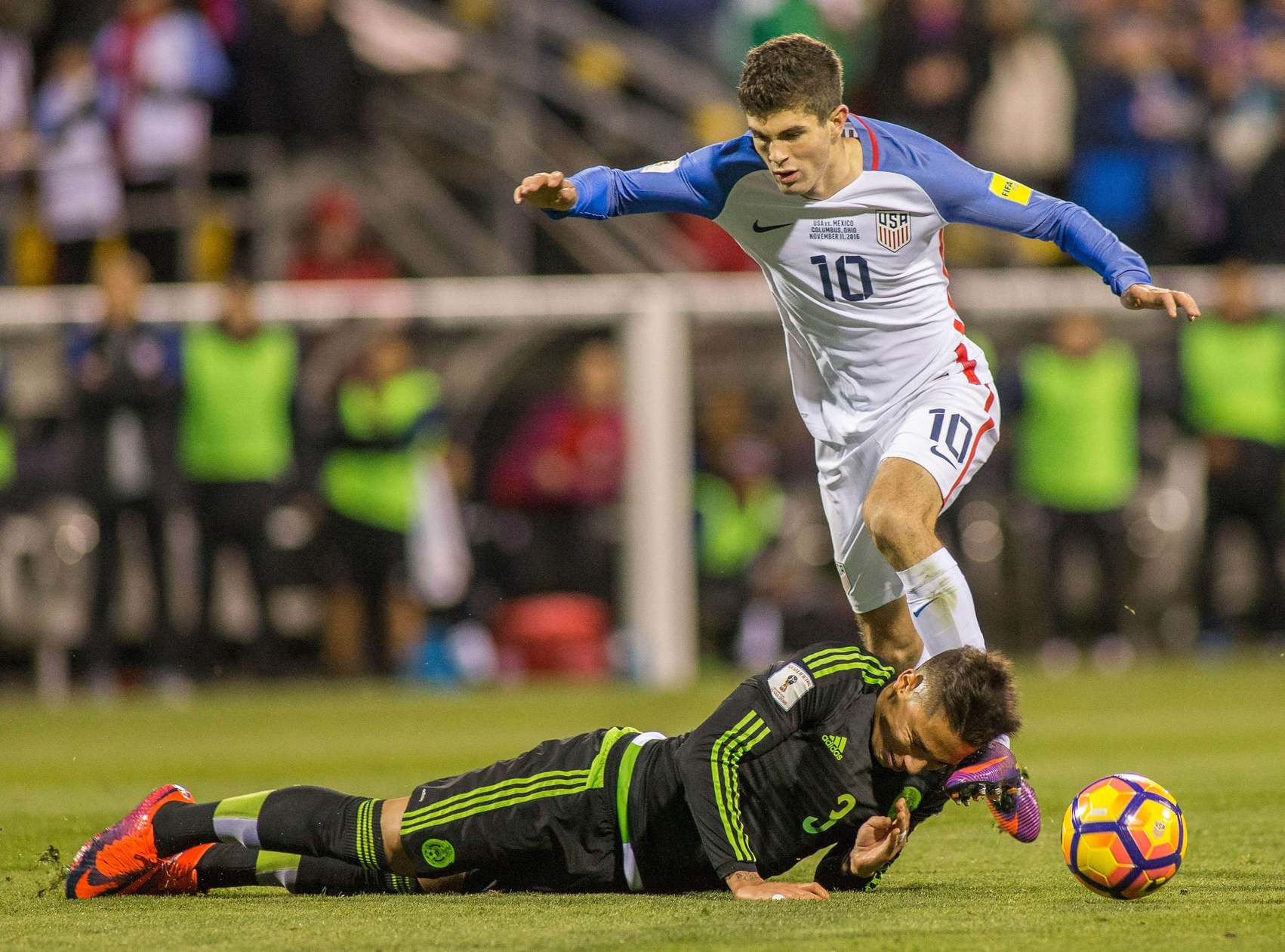 Mexico is, and probably always will be, the biggest game on the U.S. Men's National Team schedule. As kickoff approached and anticipation continued to build ahead of Friday nights' clash, the focus turned towards the stands as USMNT supporters unveiled a giant tifo depicting America's 18-year-old prodigy.
For many, a display so large would be accompanied by immeasurable pressure. These fans, some who have followed this team since well before he was born, were there to see a young prospect playing his first true international rivalry match. But for Christian Pulisic, Friday was just another step, even if it proved a pretty painful one.
https://www.instagram.com/p/BMsONNcDbtu/?taken-by=ivesgalarcep
Pulisic experienced the U.S. Men's National Team's rivalry with Mexico for the first time on Friday night, and the Borussia Dortmund prospect was asked to be much more than just a passenger. Given freedom to roam in what turned out to be an ill-advised decision to start in a 3-4-3, Pulisic was selected to be the USMNT's primary creative outlet in his biggest international test. There was no time to be a bystander, even if the game was one that would prove to be much too big for most 18-year-old professionals.
It was a lot of pressure, even for the shoulders of a player that has shined as bright as Pulisic. Yet, the youngster thrived, even if his team sunk to a frustrating 2-1 defeat to their heated rivals.
"I'm just really disappointed not to come out with at least a point," Pulisic said. "It's always exciting to be a part of this team and, getting the start, I was happy. I didn't do enough to help us get the three points.
"It just took us some time to get into the game," he added. "We were really good and strong in the second half. It was a very good performance. We did not deserved to lose that, to concede that goal at the end."
Pulisic wasn't surprised or overwhelmed with what was asked of him. The young playmaker said he was used to several looks from training and, when the lineup was revealed, he felt more than prepared for the task at hand.
It showed. Throughout Friday's match, Pulisic routinely looked to be the most confident USMNT player on the field, even as he played alongside players with many more Mexico clashes under their belt. The forward routinely drove at the Mexico defense with strong, determined runs, while proving one of the more dangerous passers inside the Mexico half.
Mexico was alert to the danger, as one would expect. The 18-year-old was fouled hard twice, as Mexico did whatever it could to fluster the young playmaker.
That's not to say Friday was without growing pains. Pulisic's first few touches were a bit heavy, a sign of potential nervousness from a player still adjusting to the world's stage. His passing was not always completely crisp as he, like the rest of the USMNT, had moments of indecision throughout the match.
However, as a whole, Pulisic did more than enough to impress, and was one of the lone USMNT players to actually do so.
"I think Christian handled it pretty well," said USMNT head coach Jurgen Klinsmann. "He's trying to find his openings, find his areas to explode and take people on. I think he did very well. He had the freedom to roam, at least in the system with the 3-4-3, either way, left, right middle. He's going to play off of the two strong strikers and I'm definitely sure we'll see it once in awhile, that system, because it suits us.
"In the second half, he had some very good moments. I think you can see his quality and the talent that is there and we'll just take it one step at a time."
Friday was likely not the last time Pulisic will see Mexico in his career. Wearing the No. 10 jersey, Pulisic continues to assert himself as the face of a new generation, one that continues to slowly leap into the USMNT picture.
Still, Friday was a vital lesson, one that Pulisic will never forget. At times, it was difficult and, at times, it was painful, but it was a day that already has Pulisic relishing his next chance to shine under the brightest lights.
"It's what I expected," Altidore said of the young star. "He's a kid that's fearless, has all of the ability in the world. I thought he was terrific tonight. It's not an easy game to come in and start, especially at that age and I thought he handled himself very well."
"It was a lot of fun to play in an intense game like that," Pulisic added. "I'm hoping to play in plenty more of them. It was a good time."