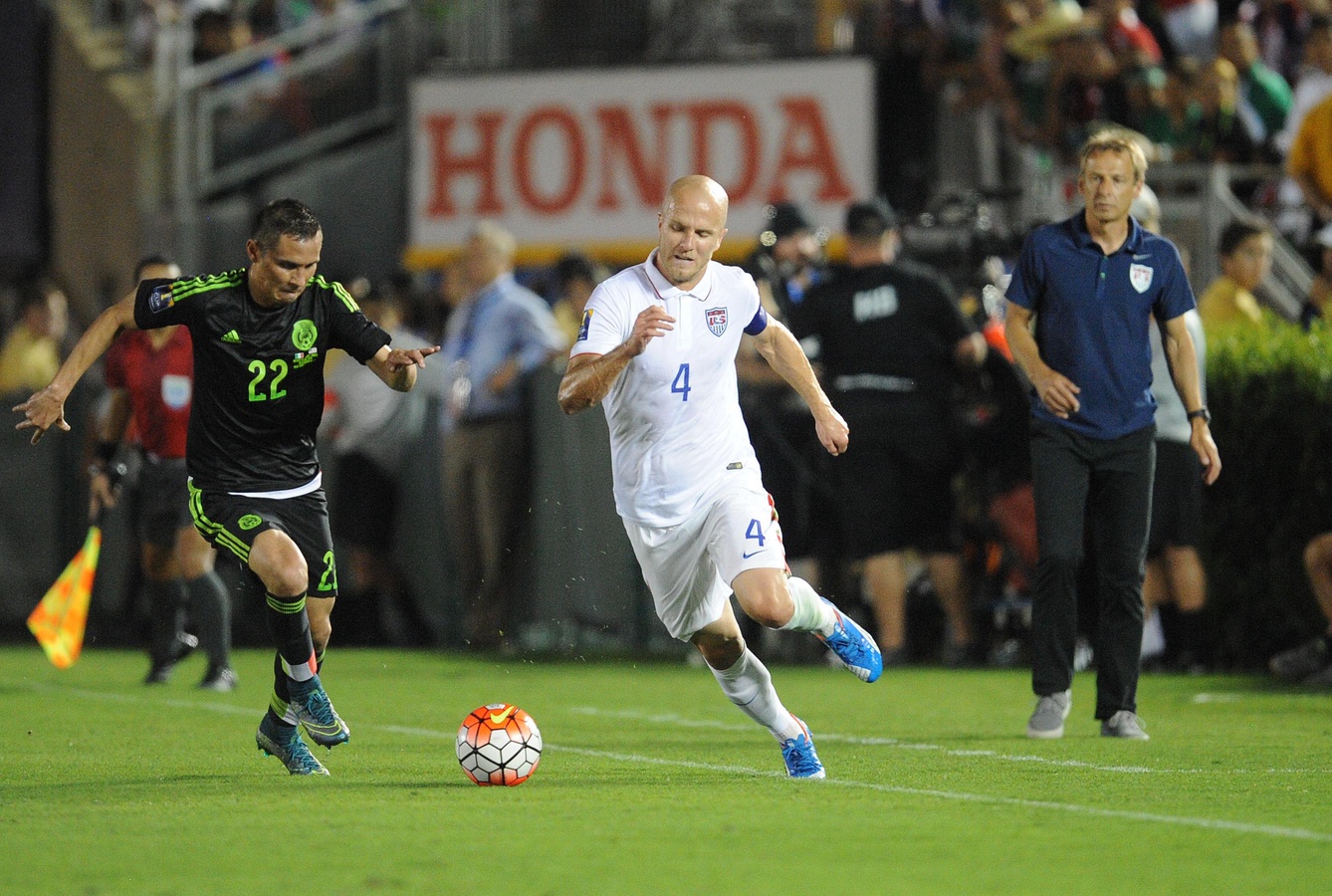 The game of soccer is generally trumpeted as a safe haven from the outside world. For 90 minutes, the trials and tribulations of the world around you simply don't matter. The game remains just that, a game, in the grand scheme of things. But to some people, soccer can represent so much more. It can represent an escape, an oasis, a form of expression no matter what is happening outside of those white lines.
On Friday, soccer and politics will inevitably mix as the U.S. Men's National Team collides with Mexico in the first match of the Hexagonal round of World Cup qualifying. The United States is preparing to welcome a new president, Donald Trump, whose previous disparaging comments regarding Mexico have been well-documented.
Like many Americans scattered throughout the 50 states, Michael Bradley stayed up late into Tuesday night and, inevitably, Wednesday morning, watching the presidential race become clearer and clearer as the night wore on. At 29-years-old, Bradley is at an age where he says he feels the power of a "captivating" election, one which Bradley said was the most memorable of his lifetime. However, on Friday when he takes the field, Bradley understands that the ramifications will feel a bit bigger for a team feeling the weight of the current political climate.
"I certainly think, given everything that has gone on the last few months, there's an added layer to this game," Bradley said Wednesday, "but my general feeling is that we, as Americans, trust our system. We respect our democracy and we have, regardless of your beliefs or how you voted, we have an obligation to come together, get behind our new president and have faith and trust that he will do what's best for the entire country. That's what we've always done.
"In moments like this, it's easy to question things, but again, this is what makes our country great: the fact that we have a system where, yesterday, every American could go and vote. The results may not be what people wanted. Some were happy, others aren't, but the way forward is to come together and give our new president support and rally behind him and have faith that he will continue what ultimately, I believe, every president has always done and make decisions that are for the good of the country."
Unlike Bradley, Tim Howard was not up until the early hours of Wednesday night. The USMNT goalkeeper awoke Wednesday morning to a new president-elect, even if he admitted it wouldn't have been the one he would have chosen if he had voted. Howard says several members of the USMNT are more political than others and that he, by choice, is one that looks to keep the politics aside.
Howard understands that Friday may feel a bit different than any of the previous clashes he's faced with Mexico. However, even with that in mind, he says that both teams should remain focused on the big picture. Friday is no doubt a big game, as the start of the Hex begins the road to Russia, and, politics or no politics, Howard is hoping his team steps up to win a game unencumbered by the current debates of the outside world.
"There's politics and this is football," Howard said. "They're going to try and kick our asses and we're going to try and kick theirs. This has nothing to do with politics."
"I would hope that our fans do what they always do, which is support our team in the best, most passionate way possible," Bradley added. "I would hope that they give every person in that stadium the respect that they deserve, whether they're Mexican, American, neutral, men, women, children. I would hope that every person that comes to the stadium comes ready to enjoy what is and what we all want to be a beautiful game between two sporting rivals that have a lot of respect for each other. I hope that it's a special night in every way."