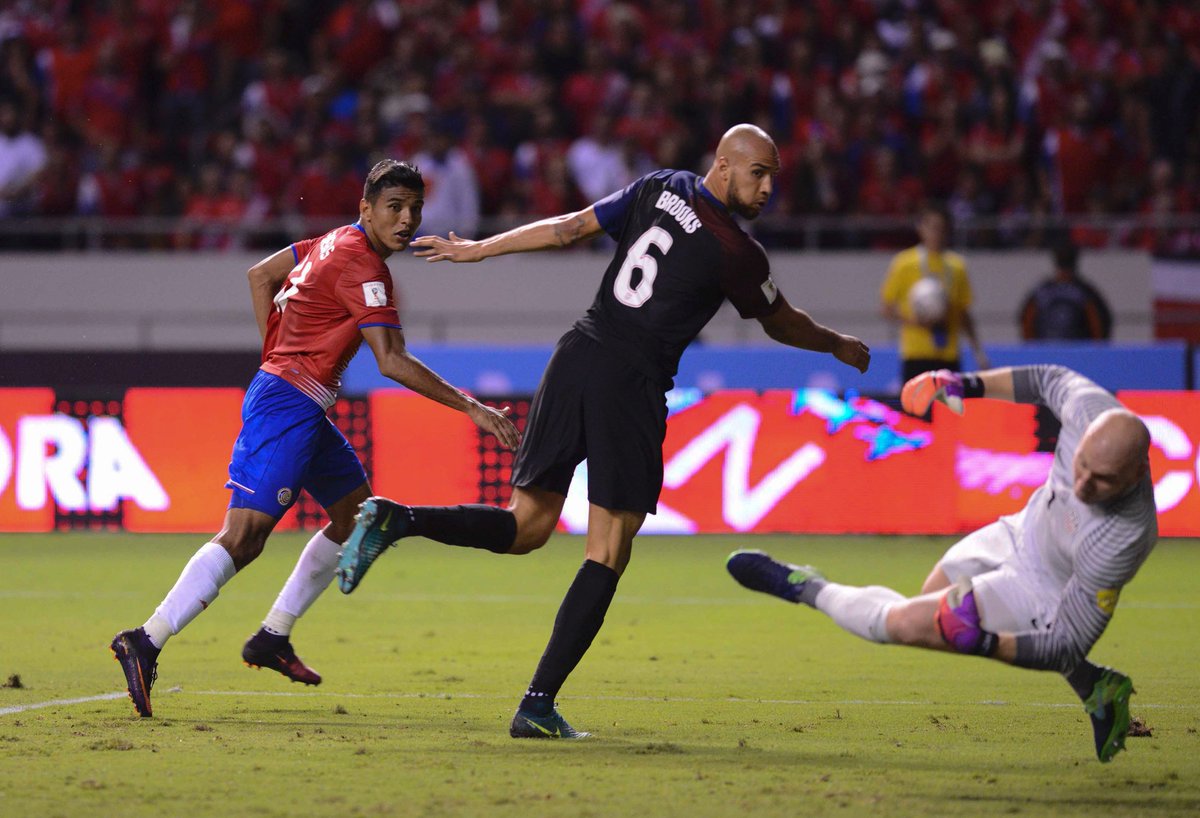 Actions speak significantly louder than words and the U.S. Men's National Team's actions, or lack thereof, spoke volumes on Tuesday night.
Just days after being dealt a backbreaking defeat by rival Mexico, the USMNT laid a major egg in Costa Rica and, to be honest, that's putting it quite charitably. It was a 4-0 shellacking, a beatdown of historic proportions for a team that absolutely needed a confidence-infusing performance.
It certainly didn't come. The USMNT defense was repeatedly overrun by the Costa Rican attack, not due to some superhuman technical ability on the other end but rather its own incompetence. The USMNT attack was listless as the central midfield caved time and time again in the face of pressure.
Tuesday was a truly shocking performance for a team now in crisis, as two straight losses have suddenly pushed the U.S. into panic mode four months before the return of Hexagonal play.
With that in mind, here's a look at several key takeaways from Tuesday's match:
BROOKS TURNS IN WORST PERFORMANCE OF USMNT CAREER
With Geoff Cameron out of action, John Brooks needed to step up and be a leader on the backline. The Hertha Berlin defender needed to rise up and elevate his game while sealing his role as the USMNT's most dominant centerback.
He did nothing of the sort and almost certainly turned in one of the worst performances of his career.
Brooks had a part to play on all four of Costa Rica's goals, and the USMNT defender was lucky not to cause a few more. Giveaways, nutmegs, momentary lapses, you name it, Brooks showed it. It was an awful, awful game from a player that has grown so much over the past year.
His partner, Omar Gonzalez, did himself no favors either. The Pachuca centerback was slow to cover on Costa Rica's first goal and was routinely beaten by the Ticos attack. Against Costa Rica's setup, the lanky, physical Gonzalez was set up to fail. Rather, the more athletic Steve Birnbaum would have likely been a better selection, and it certainly showed as Gonzalez struggled to play the right game.
Cameron has never looked so important. Without the Stoke City defender marshalling the U.S. backline, everything was way, way off. It was the worst performance by a U.S. defense in recent memory, and that includes another 4-0 shellacking at the hands of Argentina at the Copa America Centenario.
In the long term, Brooks' ceiling is still high as they come. But on Tuesday he, like the rest of the defense, was very, very bad.
TEAM SELECTION, SUBSTITUTIONS QUESTIONABLE YET AGAIN
Tactics have never really been Jurgen Klinsmann's strength. The manager has long been hailed as a man-motivator, someone who gets the best out of the players at his disposal. Once again, though, Tuesday's tactics and selections proved to be quite damning to the USMNT.
Let's start with the starting lineup. Matt Besler, a centerback, was jammed at left back in a game where it was vital for the USMNT fullbacks to get forward and keep Costa Rica honest. Still battling back from a 13-week absence, Jermaine Jones was deployed in the central midfield alongside Michael Bradley, a player that simply does not play well with Jones alongside him. The USMNT's best fullback, Fabian Johnson, was deployed at right mid, although he repeatedly tracked back to cover for a gung-ho Timmy Chandler.
It was clear early that things weren't right but, as the game wore on, nothing changed. The system didn't flip. There was no added wrinkle. Nothing. Just the pounding of sand.
When Klinsmann finally did turn to the substitute bench, he took off Christian Pulisic, one of the only bright spots on the day for the U.S. In his stead came Lynden Gooch, a player that offers virtually every single characteristic that Pulisic does at a significantly lower level. What did that accomplish, besides cap-tying Gooch going forward?
If that's the plan, why wasn't Cameron Carter-Vickers inserted with the game well out of hand? What took so long to get Sacha Kljestan, one of the team's only creative outlets, onto the field?
The tactics were nearly as bad as the execution on Tuesday night, as the U.S. was set up to fail and was certainly never helped by any sort of adjustment from the man in charge.
CHANDLER ONCE AGAIN FLOUNDERS IN U.S. JERSEY
Timmy Chandler, fairly or unfairly, has been a lightning rod for criticism. He more than earned the flak with yet another frustrating performance on Tuesday.
On the club level, Chandler is one of the most in-form players in the USMNT pool. With Eintracht Frankfurt, Chandler has routinely turned in big game after big game while helping lead the team to several Bundesliga victories.
His run of poor performances with the U.S. continued on Tuesday. Chandler was caught well out of position on Costa Rica's opener, a theme throughout the night. Chandler was routinely late to track back and fell asleep completely on several Costa Rica attacks. Chandler looked like a player who really didn't want to be there on a team full of players who really, really didn't want to be there.
For years, Chandler has been a player that's been significantly better for club than for country, and he's not the only one. Knowing that, and looking back at his international résumé, Chandler's tenure as even an occasional starter for the U.S. should be over for a very, very long time.
STILL PLENTY OF HOPE TO ADVANCE
The U.S. couldn't have started worse. Zero wins from two games, a minus-five goal differential and plenty of egg on their faces. Still, the USMNT is far from dead when it comes to Russia 2018.
CONCACAF's Hexagonal is meant to be forgiving. As many as four of the six teams can move on to the World Cup, making it more than possible to bounce back from a few blunders. Just last cycle, Mexico won just two of 10 matches en route to Brazil.
With eight games remaining, the U.S. isn't dead. Two of the three toughest matches are now out of the way. Clashes with Honduras and Panama loom, both of which are very winnable by U.S. standards. Will performances need to improve? Absolutely, but any self-respecting USMNT group should take care of business against two of the three weaker teams in the field.
If the USMNT doesn't, it will then be time to panic. The Hex provides each team with several mulligans; the U.S. just used its very, very early.