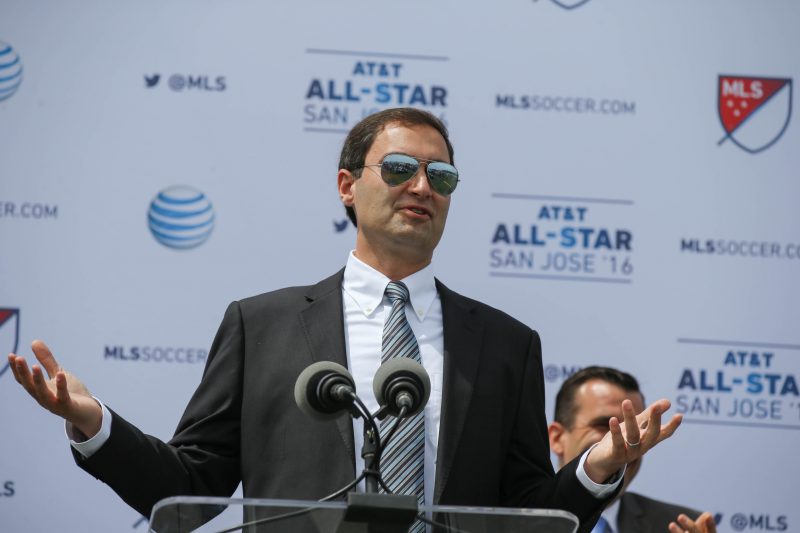 With the announcement that Oakland Athletics' managing partner Lew Wolff was stepping down on Thursday, along with team president Mike Crowley, San Jose Earthquakes president Dave Kaval was tapped to expand his role from president of the Quakes, to also president of the A's.
"I am looking forward to taking on this new role with the Athletics and I am equally committed to continuing to build on what we are doing here at the Earthquakes," said Kaval on Thursday.
The shift in power also see Jared Shawlee get promoted to chief operating officer to oversee the day-to-day business operations of the Quakes.
"Jared has been a big part of our growth and success here in San Jose and he will thrive in this new, expanded role."
Wolff has controlled both the A's and the Quakes for quite a while and the shift in power from Wolff to Kaval could see the A's (finally) get their new stadium. Kaval has been heralded for the work he did to get the Quakes their first-ever true home.
Kaval is expected to still play his role in finding the Quakes a new general manager after the club fired John Doyle in August.
While Kaval goes home shopping for the A's in Oakland, Shawlee's challenge in San Jose will be continuing to grow a supporter base in the South Bay that, like the club, hasn't seen the postseason in four years.
It will be worth seeing how and if he'll try to fix the strained relationship between the club and the San Jose Ultras. The club threatened the Ultras with jail time and banned them after a smoke bomb went off in their section during the club's 1-1 draw against Seattle on Sept. 10. The Ultras were turned away at the gate in the Quakes' following home game against Sporting Kansas City resulting in a quieter Avaya Stadium and two noticeably entirely empty sections.
In his previous role as the vice president of sales and strategy, Shawlee oversaw the Quakes' growth of season ticket holders go from 4,500 to 13,000 in the last five years and also helped the club secure both Sutter Health and Avaya as corporate sponsors.
"I am excited and ready for this new opportunity," said Shawlee. "I'm committed to ensuring Avaya Stadium continues to provide an exciting, inclusive atmosphere for all of our diverse, passionate fans."
Shawlee is a lifelong Quakes and Clash fan and a San Jose native. Next year will be his 10th season with the club.