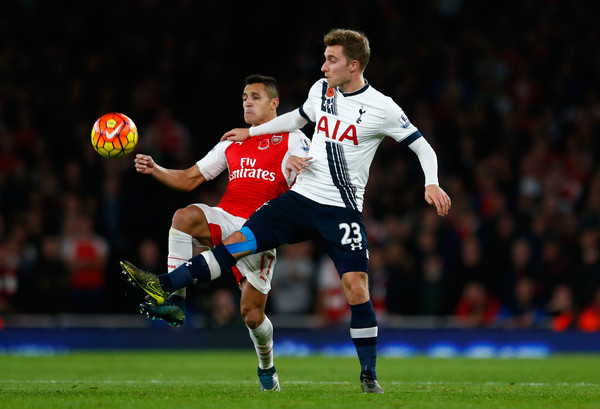 The North London Derby returns this weekend, with some serious implications at the top of the table between two title-aspiring teams.
After each saw midweek action in the UEFA Champions League, Tottenham and Arsenal will meet at the Emirates in the biggest match of the year so far for both teams. Arsenal sit joint-top with Manchester City and Liverpool on 23 points, and is coming off a victory over Ludogorets during the week in UCL. Tottenham enters in fifth place, with 20 points and still unbeaten in league play. Spurs come in on the back of a disappointing loss to Bayer Leverkusen during the week that saw a Harry Kane-less attack shut down.
Two more teams with European aspirations after disappointing seasons clash as well as fourth-place Chelsea take on sixth-place Everton. Chelsea enters November as hot as can be, winning all four matches in October while scoring 11 goals and conceding none. Everton is in the midst of a strong campaign after the disappointment of last year, having been beaten just twice while boasting the second-best defense in the league.
Finally, Liverpool and Watford feature another big-time battle at the top of the table. The Reds currently sit tied with Manchester City and Arsenal atop the league boasting a terrifyingly prolific attack led by the Brazilian pairing of Philippe Coutinho and Roberto Firmino, each with four goals this year. Watford is in the midst of another strong campaign after not only surviving, but thriving in 2015. The visitors sit in seventh-place, even on 15 points with Manchester United and seeking to solidify their position among the best teams in the league.
Here's a closer look at all of this weekend's Premier League action:
GAMES TO WATCH
Arsenal (23 points) vs. Tottenham (20 points), Sunday, 7 a.m., NBCSN
Injuries of note: Multiple Arsenal players are set to miss the North London Derby, as they'll likely have to cope with the absence of forward Theo Walcott, midfielder Santi Carzola, and defenders Nacho Monreal and Kieran Gibbs, who are all listed as doubtful for Sunday. There is some good news, however, as key defender Hector Bellerin could be available despite missing the team's midweek UCL match against Ludogorets. As for Tottenham, once again they'll likely be without star striker Harry Kane, who is yet to recover from his ankle injury. Also absent will be centerback Toby Alderweireld, meaning Eric Dier may be forced into defensive action yet again after filling in during Spurs midweek UCL loss to Bayer Leverkusen.
Key to the game: Can Tottenham turn their bad run of form around against their biggest rivals? The team hasn't won since an early October victory against Manchester City, drawing their three league matches since and being knocked out of the League Cup by Liverpool, as well as losing to Leverkusen on Wednesday evening. Despite this, Spurs sit in 5th, just three points off the leaders at the top including Arsenal. The issue has been their scoring, which has lacked so far this year. They'll be hard-pressed to find a goal or two with Heung-min Son or Victor Janssen starting in place of Kane once again, but a stout defense gives Spurs hope, as they've allowed just five goals this season through 10 matches. Given their offense struggles, a clean sheet from the defense would be a massive boost, but remains a difficult attack against a prolific Arsenal attack.
Player to watch: Mesut Ozil has been every bit the star for Arsenal that they need him to be. With Tottenham's offense struggling, Ozil makes life hard for the defense as they seek to keep this as low-scoring an affair as possible. After scoring this instant-classic goal during the week against Ludogorets, he'll seek to add his fourth goal of this Premier League season on Sunday to stifle Arsenal's rivals and maybe even secure the top spot in the table.
Quote: "It is an interesting clash. For us it is a very important game because we are in a strong position in the league that we want to strengthen. Overall Tottenham [are in a good position] as well, so it is very tight at the top of the league." said Arsenal manager Arsene Wenger, "We are more focused that it is a home game, and whether it is Tottenham or somebody else, we want to win our home games because our position in the league is very important. We go into a period where we play big games and we want to win the big games."
Chelsea (22 points) vs. Everton (18 points), Saturday, 1:30 p.m., NBC
Injuries of note: Everton will again be without the services of defender Leighton Baines, with a hamstring injury, and midfielder James McCarthy, with a groin injury, and will also miss the services of suspended midfielder Idrissa Gueye and forward Arouna Kone, who picked up a recent knee injury. Good news elsewhere though, as goalkeeper Maarten Stekelenburg returns after missing last weekend's victory over West Ham with a foot injury. Chelsea will likely still be without defender Kurt Zouma and midfielder Marco Van Ginkel, though both get closer to return as they suited up for the team's youth side during the week and could return to first team training soon.
Key to the game: Chelsea has been blisteringly hot of late, winning all four league matches in October while scoring 11 goals and conceding none. Everton boasts the league's second-best defense (behind only Tottenham), but they'll have their hands full against an electrifying attack led by Diego Costa. As good as the visitors' defense is, Chelsea will surely generate chances, and then it will fall to Stekelenburg to come up big in his return. On the other side, Chelsea's defense has been just as good, surrendering no goals in October and only nine all season, but they'll have their hands full with Romelu Lukaku, who already has seven goals through nine appearances this year.
Player to watch: Diego Costa is one of the few players who has more goals than Lukaku this season, sitting on eight through ten matches. The star forward has been consistently prolific this year, and especially of late as he's scored in three of Chelsea's last four Premier League matches. It's an almost mirrored battle on both sides, a strong defense against a star striker, and Costa currently holds a slight edge over Lukaku.
Quote: "I hope that [my record] is still okay after Saturday," Everton manager Ronald Koeman stated, "We know that Chelsea is a strong team, a different team than last year.They play with a lot of intensity and are aggressive. They have a different system, have got a lot of clean sheets and are winning games. This Chelsea team is stronger than the Chelsea of last year."
Liverpool (23 points) vs. Watford (15 points), Sunday, 9:15 a.m., NBCSN
Injuries of note: Liverpool received a big blow in terms of injury news, as cartilage damage to the knee of Danny Ings forced him into surgery and he will miss the remainder of the season for the Reds. It also remains to be seen whether midfielder James Milner will recover from an illness last week in time to be available for Liverpool. Watford is expected to be without the services of young forward Isaac Success, out with a hamstring injury, as well as defender Sebastian Prodl, who has an injured groin.
Key to the game: Liverpool enter the match red hot. After losing to Burnley in late August in its second match of the season, Liverpool has gone unbeaten, including a run of six wins in seven PL matches, with a draw to Manchester United as the only blemish. But while the attack has been clicking on all cylinders, the defense has allowed goals in each of the last three matches (West Brom, Tottenham, Crystal Palace). While Liverpool enters as the heavy favorite, if Watford can stifle the Reds' big name attackers, the opportunity to snatch a goal or two is there for the taking.
Player to watch: Stopping Liverpool's attack starts with stopping star Brazilian midfielder Philippe Coutinho. While partnered with fellow Brazilian Roberto Firmino, Coutinho has been in fantastic form, scoring four and assisting another four in a series of stunning performances. If Watford is to have any chance of stealing points at Anfield, it begins with keeping Coutinho off the stats sheet.
Quote: "Watford have changed maybe more than we changed – manager, system, players too. They have conceded zero in the last three games. So that says a lot." said Red manager Jurgen Klopp, "They play a different system to most of the other teams in the league. We have to respect this and work with it. We did that the whole week until now and will do it today and tomorrow. We'll try to figure out what we have to do and let's play football, it's Anfield.
Swansea City (5 points) vs. Manchester United (15 points), Sunday, 10 a.m., CNBC, Telemundo
Injuries of note: Manchester United was a bundle of injury news during the week. The bad news came as Paul Pogba picked up a knock in midweek Europa League action against Fenerbahce and could miss Sunday's Swansea City match. Joining him on the sidelines will be Ander Herrera, suspended after his sending off last weekend against Burnley. Also out are Antonio Valencia (broken arm), Eric Bailly (knee), and Chris Smalling (foot). Good news comes in the form of Henrikh Mkhitaryan, who returned as a sub against Fenerbahce for the first time since early September. As for Swansea, they'll be boosted by the return of Jefferson Montero, who could see his return to the squad this weekend. Also of note: United's manager Jose Mourinho will also be serving his one match touchline ban this weekend.
Key to the game: Swansea City has struggled of late, failing to win since late August and sitting near the bottom of the table. Bob Bradley brought improvement in his first two matches, a 3-2 defeat to Arsenal and a 0-0 draw against Watford, but then took a step back last weekend against Stoke City in a 3-1 defeat. With United dealing with massive injury issues, especially the recent Pogba blow, this could represent a major chance for Swansea to secure Bradley's first win in a big upset. Mourinho will bank on the returns of Mkhitaryan and Anthony Martial from injury to tide United over and take three points on the road.
Player to watch: If he starts, Mkhitaryan is the man to watch. After being absent for so long, the pricey midfielder returns to find his team decimated by injury and suspension, particularly in the midfield and defense. Swansea City will come in looking for blood and Bob Bradley's teams can be especially feisty as underdogs. It'll be up to returning players like Mkhitaryan and Martial to push United over the top by providing some offensive pressure on a vulnerable Swansea defense.
Quote: "At the moment every game is critical. I said it before the last game and I will say it again." said Bradley, "I believe we have a good group of players here. They are good guys and they understand the importance of where we are, but we have to turn that into better results. If we could beat Manchester United, it would be a reinforcement of the work we do and it would be a confidence booster. Maybe the guys would then think we can put this bad stretch behind us."
Manchester City (23 points) vs. Middlesbrough (10 points), Saturday, 11 a.m., NBCSN
Injuries of note: Manchester City remains one of the healthiest teams in the PL so far this season, and should only be missing defender Bacary Sagna and midfielder Fabian Delph as expected. Fernandinho also picked up a knock this week, but is expected to play. As for Middlesbrough, it has also been incredibly fortunate. Top scorer Cristhian Stuani and midfielder Maarten de Roon as expected to make their return after missing last week's victory over Bournemouth, and only Daniel Ayala is questionable and will likely be a match-day decision.
Key to the game: Manchester City enters the Etihad Stadium on Saturday morning as a massive favorite, especially after its huge victory over Barcelona during the week. The danger in such a strong victory is falling victim to a trap game against a weaker opponent, such as Middlesbrough. City has to guard against complacency, as Middlesbrough has a fairly stout defense for a team towards the bottom of the table, ranking 7th in the league in goals allowed. That defense has a tall task as it faces the most prolific scoring attack in the league, led by superstar midfielder Kevin de Bruyne, who has two goals and five assists this year.
Player to watch: Sergio Aguero has had, by his standards, a fairly poor start to the season. He's seemed out of sorts and has been missing penalties left and right. Of course, by his standards means he has seven goals in seven appearances. He'll spearhead the prolific City attack on Saturday and aim to make life difficult for a Middlesbrough defense that shut out Arsenal just two weeks ago before shutting out Bournemouth last week. His ability to break through will be the key to a City victory.
Quote: "He's one of the best coaches, especially after the win over Barcelona, he's changing," said Boro manager Aitor Karanka" In the past it was always about possession but in the last game they scored on the counter-attack, sometimes they play long balls to [Sergio] Aguero, and with their players they always have alternatives.  It's a nice game for us because both managers are from Spain. I said that with Pep here the league was going to improve, and he's showing how good he is. Now we have to play against them but we must focus on ourselves. We played well against Arsenal but now we have to go to the Etihad expecting a tough game, as Man City are an amazing team."
West Ham (10 points) vs. Stoke City (12 points), Saturday, 11 a.m., NBC Sports Live
Burnley FC (11 points) vs. Crystal Palace (11 points), Saturday, 11 a.m., NBC Sports Live
Bournemouth (12 points) vs. Sunderland (2 points), Saturday, 11 a.m., NBC Sports Live
Hull City (7 points) vs. Southampton (13 points), Sunday, 9:15 a.m., NBC Sports Live
Leicester City (12 points) vs. West Brom (10 points), Sunday, 11:30 a.m., NBCSN