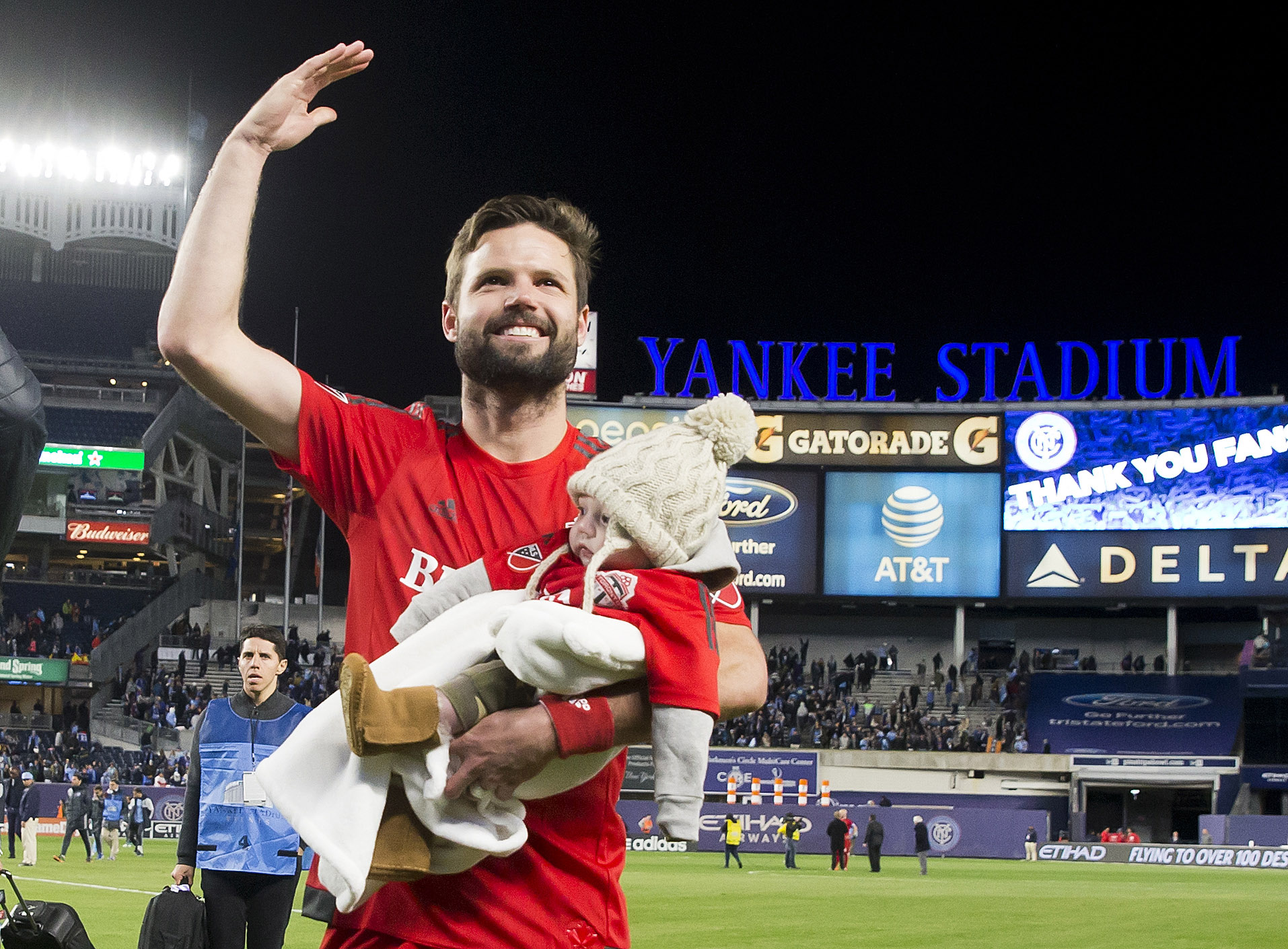 Heading into the 2016 season, Major League Soccer announced the adoption of free agency in the new CBA. The rule stated that any player over the age of 28 and with eight years of MLS experience that was out of contract or had their option declined could select his next destination, a courtesy never before extended to players in the league, with each team limited to two free agents.
At the beginning of the offseason after the 2015 campaign, MLS released the first list of free agents in league history. The list contained 27 players in total, only 11 of which would change teams over the winter and play their 2016 seasons in a new city. How did it turn out? Mixed results.
But the introduction of free agency provided a step forward to a league catching up with the rest of the soccer world, and at least one free agent turned out to be a massive boon to his new team as they make a deep playoff run.
Here's a look at how each free agent that changed teams fared during the 2016 season:
Michael Harrington, D – Chicago Fire
19 games played (16 starts), 1291 minutes, 1 assist, 1 red card.
After an injury-shortened season with the Rapids, Harrington made the move further East as he joined the rebuilding Chicago Fire. The Fire had a difficult year, and Harrington fared little better. After starting the first five matches of the season, Harrington would make just 12 more starts all year, and would end the season completely counter to how he began, being listed as an unused sub for the Fire's last five matches. He provided some valuable minutes for the Fire, but little else in a very lukewarm season.
Nick LaBrocca, M – Chicago Fire
12 games played (5 starts), 514 minutes, 1 assist, 3 yellow cards.
The Fire's second and final free agent signing, LaBrocca joined from the Rapids like Harrington before him. The veteran midfielder was already finding his minutes limited with the Rapids in 2015 and that continued in 2016, as he made just 12 appearances with less than half the minutes of his fellow free agent. After a mixed bag of starts and subs, LaBrocca was an unused sub for the last 13 matches of the season, recording his lone assist in his final appearance of the year against Real Salt Lake in early August. If Harrington was lukewarm, LaBrocca was cold.
Corey Ashe, D – Columbus Crew
18 games played (14 starts), 1214 minutes, 4 assists, 1 yellow card.
After a midseason trade from the Houston Dynamo to Orlando City SC (where he notched 3 assists in 9 matches), Ashe walked in the offseason and joined the Columbus Crew, fresh off their MLS Cup final appearance. While the Crew floundered, Ashe provided a solid piece in defense at left back for a good portion of the season. After sitting out the first eight matches of the year, Ashe was in and out of the lineup for the Crew, but provided a solid four assists, including two in their last three matches against the Fire and New York City FC. Not a terrible pickup in what ended up as a very disappointing season for the Crew.
Conor Casey, F – Columbus Crew
4 games played (0 starts), 35 minutes, 1 red card.
That stat line reads like a funeral, and was for Casey's playing days as he announced his retirement at the end of the 2016 season. Casey was subbed on for five minutes in the Crew's first game of the season against the Portland Timbers, and then wasn't used again until early June, for only three minutes against his former club, the Philadelphia Union, before being sent off. He made his last two appearances in the Crews third-to-last game of the year, 13 minutes against the Fire, and final match of his career, 14 minutes against NYCFC. A prime example for other clubs of what to avoid in free agency.
Jeff Larentowicz, M/D – LA Galaxy
23 games played (17 starts), 1501 minutes, 1 goal, 1 assist, 5 yellow cards.
After jumping ship from the Chicago Fire, Larentowicz certainly made an impact with the LA Galaxy. He started half of the teams 34 matches this season, and appeared in an additional six as a sub. After starting the season as an unused sub for six matches, the veteran defender would only miss six more matches the rest of the year, even contributing a goal and an assist for his new club. He would appear as a sub for each of the Galaxy's three playoff matches, including a 75 minute appearance in the team's final game against FC Dallas. A good case study of how free agency can prove valuable to playoff teams seeking depth.
Mike Magee, F – LA Galaxy
30 games played (16 starts), 1467 minutes, 6 goals, 4 assists, 1 yellow card.
Another great example of a solid free agent pickup by the Galaxy, again from the Fire. Magee made an appearance in all but four games, proving himself a useful sub off the bench as well as a solid spot starter when injuries struck. While his usage waned a bit after starting 12 of the Galaxy's first 14 games, Magee put in useful minutes for a playoff bound team and provided crucial depth when the Galaxy were struck by massive injury problems. Suffice to say, the Galaxy had two hits on their free agents.
Ned Grabavoy, M – Portland Timbers
22 games played (5 starts), 632 minutes, 3 yellow cards.
After a much-maligned 2015 season with NYCFC, Grabavoy made the jump to the recently-crowned champion Portland Timbers. While Grabavoy did make 22 appearances, he started just five games and saw his minutes cut to a third of their 2015 totals while neither scoring nor assisting a single goal. While certainly not on Grabavoy, the Timbers had a poor season and ultimately missed the playoffs, with their acquisition of the free agent midfielder making little impact on their results. Not the worst case, but not a win by any standard.
Chad Barrett, F – San Jose Earthquakes
20 games played (3 starts), 531 minutes, 2 goals, 1 assist, 1 yellow card.
After two seasons with the Seattle Sounders, tallying 7 and 5 goals in 2014 and 2015 respectively, Barrett moved to fellow West-coasters, the Earthquakes. With the Quakes, Barrett saw his minutes and productivity continue to decline, as he accrued the least total minutes in his career and one of his lowest goal totals to date. He went unused in the Quakes first nine matches before appearing as a sub for a majority of the season, scoring his two goals in mid-June and his assist back in May before producing little else. Likely less than the Quakes were expecting when they signed him.
Nathan Sturgis, M – Seattle Sounders
0 games played, no other relevant stats.
After a modestly productive season with the Houston Dynamo in 2015, Nathan Sturgis provided absolutely nothing to the Seattle Sounders in 2016. The veteran midfielder did not make an appearance for the senior team this season, managing only 5 appearances for the USL's Sounders 2. While Conor Casey was a bad pickup, he at least made the field, leaving Sturgis as likely the worst pickup in MLS young free agent history.
Justin Mapp, M – Sporting Kansas City
6 games played (0 starts), 43 minutes.
Mapp continued his descent towards the end of his career with Sporting Kansas City in 2016. After featuring just five times for the Montreal Impact in 2015, Mapp saw the field just six times as a sub for Sporting KC and contributed neither a goal nor an assist to the Western Conference team. Managing just a single shot, Mapp saw the least playing time in his career outside of his 2002 rookie season with D.C. United. While Sporting KC made the playoffs (and lost to the Sounders), Mapp did not feature and was an irrelevancy in a decent year for the team.
Drew Moor, D – Toronto FC
32 games played (32 starts), 2880 minutes, 3 goals, 3 yellow cards.
Easily the free agent pickup of the season, Moor proved to not only be a smart acquisition, but a vital piece of a team now in the Eastern Conference finals of the MLS playoffs. Moor started nearly every match for TFC this year and was incredibly productive, logging the second-most minutes of his career and his second-highest goal total en route to a 3rd-place Eastern conference finish for the Canadian team. Moor has played the full 90 minutes of every match in which he's appeared, including the playoffs and a huge shutout of NYCFC in the conference semifinals. There's no arguing that Moor is MLS free agent MVP.