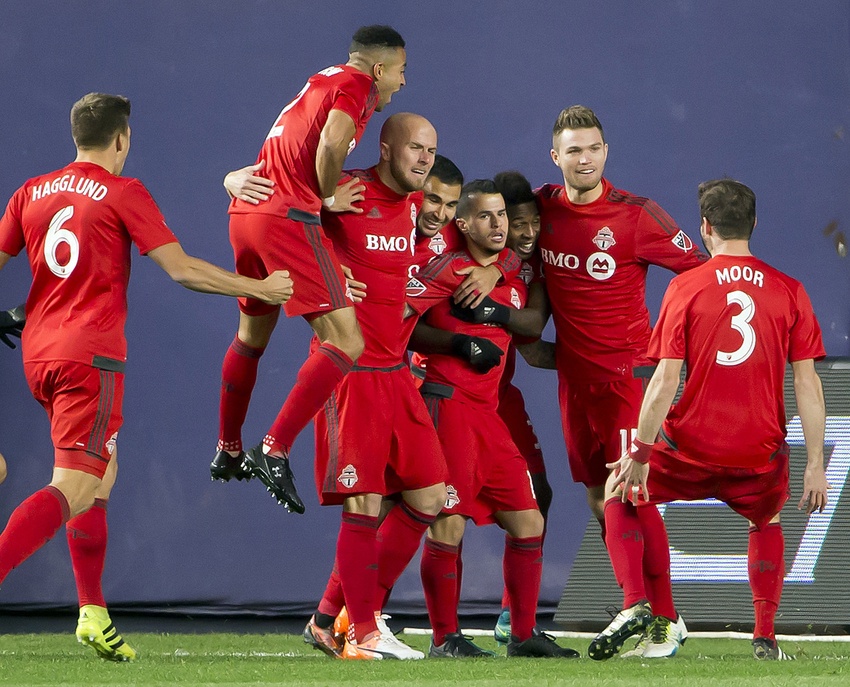 For years, Toronto FC was the punching bag. The club took blow after blow, some bigger than others. Between all of the failures on the field and all of the "Bloody Big Deal" signings off of it, the club never achieved any measure of success.
On Sunday, though, TFC took off the gloves and delivered a good-old-fashioned battering that served as a major statement.
After sealing a 2-0 win late in the first leg of their Eastern Conference semifinal with New York City FC, TFC didn't take long in the rematch on Sunday evening. Throughout a 90 minute bloodbath, the Canadian club battered NYCFC time and time again, leaving Yankee Stadium with a 5-0 win on the day and a 7-0 aggregate triumph.
For head coach Greg Vanney, Sunday's effort was one to take pride in. TFC was dominant, even though they didn't have to be given the first leg scoreline. The Reds kept a clean sheet, holding a terrorizing NYCFC attack dormant for 180 minutes. Most of all, they were confident and composed, characteristics that have been lacking throughout their first nine MLS seasons.
"I think we've had a number of those types of games," Vanney said. "Last year when we finally clinched the playoff spot in New York, that was one of those games. This year, winning our first playoff game, that was one of those games. Advancing through this series, for sure, is going to be another one of those moments.
"For us now, we're continuing to develop a culture and a mentality of winning, and that was sort of, I would say, lacking in previous years. Winning is a habit, as losing can be. We have good continuity and the group is a tight knit group. When you start getting results with the type of work you put in, you start to build some momentum."
That push towards the forefront began with the signing of Michael Bradley more than two years ago, even if his two original Designated Player partners, Jermaine Defoe and Gilberto, failed to live up to the hype. Sebastian Giovinco and Jozy Altidore followed to complete one of the league's top Designated Player units, while pieces were added to shore up a defense that has been leaky since TFC first took the field in 2007.
Years of futility have been stunted by steady growth, and it was apparent on Sunday night. TFC wasn't planning om bumbling the match away, like they would have in the past. Instead, they choked the life out of NYCFC with an early goal, sealing a 3-0 aggregate advantage that all but ended the tie before the match even began.
Bradley says TFC wasn't content to "skate by" with a win. Instead, they wanted to go out there and take the game on their own terms.
"We're in good form right now, but it's doing us a little bit of a disservice to ask what's clicked over the last two or three weeks," Bradley said. "Our record since July is pretty good in terms of the games we've played, the good teams we've played against, the results we've had."
"There are a lot of us who have felt pretty good about what's been going on on the inside now for a very long time," Bradley added. "Until you live it, until you do it when the lights come on, it's easy for people to discredit. In some ways, it's a little bit of validation for the team, for the club."
According to both Vanney and Bradley, there's plenty of motivation. TFC is now bound for its first conference final, as the club looks to push towards a potential MLS Cup hosted at BMO Field.
However, there might not be a player in the TFC locker room more motivated than Giovinco, who was recently snubbed by the league for MLS MVP. Giovinco was not named a finalist, even though he led the league in points by amassing 17 goals and 15 assists in the regular season.
When asked about the MVP omission, Giovinco tried to hide a wry smile just moments after another Man of the Match performance that included two more playoff goals. The question was clearly anticipated, and Giovinco insisted that his focus remains on MLS Cup, and providing the goals and assists required to get there.
Vanney doesn't necessarily buy it.
"His priority is winning a trophy, but I think last year he took a lot of pride when he was the MVP," Vanney said. "He was every bit the same player through the course of the season, and was unfortunate to have an injury down the tail stretch. He still managed to finish the season with the most points of anyone in MLS.
"Not quite sure how he gets overlooked, but I only get one vote. Tonight was a night for him and the group to make a statement. Sometimes, I think, this group feels like they get overlooked for various reasons, and there's no better place to make a statement than in the playoffs by making a run. They put the work in out there, so credit to them because they deserved to win."
Despite the snubs of 2016 and the downright failure that came with the nine years prior, Toronto FC remains somewhat calm. Players admitted that they know the job isn't done yet, as the team looks to remain grounded after setting a record for largest aggregate win in MLS playoff history.
There are moments of reflection, though. Even with an ultimate goal still several games away and even with a bigger picture in mind, it's a time to understand the moment, one that feels oh-so-special to a club that has had few reasons to celebrate over the years.
"It's one of the things that we set forth in preseason," Vanney said, "to bring joy to our fans in Toronto and try to be remembered as a group that turned things around and brought the sport to the forefront in Toronto. We're taking those steps, but we still have some work that we want to get done.
"For our fans, these are moments that they have deserved and have waited a long time for, so on that end we couldn't be happier," Bradley added, "but I assure you that no one is celebrating anything yet. It's another step along the way and we want to play three more games."