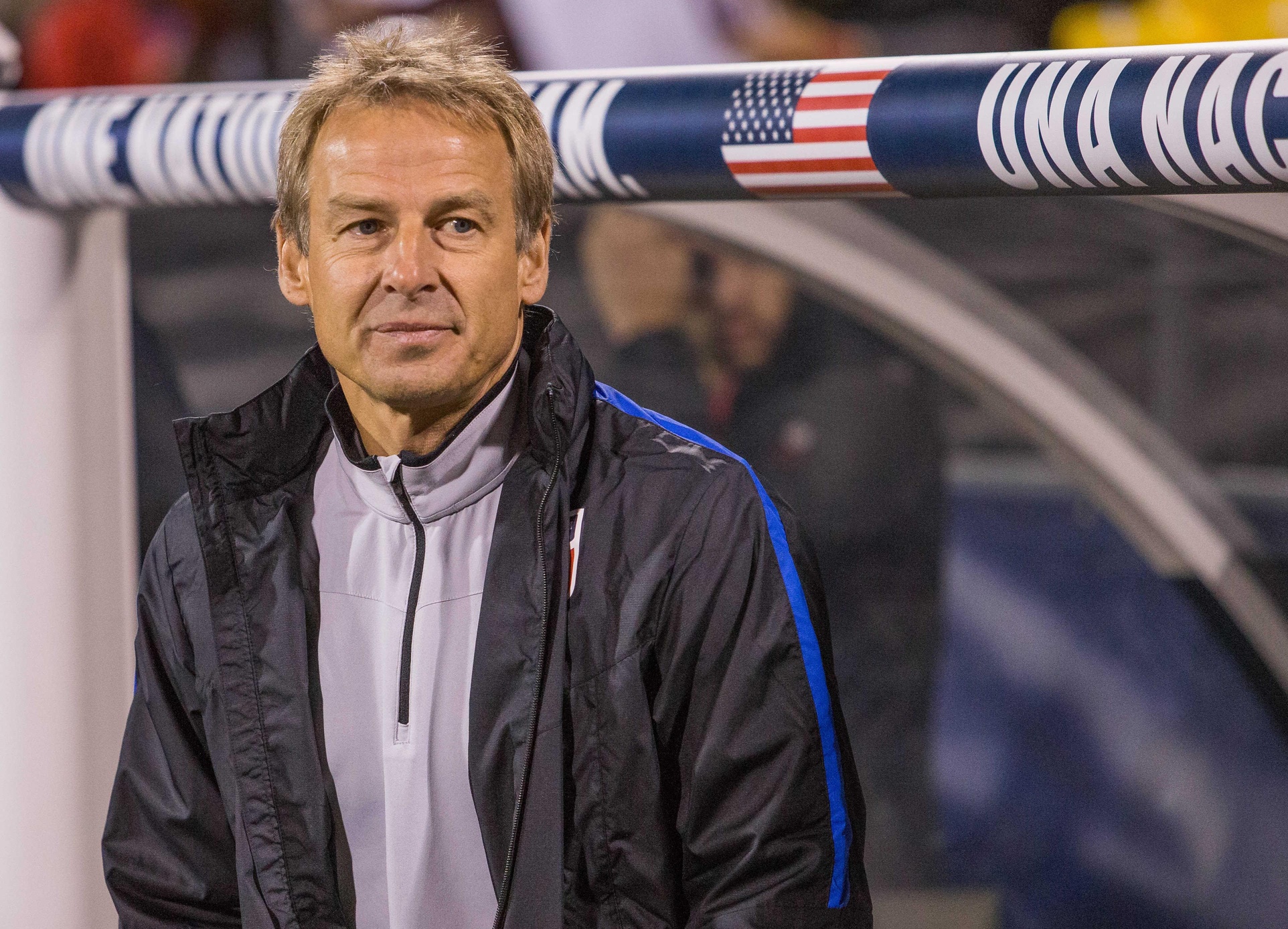 Jurgen Klinsmann opted for a calculated risk. Throughout the most recent World Cup qualifying cycle, the U.S. Men's National Team has played in a typical four-at-the-back set, relying on conventional wisdom and continuity to guide them through many a game against difficult competition.
On Friday, Klinsmann chose a new look, and it backfired. Badly.
The USMNT emerged in a 3-4-3 formation on Friday night, and took an immediate battering from rivals Mexico in an eventual 2-1 defeat. Throughout a disaster of a first half, the U.S. conceded chance after chance, and was quite fortunate to head back to the locker room down just one goal. It was a tactical bloodbath, one that prompted a chance quickly when it became very apparent that things had gone wrong.
Somehow, the damage wasn't quite done, at least not at the time. Bobby Wood's finish early in the second half canceled out Miguel Layun's opener, giving the U.S. what appeared to be a potential point. Rafa Marquez's late winner snatched that away, but it was easy to see that the USMNT's poor start was just as damning as their late-game mishap.
"We started the game in a 3-4-3 with Christian Pulisic having the freedom to roam with two strikers up front," Klinsmann said. "We trained that and it went really well in training, but the key in that system is that your center midfielders need to get into these one-against-one battles. It's something that was not happening in the first 25-30 minutes. No Michael Bradley or no Jermaine getting into these battles and their players could roam and that gives you difficulties. That gave them chances.
"We changed it back because we train different systems and we have that always available. They calmed down the situation and I think the second half was really good. If you go back to set pieces, we had our set pieces, especially with Omar's open header which could have been easily a goal. They scored two minutes before the end of the game, and that's the way it goes."
According to Klinsmann, the tactical change was not something done to counter Mexico's own setup. The USMNT boss insists that the U.S. was prepared for what they offered, but felt that, given the pieces in camp, the three-at-the-back choice was a fitting one.
Just moments in, it became very obvious that it wasn't. Defenders seem confused, not quite sure where to be marking. Midfielders failed to leap into the passing lanes, allowing Mexico free rein in the attack. All in all, it was a failed risk, one that left the U.S. with a mountain to climb early.
Klinsmann says it's a system that may be seen again in the future. The formation gives Pulisic room to roam, allowing the young playmaker to truly test the opposition's backline from the left, right or center. Jozy Altidore, who had an assist on the USMNT's lone goal, was also a fan of the setup, even if it didn't work well on the night.
"I thought it was a good formation for us three up front, but maybe not the whole team at the back," Altidore said. "In the second half, we moved to something we were a bit more familiar with and I thought we dominated the game. I thought the second half was ours, but it just takes one second at this level.
"I think what happened for the first half was that we were up for the fight and tried something a little bit different and we just came out a little bit timid. I thought the second half was phenomenal. The effort, the soccer we played. One minute, at this level, if you switch off, you get punished."
That punishment leaves the USMNT with less wiggle room heading into Tuesday's clash with Costa Rica. Just one game into the Hexagonal stage, the U.S. is now chasing.
With that in mind, Klinsmann says there were positives to takeaway from Friday, even if the tactics and the play that followed certainly wasn't one of them. It was a mistake, one that cost the U.S. dearly, but it's also one they will hope not to make down the line.
"The second half was outstanding. The only thing that was missing was a couple of goals," Klinsmann said. "It could have gone either way. At the end, it went their way, but overall it was an intense, exciting, good quality battle, and now it puts us on our toes going to Costa Rica and heading there for three points.
"There's nothing that I can complain about towards the team. They gave everything they had and we kept the tempo high. We had enough chances to put it away. It's as simple as that, but we didn't."