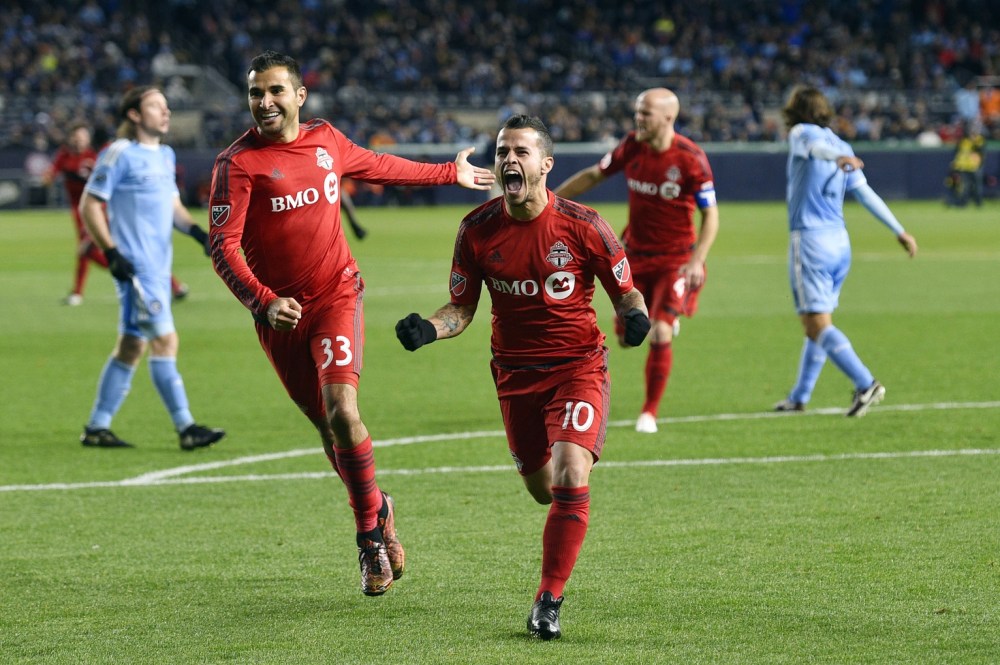 NEW YORK — There was plenty of pomp and circumstance leading up to New York City FC's first home playoff game on Sunday, but it took less than six minutes into the match for Toronto FC to spoil the party before securing a berth to an all-Canada Eastern Conference final.
An early score from Sebastian Giovinco set the tone for the second-leg match as it gave Toronto a 3-0 aggregate lead and an away-goal advantage before the visitors added four more to rout NYCFC, 5-0, at Yankee Stadium.
Toronto's victory came hours after the Montreal Impact defeated the New York Red Bulls in their semifinals tilt, setting up the first-ever conference final between two Canadian sides. The 7-0 aggregate final is also the most lopsided one in league history since the LA Galaxy ousted Real Salt Lake, 5-0, in the 2014 Western Conference semifinals.
Giovinco, who did not make the final cut for MVP considerations this season, opened the scoring in the sixth minute when he received a pass from Jozy Altidore at the edge of the box before turning and firing a shot past goalkeeper Eirik Johansen. He added a penalty conversion in the 20th and capped off his hat-trick performance in the 91st, while Altidore and Jonathan Osorio tacked on goals in the 30th and 50th minute, respectively.
NYCFC, which led the league with 62 goals in the regular season, was shutout in its first two playoff matches in franchise history.
After a brief international break, Toronto FC will head to Montreal to take on the Impact on Tuesday, Nov. 22, with the return leg scheduled for Wednesday, Nov. 30.
MAN OF THE MATCH
Sebastian Giovinco, who was active but held scoreless in the first leg, put on an impressive performance on Sunday by creating and finish chances for his team. His work rate on the defensive side cannot be overlooked as well, as it caused major disruption in New York City FC's ability to buildup its offense from the backfield.
MOMENT OF THE MATCH
Knowing an early goal by Toronto FC would all but seal the deal, Giovinco's early score proved to be the crushing blow that New York City FC couldn't recover from.
MATCH TO FORGET
After NYCFC put on a lackluster performance in the first leg, one would assume it would come out with a bigger sense of urgency and a different gameplan to try to get back in the series. However, almost the entire team — save David Villa — failed to answer the bell in front of its home fans, especially after conceding early.