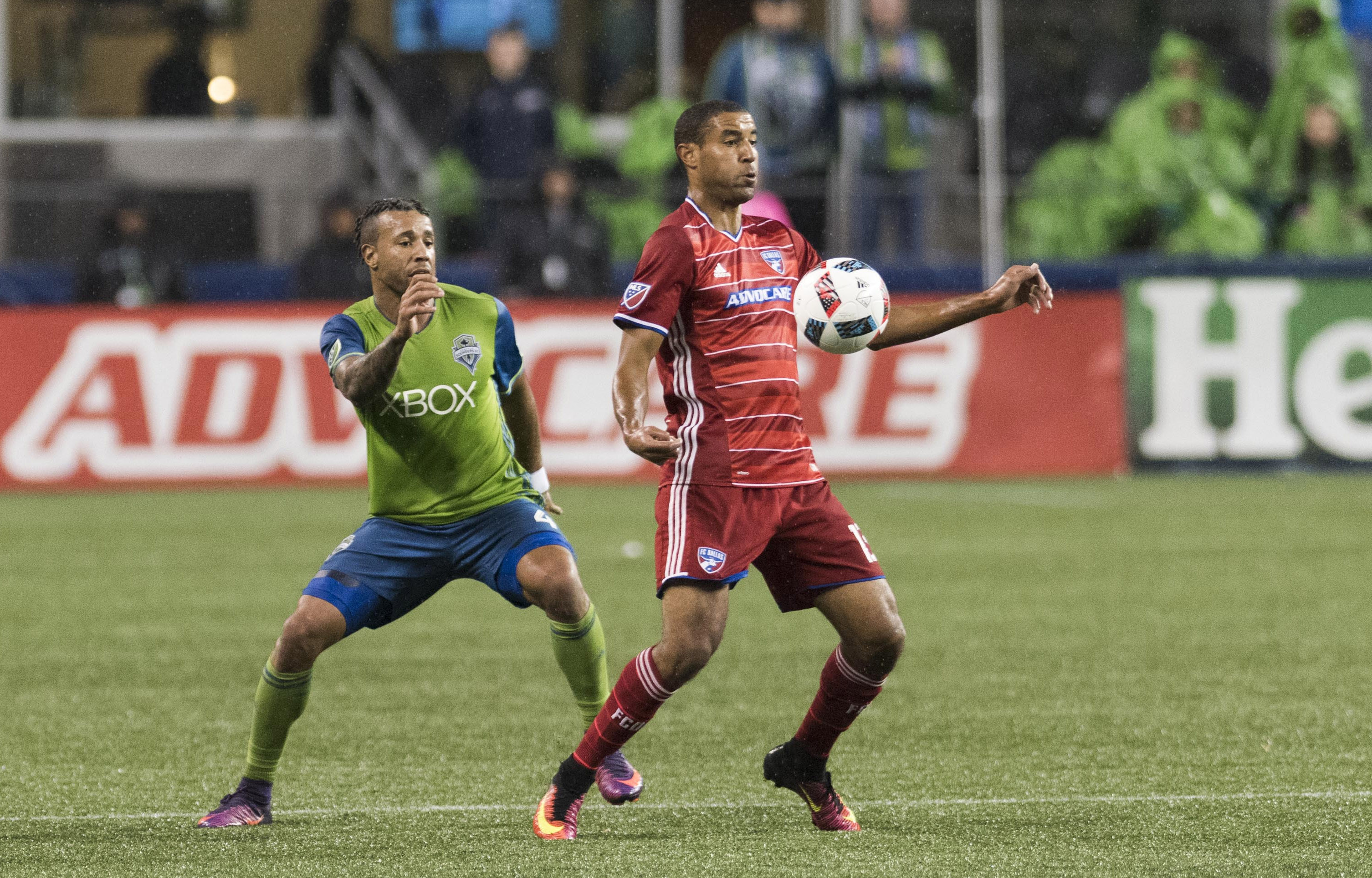 If FC Dallas is to rebound from a disastrous first leg to keep hopes of a treble alive, history will have to be made. If FC Dallas needs some sort of inspiration, looking back to last year will have to suffice.
FC Dallas enters the second leg of its Western Conference Semifinals series against the Seattle Sounders in a big hole after suffering a 3-0 loss in the opening match last weekend. No team in MLS has ever managed to come back form such a deficit in two-legged postseason play, but that is exactly what FC Dallas will have to do at home at Toyota Stadium in Frisco, Texas, in order to avoid an early elimination.
Aside from the fact that the game will be played in friendly and familiar confines with a rowdy crowd pushing the club on, FC Dallas also has experience coming from behind to knock off the Sounders in the playoffs. It was just last year that Oscar Pareja's side returned home from a first-leg defeat in the same round of the postseason and defeated the Sounders by the same 2-1 scoreline to force extra time and the eventual penalty kicks that sent FC Dallas through.
Things will be more difficult this time around given that the Sounders' advantage is greater, but the visitors have said that they do not plan to absorb pressure for 90 minutes to close this series out. If that is indeed the case, FC Dallas will not have to worry about breaking down a side that is bunkered in. The 2016 U.S. Open Cup and Supporters' Shield winners will, however, need to figure out how to create and finish enough chances without injured playmaker Mauro Diaz.
Conceding just one goal to the Sounders will certainly make a mountainous task that much more difficult for FC Dallas, which seems to be the reason why recently-appointed head coach Brian Schmetzer is planning not to take a defensive approach. The desire to not have to ask the likes of Nicolas Lodeiro, Jordan Morris, and the suddenly-hot Nelson Haedo Valdez to play away from their strengths is likely another factor, though the Sounders will still probably not come out guns blazing.
Instead, a balanced approach appears to be in the cards for the Sounders. They will have to get through the initial waves of high energy that FC Dallas should have thanks to the Texas crowd, but the Sounders will be able to settle in and dictate some of the play themselves if they manage that part of the game.
Even if they don't, the Sounders simply need to avoid conceding three goals. With the grizzled veterans they have on the defensive side and the talent they possess in the attack, the Sounders are in good if not great standing going into this decisive showdown.
Soccer can be unpredictable, however. Both the Sounders and FC Dallas were reminded of that the last time they met in the postseason.
Notable absences:
FC Dallas: Mauro Diaz (out).
Seattle Sounders: Clint Dempsey (out), Roman Torres (questionable).
Key to the game:
FC Dallas' finishing. With the Sounders insisting that they will not take a defensive approach, FC Dallas should be able to create some chances that its players absolutely cannot waste if they wish to pull off the improbable. Yes, FC Dallas also needs its defense to avoid giving up a goal, but there is no chance of moving on without scoring a few on the other end.
Player to watch: 
Nicolas Lodeiro. The onus is on FC Dallas to try and make up the three-goal difference, but the space the host club is likely to leave behind while pushing to attack should give Lodeiro plenty of room to operate. If Lodeiro is as lethal with his playmaking and goal-scoring as he has been since arriving in MLS, the Sounders could wrap this one up early.
Quotes:
FC Dallas head coach Oscar Pareja: "There is no tomorrow. We overcame a difficult result here last year. We will try and do the same. This team has shown an ability to overcome difficult situations this year so why not this one?"
Seattle Sounders head coach Brian Schmetzer: "We're going to try and win the game. We're not going to sit back and defend for 90 minutes."