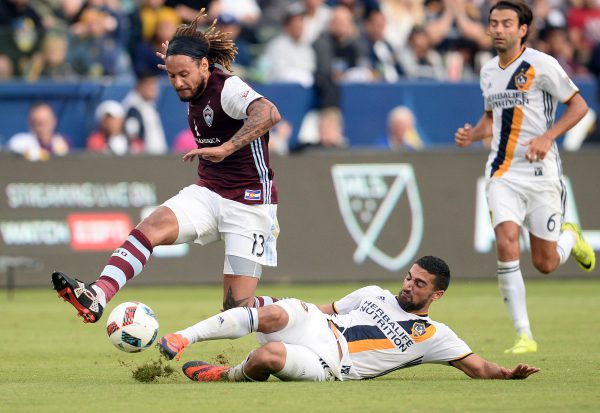 If the LA Galaxy want to reach another Western Conference final, they will have to do something few teams managed all season long.
The Colorado Rapids have not lost at Dick's Sporting Goods Park. They only drew six times at home and the Galaxy have struggled against the Rapids recently. The 1-0 victory last Sunday was LA's first over Colorado in the last four meetings.
The Rapids have been boosted with the return of Jermaine Jones, who could start in the second leg on Sunday. Jones' experience should come in handy and his varying attributes can help Colorado on both sides of the ball.
LA is still a tad banged up, but given how prolific Giovani dos Santos has been without Robbie Keane and Steven Gerrard, it's not a detriment to the side. Dos Santos had 14 goals and 12 assists, plus he bagged the winner in the first leg last Sunday. However, should the Galaxy need a goal, having Gerrard and Keane available gives Bruce Arena some options.
The altitude will be a factor as always, but considering the Galaxy have a 1-0 lead heading into the second leg, it will benefit the visitors. The Rapids will be forced to take action in order to keep their playoff hopes alive, whereas LA can sit back and save energy.
It's easier said than done, though. The altitude is surely a big reason why Colorado has not lost at home yet in 2016. This promises to be a tight game again, but there is little margin for error from the Rapids' point of view.
Here is a closer look at the second leg.
Notable absences:
LA Galaxy: Steven Gerrard (questionable), Gyasi Zardes (out)
Colorado Rapids: Dillon Serna (out)
Key to the Game:
The LA Galaxy's defense. Since the visitors are up 1-0, the onus is on the Colorado Rapids to attack. The cold weather and altitude will obviously benefit the hosts, but the Galaxy's backline did a tremendous job in the first leg, especially Jelle Van Damme. If they have another monstrous performance like that, it could be enough to see LA go through.
Player to Watch:
Jermaine Jones. The U.S. international is slated to return to the starting XI on Sunday, which would be massive for the Rapids. Jones provided a small scoring boost with three goals and two assists in nine appearances before he picked up his injury. He'll also contribute defensively, snuff out any danger and move the play forward.
Quotes:
Galaxy midfielder Sebastian Lletget said "We know that they're going to be chasing for a goal and we're definitely aware of that. [Jermaine] Jones is a great player because he's energetic and he's going to cause problems if we let him. I have to be aware of it and maybe sometimes sacrifice my attacking abilities to drop back and be defensive."
Rapids head coach Pablo Mastroeni said "It's going to be a chess match until the 90th minute. You can't go guns blazing. It actually plays right into our hands as we've played all year long, which is scoring late in the game, bringing the altitude into the game, being really organized and catching them sleeping."